Calvin Richardson | Facts of Life: The Soul Of Bobby Womack
by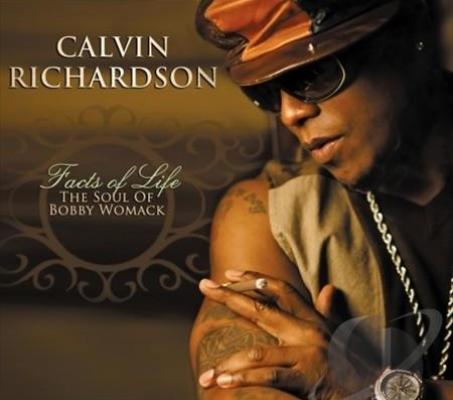 Calvin Richardson | Facts of Life: The Soul of Bobby Womack
by Terrill Hanna
There's something unique that draws me to the voice of young Calvin Richardson. Could it be that one of his biggest strengths is his ability to 'bring it' vocally from the soul? Is it the choice that he made in striving to continue uplifting the spiritual aspect of Traditional R&B/Soul music for today's listeners? Or is it how tasteful & polished some of his recent work has shined on us, how consistent he remains to be with it & a determination to keep it real by all those standards it requires?
Calvin's 4th album, "Facts Of Life: The Soul of Bobby Womack" from Shanachie Entertainment, ranks way up there on the richter scale, amongst one of the most soulful projects to come out of the gate this year of '09. A great selection of solid interpretations, as well as a strong supporting team of musicians, background vocalists & an exceptional production work from Tres Gilbert for 3rd World Music will have many of you startled from the first drop of the opening track, right on down to the last. A young man who admired the great attributes & legacy Mr. Womack had left on the music of Soul, may have outdid himself for this piece.
Track Listing:
~ Across 110th Street
~ You're Welcome, Stop On By
~ Harry Hippie
~ Woman's Got To Have It
~ American Dream
~ Daylight
~ That's The Way I Feel About Cha'
~ Love Has Finally Come At Last
~ I Can Understand It
~ I'm Through Trying To Prove My Love To You
~ Fact Of Life/He'll Be There When The Sun Goes Down
As Calvin engages the starting track "Across 110th Street", a well known classic, the absolutely, rhythm & blues fueled composition will have you flash backing in a hurry. Especially with the street canny philosophies shared in the lyrics. He does it again for "You're Welcome, Stop On By." For a minute, I'm quite sure Mr. Womack's influence slowly but surely begins to resonate the entire mood & energy the album is set to present. The power of soul-music is definitely about to be reached after getting a taste of "Harry Hippie", "American Dream" & "Daylight."
"Woman's Got To Have It" was always my #1 cut from the old school Bobby Womack CD Collection. The cover was handled with care, grace, & confidence. A full steaming strut of soul music that flows effortlessly through the speakers. It gets the honorable "*" for instant playback.
The bluesy, unshakable "That's The Way I Feel About Cha'" highlights Calvin's deeply textured vocal skills with ease, all the while I started to slowly but surely give more attention & respect to the ensemble of musicians participating on these tracks! The live band effect was working tremendously on this project & was providing the strong foundation Calvin needed to approach this effort 1st class. From the stretch of the Violin by Charles Gray…to…the tickle of the Fender Rhodes by Justin Gilbert. Right on down to the Sax, Trombone, Bass Guitar, Trumpet, Clavinet, Drums & Vocal arrangements. The pure essence of a full pledge band on the scene, folks, shook me.
Who can't say enough about Gospel powerhouse vocalist Ann Nesby? Well, you'll have plenty more to say about her when she joins Calvin for "Love Has Finally Come At Last." And trust me folks, I don't have to say a thang about it. It's ALL GOOD.
I am issuing a 'go get it' pass to you readers out there, always on the hunt/search for some deep down textured, traditional R&B Music – chillin' steady out there on a record shelf or on line music retailers' sites. Be careful not to rotate this one too much though, 'cause you'll wear it out. I believe Calvin came to play, to sing & have a great time. And you will FEEL it throughout the productions & arrangements. It's one of Calvin Richardson's finest work.
Terrill Hanna
The Urban Music Scene