Brenna MacQuarrie | Hybrid
by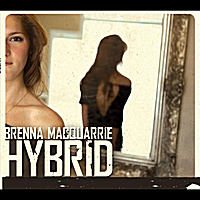 Brenna MacQuarrie | Hybrid
By Peggy Oliver
Brenna MacQuarrie is a seasoned performer who handles various genres from musical theater to electronica with ease. Ever since the age of eight, the Canadian native clearly enjoys her craft and it shows in her commanding vocals and poised stage presence. Through her career, MacQuarrie has been a regular staple in her birthplace of Edmonton, Alberta and more recently on the Toronto club circuit, where she continues to grow and mature as a performer in front of various audience settings. In the past few years, she started embracing the soul genre embracing the likes of Alicia Keys, Jill Scott and Erykah Badu. In fact, if one were to see Macquarrie in concert, her song list includes many of those urban music architects finest work. Along with her original repertoire, the singer/songwriter/musician covers Michael Jackson, Stevie (Wonder), Aretha (Franklin), Sharon Jones and the aforementioned. This current student of jazz at Humber College in Toronto, Ontario blends old fashioned soul sprinkled with jazz, pop and rock for her debut disc, Hybrid, which was released in January.
MacQuarrie credits two backing musicians on Hybrid – drummer Fred Brenton and bass guitarist Moni Mathew – for sparking the project with funk grooves throughout. Several songs fall into that soul-jazz niche and accentuate MacQuarrie's powerful pipes ("Underground," "Can't Give Nothin' and "Think Ahead". The solid horn section is featured prominently on the latter track. "Strength is Beauty" throws in rock, pop and plenty of gospel firepower. MacQuarrie strokes some blues sensibility on "Everything" and "Lost." There are shades of Aretha in the air on "Love Song," an opportunity to hear MacQuarrie's voice in a bigger light with only piano accompaniment. The mood shifts during "Hybrid" with the airy pop ballad, "Ship," backed by dripping keyboards. Hybrid closes fittingly with "Tyrone," which earned Badu a Grammy Award nomination in 1999. And MacQuarrie gives this song justice on most counts, yet maybe with a little less sass than the original version.
After a full listen to MacQuarrie's intro as a recording artist on this self-released disc, I was fully impressed with every aspect – the musicianship, arrangements, production and vocals. Now at age twenty-two, MacQuarrie should have no trouble flexing that soulful swagger on her upcoming tour in May to promote her original material from Hybrid and her interpretations of classic urban hits.
Peggy Oliver
The Urban Music Scene