Christina Simos | All About Me
by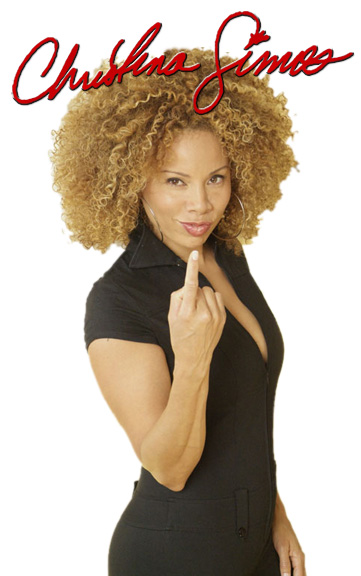 Christina Simos | It's All About Me
by Brent Faulkner
Christina Simos can be defined as a crossover artist. Bridging styles encompassing R&B, funk, pop, rock, and singer-songwriter, Simos's full length All About Me can be described as a 'musical melting pot.' Simos seems to be on a stylistic 'road trip' throughout, sometimes with smooth transitions while at other times questionable ones. While the biggest criticism may be inconsistency of direction or full development of transitions, All About Me proves to be a sound and pleasing effort. It is not perfect, but there are some moments that truly show the potential that Simos exhibits as a musician.
The effort opens with the uptempo "All About Me," which opens the album with solidity, if not necessarily valedictory. The production is overt, but despite this, it feels generic – perhaps a bit 'tried and true' in today's age of electro-R&B/pop. The depth of the cut lyrically also seems lax. While the depth of the cut may be minimal, given this simple refrain and gimmicky production, Simos makes up for 'simple' with raspy, strong vocals. "Wrap It Up," the sophomore cut is a more well rounded effort given its funky sound and aggressive lyricism: "Get out my face with your lies, you've played your games for the last time, wrap it up, cause boy it's over, you have no place in my life…" Simos is definitely a tough-talker on the brutally honest, yet undeniably infectious "Wrap It Up."
"In Trouble" finds the muse as feisty as ever, honing her alternative-jazz, sultry pipes perfectly. "Keep It Comin'" does not disappoint either, in which Simos sings "keep it coming, give me something." "United We Stand/Divided We Fall" plays on the American motto, to great success. Here, Simos 'changes up the sound' with rock guitars serving as her backdrop. It would not work with everyone, but a upstart talent like Simos pulls it off naturally.
"Save Me" features exceptional production work, 'in a minor key' thanks to producer Tony Shibumi. Written by Simos all by herself, the lyricism of this cut is much more pronounced than the title track. Sure, the refrain is simple ("is anybody there, does anybody care, save me, save"), but the evolution and pacing of "Save Me" make it a gem. "Goodbye" is another standout moment, with driving, modern sounding production propelling Simos' polished vocal performance. Keep up an upswing of solid cuts, "After The Storm" keeps 'funk' alive – neo-funk if you will – with excellent songwriting to match.
"One Day At A Time" features Michael Patrick Coughlin, a co-songwriter throughout the album. "One Day At A Time" is one of those questionable transitions, gravitating from funky production work to strummed guitars. It works and vocally Simos is pleasant, but more direction aside from the mere use of strummed guitars may have made "One Day At A Time" more effective. Similarly, "Set Me Free" continues in a more acoustic, simplistic style, which contrasts the overall overtness that Simos has exhibited throughout. While it is another 'question mark,' vocally, the performance is as solid as anything else. Kudos to the use of background vocals.
"All About Me (Remix)" rehashes the title track, only in a lengthier capacity and its placement is appropriate as the penultimate track. Closer "Angel" is all over the place, taking electronic-pop production 'over the top.' The lyrics are ok ("you were my heaven, you were my angel"), but the indulgence closes the album questionably rather than solidly.
Overall, Simos has the potential to shine 'brightly' given the creativity exhibited on All About Me. That said, she must choose one direction and 'feed off' of it as opposed to switching styles as dramatically as she does at time on this effort; Perhaps creating a more cohesive effort that focuses on one sole style but draws from a number of styles will make her an even more polished artist. Talented to the upmost, Christina Simos is an artist who will hopefully 'breakthrough' a crowded music industry.
Brent Faulkner
The Urban Music Scene