Bootsy Collins | Tha Funk Capital Of The World
by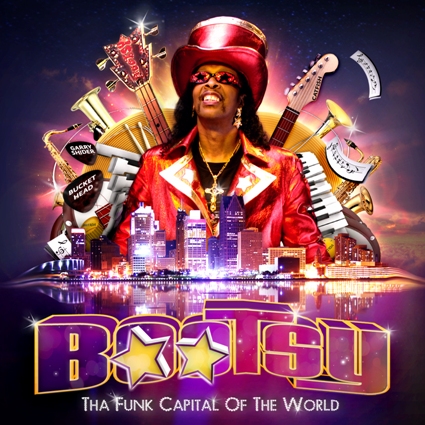 Bootsy Collins | Tha Funk Capital of The World
(Megaforce/Capitol)
by A. Scott Galloway
2012 will mark the 40th anniversary of when MOST people first discovered William "Bootsy" Collins. He made his recording debut as a member of Funkadelic on its fourth project, the double-Lp America Eats Its Young (1972). Though he'd already recorded with local Ohio Funk outfits and, of course, as a member of James Brown's JBs, he didn't really come into his own until he became a member of "The Funk Mob" and four years later released his first album as a leader, Stretchin' Out In Bootsy's Rubber Band (1976). There is arguably no one still as influential and plugged into the currency of what's happening now than Bootsy. Embraced by R&B, Hip Hop and Rock circles alike, he's been the beloved "Superstar with a Cartoon Mind"…until now.
Bootsy Collins' new 17-track CD, Tha Funk Capital of The World, finds our hero feeling his stature as an elder griot among the Universal Tribe of Funkateers. Throughout the project, he drops history lessons and P-science with a Funk Faculty of peers, disciples and protégés that is stymieing. Fans of Boot's bass playing will be geeked to know that he is PLAYING generously throughout, and singing in all his character incarnations – including Bootzilla and Casper – in musical styles that pimp slap the spectrum! Like real school, things get a little long-winded mid-term, but come graduation, that which was meant to stick adheres like Sooper Stooped Glue for your mind AND frees your behind!
Funk Capital opens with a recap of the Bop Gun origin with "Intro (Spreadin' Hope Like Dope)" reminiscent of the "Prelude to Dr. Funkenstein" (complete with story time organ by Bernie Worrell) then slams into "Hip Hop @ Funk U" featuring Ice Cube, Snoop Dogg and Chuck D (all bringin' flava but the latter clearly kicking the heaviest of ballistics). This is followed by lesson #1, "Mirrors Tell Lies," which finds Bootsy riffing off of some sampled interview insights from Jimi Hendrix – a MAJOR influence on him internally and externally. Over a slammin' track of live rock drums and guitars, Bootsy plugs in his Space Bass and kicks several messages: be true to your own artistry, question ALL authority, and show compassion for ALL humanity – Ear-Searin'!
Now, hold on to your apple jack: Al Sharpton rears his process next for "JB: Still The Man," a hard-hitting tribute to James Brown on which he PREACHES `bout how James taught the world to Be on The 1 over a slick horns and soul sister #1 vocal-spiked track – complete with a trombone solo by Fred Wesley and a TASTE of organ from Rubber Band alumnus Joel "Razor" Johnson. Then on "Freedumb," Bootsy checks in with Dr. Cornell West for some words of critical uplift. The chorus: "If you wanna be free / Then you can't be dumb / If you want to be free / Then you gotta get on The One." This rolls right into "After These Messages" – autobiographical musings from Samuel L. Jackson (a.k.a. "Sammy J") about what Funk as Life Force meant to him as a youngblood.
Other highlights include the retro `60s Soul salute "Don't Take My Funk" featuring verses sung by Bootsy's late brother Phelps "Catfish" Collins and the legendary Bobby Womack, a long view country funkin' lesson on sex education called "If Looks Could Kill" featuring Bela Fleck on banjo and Dennis Chambers kickin' military cadences on the skins, and some psyche-techno-delic Grunge Funk titled "Minds Under Construction" that's about dodging the okey-doke of mind-control, featuring Buckethead on guitar (note: this single is also a far out video).
The biggest surprises of the album begin with a sexy, straight up Afro Cuban joint – in Spanish – called "Siento Bembo" featuring Olviedo Ruiz y Ouiwey that finds Bootsy in mack mode (a la "What's a Telephone Bill") and in hot pursuit of South American romance. There's "The Jazz Greats (A Tribute to Jazz)" and the space blues "Garry Shider Tribute," dedicated to the late P-Funk singer/guitarist featuring poetry from George Clinton and some non-verbal communication from an uncredited fretsman (likely Shider from the vault). There's also a tender southern rock anthem to wave your lighter to in concert titled "Stars Have No Name (They Just Shine)" dedicated to loved ones that have passed on (featuring singers Nick Arnold and Chrissy Dunn, plus Victor Wooten on bass). And if you make it through ALL OF THAT, your reward is two new Bootsy boudoir joints: "Caramel Chocolate Angel" and "Yummy, I Got The Munchies" [Munchies for Your Love (Slight Return) co-flipped with MusiqSoulchild].
Time was when Bootsy could blow your mind with 7 or 8 exquisitely produced and programmed tracks spread between a monstrous Side 1 and a mellow Side 2. In regard to Tha Funk Capital of The World, a little less would have been more (the middle tracks "Kool Whip" and "The Real Deal" could easily have been excised). What's most commendable is the breadth of what Bootsy brought to the table, likely having in mind that tomorrow is never promised and that he wanted to make the boldest edutainment statement possible at this time since so many from his era are being beamed up on the weekly. The project comes complete with an eye-popping colorful 20-page booklet filled with photos, credits and a tribute to his big brother Catfish, so real fans will most definitely want that "physical love," NOT a digital download.
A. Scott Galloway
The Urban Music Scene