Malika Zarra | Berber Taxi
by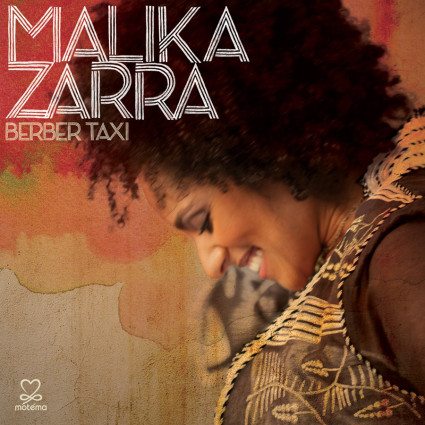 Album Review: Malika Zarra – Berber Taxi
By Peggy Oliver
Most have heard the old saying life imitating art. Yet maybe art imitating life would best apply to singer/songwriter Malika Zarra. Zarra was practically a sponge from the time she was singing and dancing as a little girl in her home country of Morocco. Even after she moved with her family to France at three years old, music would always rule Zarra's mind and soul. Thanks to a wealth of music at her fingertips, her influences were extremely eclectic; from classic Moroccan pop (Haja Hamdaouia) to classic Arabic pop (Warda Al-Jazairia). Zarra was especially drawn to jazz – especially Ella (Fitzgerald) and Bobby McFerrin – because of how improvisation was pivotal to this genre; much like the music inspired by native Arabic. After completing her basic schooling, Zarra remained in France to study jazz in private settings and music academies. She then gained more notoriety regionally in various clubs and special events. Eventually, Zarra decided to sing more jazz standards and sometimes write new lyrics for those standards in Arabic, which she felt brought stronger connections to her audiences. As she established her confidence professionally and further explored her multi-cultural background, it took a visit to a very special place in searching for a refreshing awakening.
On a visit to New York City in the late nineties, Zarra immediately gravitated to a jazz music educator that encouraged her to sing in Arabic and French with that schools' ensemble. She also developed long lasting relationships with many of her future recording and performance colleagues. Since residing in NYC in 2004, she has worked alongside veteran progressive jazz players Lonnie Plaxico (Casssandra Wilson, Jack DeJohnette) Michael Cain (M Base, Jack DeJohnette) and John Zorn; the latter for a vocal quartet project in 2010 entitled Mycale: The Book of Angels 13. Zarra was fast becoming a jazz favorite on several NYC stages including Carnegie Hall and The Jazz Standard; engaging her audiences with intricate vocal colors and improvisation in several languages: Berber – a dialect of North Morocco, Arabic, French and English. The 2006 self-released debut, On the Ebony Road, was an extension of her live shows backed by musicians representing several cultures including Africa, South America and France. This regular working band of guitarist Francis Jacob, bass guitarist Mamadou Ba, multi-instrumentalist Brahim Fribgame and drummer Harvey Wirht returns with Zarra for Berber Taxi on the independent company Motema Music.
Berber Taxi digs deeper into Zarra's upbringing and the cultures that affected her way of thinking. The opening "Tamazight" celebrates the strong Berber women of Morocco who have struggled through years of working hard with little or no recognition. Zarra's vocal inflections capture the rhythms of Berber culture. Bouncing between funky hooks, reggae induced verses
and classic Arabic overtones, the title track is a traditional folk song illustrating the use of 'an illusionary taxi' to seek out love and hope in a distant land. "Houaria" finds Zarra's cradling voice transforming into a fine tuned jazz instrument. Sung in Moroccan dialects with a touch of English, "Mossameeha" is world/jazz fusion at its finest reeling in complex and diverse African rhythms. Mossameeha's meditative intro and "No Borders" are two blissful moments of seamless interactions between oud and bass guitar respectively. "Amnesia" loudly speaks of insensitivities of politics and racism set to Afrobeat grooves and sung in French.
The other three tracks on Berber Taxi ("Issawa's Woman," "Leela" and "Mon Printemps") are no less enthralling than the aforementioned. And whether jazz music is one's cup of coffee or not, Berber Taxi clearly signifies that Zarra unquestionably recognizes this mighty art form crosses many cultures and countries; and that everyday life can imitate art.
Peggy Oliver
The Urban Music Scene