Jonathan Butler | Merry Christmas To You
by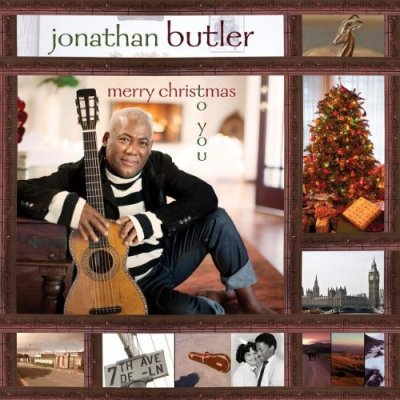 Jonathan Butler | Merry Christmas To You
Artistry Music
By Peggy Oliver
Just like the department stores who prepare in advance to entice shoppers for Christmas, so do the music marketers who are just as attuned to sharing good cheer for the year end fanfare.  That season of Christmas offers one of its first major releases with Jonathan Butler, the latest to join others with their inspirations centered around the most celebrated commercial time of the year. Though it took a long time in deciding to record a full-on Christmas project, Butler's enthusiastic voice has been a refreshing fixture across the contemporary jazz, gospel and R&B charts since the mid eighties.
As more artists join the merry band covering Christmas standards and hymns resulting in sometimes boring and out of the box interpretations, the interest amongst Christmas connoisseurs tends to wane further. In the case of Jonathan Butler's Merry Christmas to You which is filled with mostly usual holiday music expectations, the overall product is way above the norm.
Merry Christmas to You
 unveils an enjoyable holiday canvas because of Butler's genuine artistry; never abandoning his soulful jazz phrasing and an impressive range that is effectively calming and powerful.  Most of the rhythm instruments are played by Butler while contemporary jazz reliables, including Dave Koz, provide strong assistance. The overall continuity on Merry Christmas to You lets every listener experience Butler's dexterity with faster tempos on the first half, before settling into an all acoustic setting focusing on his precious guitar accompaniment for the latter.
Instead of playing it safe on the Donny Hathaway urban holiday chestnut, "This Christmas," Butler masterfully crafts his unique interpretation; from the slow but enriching intro with electric piano into the pleasing jazzy grooves concluding with snappy scat vocals.  "Sleigh Ride" demonstrates Butler's innovative funky touch with his acoustic guitar and brass
section featuring Koz. For bonus coverage on Merry Christmas to You, audiences are treated to two originals: the title track that hints of doo-wop and "Happy Holidays" driven with an edgier R&B slant though yet with a sophisticated aftertaste. A animated performance of "Little Drummer Boy" finds Butler reaching back to his South African heritage
incorporating chants, mellow percussion and captivating vocal adlibs mirroring the 'drumming.' Besides the secular standards and originals, heartfelt praise and worship behind "Sweet Little Jesus Boy" and "O Holy Night" highlights the second half. 
With Merry Christmas to You, Butler knows how to celebrate the holidays without any
pretension whatsoever.  Right about now, the music market and Butler are
striking a very positive chord for the 2013 Christmas season.  Five out of five stars.