Con Funk Shun | More Than Love
by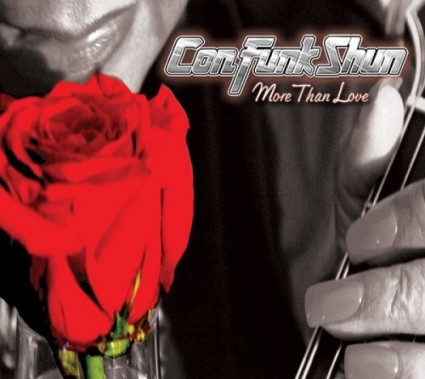 Con Funk Shun | More Than Love
By Peggy Oliver
When someone speaks of 'absence making the heart grow fonder,' it could take on a number of scenarios, especially a reuniting of a musical group that once broke their bonds and then returns again for old time music making sake. Con Funk Shun, one of the influential seventies and eighties R&B-funk ensembles, emphatically brought their audiences to the dance floor and oozed the best in romance. Anchored by the lead vocal tandem of Michael Cooper and Felton Pilate, Con Funk Shun rode on a hot streak of singles for a decade, many which charted in the top fifty on the R&B charts, including silky slow jams like "Love Train," "Baby I'm Hooked (Right Into Your Love)" and their defining funk dance thumpers, "Chase Me" and "Ffun," the latter crossing over to the pop market in 1978. Of course, there were the internal tensions within the band, leading to an ugly breakup after their ten year relationship with Mercury Records in 1986. Though Cooper remained in the spotlight with his solo career, the absence of ConFunkShun as a group eventually expanded their heart's fondness as they found their way back in 1996 dropping a live CD of their hit parade for Intersound Records. From that point on, the band continued to tour with their sharp funk chops and was recently rewarded for their past body of work.
In 2014, Con Funk Shun accepted a Lifetime Achievement Award from the National R&B Music Society. The same year, they released "Your Night," which peaked at number twenty-one on the Billboard Urban AC Charts. Now in 2015, a fresh musical package of romance galore, More Than Love – Con Funk Shun's first release since 1996, finds original members Cooper, Pilate and trumpeter Karl Fuller along with their current touring lineup, tailoring their trademark R&B funk sound for today's market. In some circumstances, the risks work quite effectively.
Besides More Than Love's opening track, "Your Night," Con Funk Shun's latest single, "I Miss You," in collaboration with producer/songwriter Jamie Jones of All-4-One, provides a strong Urban AC radio vibe in a touching piece about the frustrations after love's mess ups. However, Con Funk Shun's partnership with D'Wayne Wiggins (Tony! Toni! Tone!) on "Once I Get In It" never really takes shape, vocally or groove wise. Detouring to a more positive direction, the bass-reverberating foundations of "Dance N With A Grown Man" add a funk spring in their step in a cool celebration of getting one's groove on well into their later years.
One of Con Funk Shun's bolder moves on More Than Love belongs to the Caribbean flavored "Say Yo," decorated with steel drums and Cooper and Pilate's soulful voices. On the other hand, their Zydeco interpretation of Curtis Mayfield & The Impressions' "Move on Up" lacks the vocal zeal that this song demands. If there were an absolute sleeper, though, "Taboo" strikes a marvelous eighties R&B chord in this special ode to another old school institution, The Whispers.
It is apparent that despite Con Funk Shun's attentiveness in upholding their core sound in today's Urban AC market, More Than Love should never be compared to nor recall their hit-making Mercury Records era. That aside, most of the risk taking by Cooper, Pilate and the Con Funk Shun class of 2015 manifests a sincere, on-going fondness for their musical craft. Four out of five stars.
Peggy Oliver
The Urban Music Scene