Dave Tolliver | Somethin Like The Greatest
by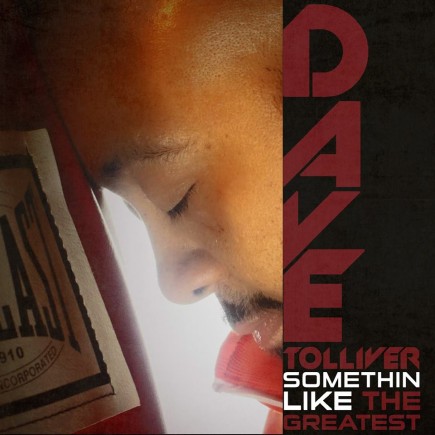 Dave Tolliver | Somethin Like The Greatest
Spectra Music Group
by Brent Faulkner
R&B singer Dave Tolliver is best known as the lead singer of 90s New Jack Swing R&B group Men At Large. Men At Large itself was best known for a song called "So Alone," which was an R&B hit and relatively successful on the pop charts. But this isn't about Men At Large, but rather Tolliver as a solo artist. After a six-year hiatus, Tolliver drops sophomore album Somethin Like The Greatest, the follow up to 2009 LP, Blaq Pavarotti. Does the talented 'Blaq Pavarotti' still have it on Somethin Like The Greatest? Yes – there's plenty to enjoy over the course of album number two.
"Somethin Like the Greatest" kicks off the album dripping in swagger. Hip to the times, Tolliver is backed by slick production work, with rhythmic, hip-hop oriented drum programming leading the charge. "Whatever" finds Tolliver willing to give his woman "whatever she wants" and "whatever she needs." Tried and true it is, it never seems to get old. Love is transcendent subject matter because it's relatable; therefore "Whatever" sounds freshly satisfying. Another shining moment, "Always (Wedding Song)" is a lushly produced and performed adult contemporary R&B ballad that serves as the album's tour de force. Old school in concept, "Always (Wedding Song)" is a pure slow jam that modern R&B needs more of. Chivalrous and eschewing the profane, there's a classicism that's more clearly much more attractive than say singing overtly about sex. Also doesn't hurt that this brother can sing like a champ.
There are more fine moments to celebrate on Somethin Like The Greatest. "Ready For Change" is a mid-tempo record where Tolliver sings about a girl who needs a 'real man' in her life, hence she's "ready for a change" after having a fool. "Through The Speakers" is another cliché considering that speakers have fueled innuendo in the past. Even so, it is slickly produced and soundly performed grown and sexy R&B. Penultimate track "Baby Come Back" certainly has "oomph." Nothing new, "Baby Come Back" doesn't need to be considering the pipes and charisma Tolliver possesses. Cliché is never revolutionary, but it sure is a good look here.
So, how does Somethin Like The Greatest stack up? Overall, Dave Tolliver has put together a solid and enjoyable adult contemporary R&B album. To reiterate, there's not much that's 'brand new' about the album per se, but all in all, the script suits the singer to a tee. While it's hard to envision every song potentially classic like say "So Alone" was, Tolliver never seems to miss. Keep it soulful Blaq Pavarotti – keep it soulful!
Brent Faulkner
The Urban Music Scene