by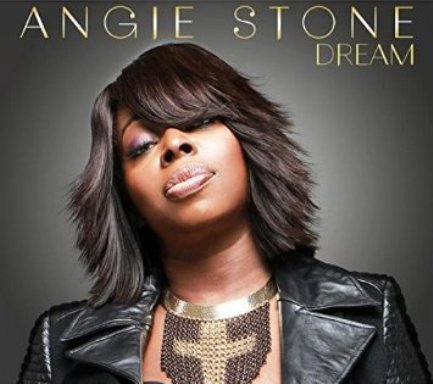 Angie Stone | Dream
Shanachie Records
by Brent Faulkner
Several names come to mind when the word neo-soul is mentioned. The throwback soul movement was dominant in the late 90s and early 00s before fizzling. While it never died completely, after a while, it cooled off. Returning to the initial point, one of the names uttered when neo-soul is uttered is Angie Stone, a proponent of the movement. Quite possibly the closest vocalist in tone to Gladys Knight, Angie Stone has never received her just due, nor has she let being underrated hold her back. On her seventh studio album and first for Shanachie, Dream, Angie Stone sounds as invigorated as ever, clinging true to her soulful roots while sounding fresh. Working with renowned producer Walter Milsap III, Stone shines once again on Dream.
Angie Stone doesn't miss a beat on Dream; consistency is the M.O. to say the least. Even so, there are some cuts that stand taller than the rest. Single "2 Bad Habits" is arguably the crème de la crème of Dream, as Angie Stone sassily admits her two worst habits – wine and her man. Superbly written, "2 Bad Habits" successfully blends neo-soul as well as hip-hip in regards to the rhythmic delivery of the melody. Accompanying "2 Bad Habits" are other gems, including the brief "Clothes Don't Make The Man," which leaves a soulful impression in that short amount of time. Throughout it's course, lyrically references are made to clothing, but ultimately, Stone is singing about what the man has to offer, not what he actually wears. Then there's also "Magnet," a song in which Stone speaks upon bad relationships, proclaiming she's a "magnet for the wrong guy." Women in particular will appreciate "Magnet."
But Stone doesn't stop there – that's the thing about Dream – it truly is a dream to listen to start to finish! "Dollar Bill" kicks things off spiritedly, where Stone is "single as a dollar bill." There's significance, considering Stone was indeed single when recording Dream. That doesn't keep her from indulging in lustfulness, as exhibited on the sensual "Dream." She never crosses the line like her more youthful contemporaries, and even acknowledges the sinfulness in her walk as a Christian woman. Duet "Begin Again" featuring Dave Hollister can't be omitted from the discussion, or later on the Bobby Womack-sampling "Think It Over." Penultimate standout "Forget About Me" asks a question applicable to both men and women alike in various scenarios: "Did you forget about me?"
When it's all said and done, how does Ms. Stone's seventh studio album stack up? Dream is another well-rounded, enjoyable album from one of R&B's greatest voices. Arguably, Dream is Stone's best album in years, possibly dating back to 2004 neo-soul classic Stone Love. Comparisons aside, something that has always remained consistent about Stone is her vocal ability. Voices like Stone's are once in a lifetime, God-given gifts and regardless of the lot she's been given in the music industry being underrated, her talent shines through and remains undeniable and indisputable.
Brent Faulkner
The Urban Music Scene