Jason Miles Captures The Spirit of Grover Washington, Jr.
by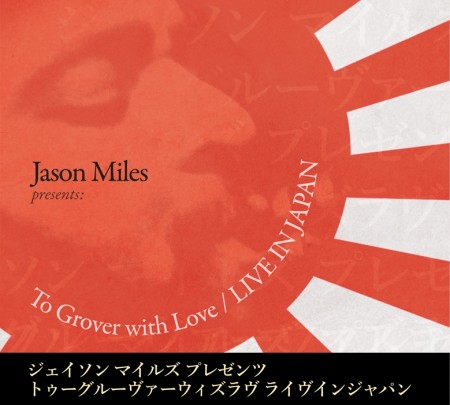 Jason Miles
To Grover with Love: Live in Japan
(Whaling City Sound)
Record Reflections by A. Scott Galloway
In the scheme of all things musical, the question often arises, "Why a tribute CD?" Would you rather hear people paying tribute to an artist by rerecording their works or instead hear the legendary artist's music itself? In most cases, the latter is true. Sometimes there are exceptions, the latest being keyboardist/producer Jason Miles' third tribute to a man that has given him consistent inspiration, saxophonist Grover Washington, Jr. Unlike the previous two, this one was recorded live.
Washington was a multi-faceted man, one who could wax blazing and fiery then turn mystical and mellow…depending on how high he cranked up his burner and which saxophone he chose to play. He also possessed very distinctive sounds both as a player and as a composer – known to start off cool, lay plenty of logs on the fire, then blow those bad boys back down with a cool breeze befitting "Black Frost." And he laid his classics down with some of the most seminal musicians, arrangers and engineers of the era. Therefore, anyone attempting to revisit Grover's music truly needs to be on-point…and brave.
What Jason Miles and his stellar collective of cats have managed to accomplish here before an audience in Japan is capture the spirit of Grover. The rhythm section consisting of keyboardist Miles, guitarist Nick Moroch, bassist Gerald Veasley and drummer Buddy Williams all played with Grover in one capacity or another. And percussionist Ralph MacDonald, in among his final captured recordings, not only played with Grover, he co-composed several of his most beloved hits including "Mr. Magic" and "Just the Two of Us" (the latter soulfully sung here by guest Ryan Shaw). That leaves the all-important saxophone chair. Jason hedged his bets and brought along two: Andy Snitzer and Eric Darius, who play together and in alternating solo turns (though, without explanation, not delineated in the credits). Songs like "Winelight," "Take Me There" and "Let it Flow" best reveal the collective vibe that goes down like a fine Bordeaux. Major highlights are Veasley's and Moroch's burnin' solos on "Loran's Dance."
To be clear, none of this music will make you forget Grover…it's not intended to. But for those that long to bask in Grover's familiar glow as funneled through the artistry of cats up to the task of paying "inspired by" homage, this is a respectful yet passionate bow to the long shadow of Grover.
A. Scott Galloway
Music Editor
The Urban Music Scene
March 28, 2016