by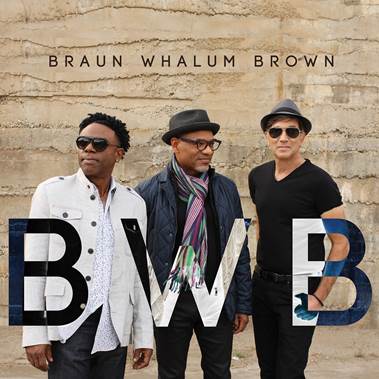 BWB | BWB
by Brent Faulkner
BWB (Brown, Whalum, and Braun) are nothing short of a musical force to be reckoned with. When three of smooth jazz's crème de la crème collaborate together as a super group – Norman Brown on guitar, Kirk Whalum on saxophone, and Rick Braun on trumpet – the end results are nothing short of celestial. BWB marks just the third collaboration of the three for a studio album, following Groovin' in 2002 and the Michael Jackson covers album, Human Nature in 2013. Like their splendid work of the past, BWB is another terrific set of songs that plays to the strengths of its prodigious personnel, with prodigious being the key word!
"Triple Dare" kicks off BWB with a bang…in the smoothest "smooth jazz" way possible. Don't let the coolness of the opener fool you – "Triple Dare" sounds just as playful and as its title suggests. Contrasting legato passages with angular, articulated riffs, "Triple Dare" indeed 'triple dares' the listener to change the track. The danceable, funky "Bust A Move" follows in continual excellent fashion. With its feisty backing vocals and yet another killer groove, "Bust A Move" doesn't concede the least bit of momentum from the opener – in fact, it bests it! Awesome solos, traded fours, and the signature descending melodic line seal the deal! Always "on-point" when it comes to funk and soul-jazz, "Lemonade" isn't the least bit 'sour' but rather bursting with flavor. BWB add just the right amount of sweetness to completely eliminate any tartness. Take your pick who's got the hottest solo here – the balance is incredible.
Misses and miscues aren't to be found on BWB – try to find just one and it WON'T HAPPEN. The hardest task is distinguishing the best songs when all are clearly sound. Another one of those sound records is "BWB," making one reminisce to Stevie Wonder classic, "Master Blaster (Jammin')" from album Hotter Than July. What's distinct is the fact that the musicians continue to show eclecticism and stylistic restlessness, in this case incorporating reggae and tropical stylistic cues. This restlessness continues on "Bolly Bop," a sensational ode to India and Indian music, something that is more rarely incorporated in contemporary music, regardless of genre. The use of flute here is a particularly thoughtful timbral contrast and suits the sound that BWB are shooting for. Beyond the clear gems, even chill moments that may not hit as hard as say "Bust A Move" or "Lemonade" like "Memphis Steppin" is worthy of spins and shouldn't be discounted in the least.
All in all, BWB is an enjoyable, well-executed album through and through. As referenced earlier, misses are nonexistent while consistency and the utmost musicianship are the M.O. The biggest rub of BWB isn't even about the album itself. Nope, it's about these three fantastic musicians releasing more than just THREE albums together! In other words, BWB, it's time to start working on album number four!
Brent Faulkner
The Urban Music Scene