Don Bryant | Don't Give Up on Love
by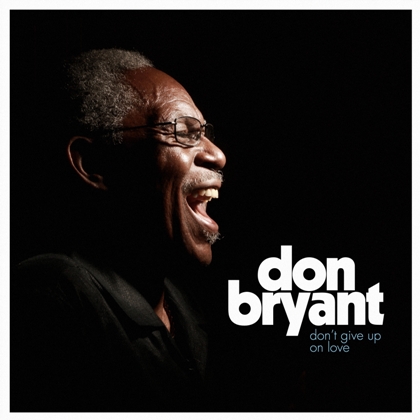 Don Bryant | Don't Give Up on Love
(Fat Possum)
by Brent Faulkner
Sometimes, truly great musicians are unsung heroes. Often, the frontman or the full-time solo artist tends to get all of the love and all of the praise. Still, there are extremely talented songwriters, producers, and background vocalists who help to craft some of the greatest records and album. Such is the case of Don Bryant, whose name won't instantly make the soul top ten list, but deserves much more recognition than he's received. Bryant co-write a soul classic for his wife Ann Peebles – "I Can't Stand the Rain." Furthermore, he was associated with the legendary Willie Mitchell, known for his work with icon Al Green. On soul album Don't Give Up on Love, Don Bryant is the featured musician – the spotlight is his. Even sweeter is the fact that the album is dedicated to his wife.
There isn't a bad moment on Don't Give Up on Love. That said, there moments that stand even taller than the rest. The first gem arrives right at the top of the album. "A Nickel and a Nail" kicks things off in rousing fashion, setting the tone for the album as a whole. Throughout its course, Don Bryant exhibits superb grit, consistently 'going for the kill' in regards to his vocal performance. As superb as "Nickel" is, its joined by standouts of equal caliber. "I Got to Know" is among those standouts, delivering a sheer delight from the first listen – simply scrumptious. It seamlessly incorporates 60s soul, old-school gospel, and the blues. Although it's tongue-n-cheek and anachronistic in sound, Bryant is on autopilot – clearly in his zone, excelling within his niche.
"How Do I Get There?" is the crème de la crème of Don't Give Up on Love. Arguably, it's Bryant's crowning achievement. The record perfectly captures vintage soul and black gospel vibes. In the past, R&B and gospel music had a close relationship, overlapping in themes and spirited vocal performances. Bryant recaptures that union, backed by soulful production that nods to Sunday morning church services. The lyrics epitomize gospel music, as Bryant asks about making it to heaven. Nothing outdoes "A Nickel and a Nail," "I Got to Know," or "How Do I Get There?", but there are plenty more fine moments. Ballad "It Was Jealousy" provides contrast, showcasing tenderer vocals by Bryant. Even so, the veteran musician still possesses a coarseness and vigor, which only amplifies the performance. After all, he asks for forgiveness for poor choices, ultimately blaming it on jealousy: "Oh it wasn't me / it was jealousy / that made me turn my back on you."
"Something About You" is groovy, featuring cues that rival the music of James Brown. The riffs are electrifying, with Bryant continuing to flex a ripe set of pipes. Both the tearful "First You Cry" and title track "Don't Give Up on Love" further confirm the consistency and brilliant musicianship showcased throughout the album. All in all, Don Bryant gives the world a marvelous soul album for the modern times. While Don't Give Up on Love doesn't sound anything like the modern script of R&B, it's refreshing. It's refreshing because it's focus is on maintaining the authenticity of soul music, not running away from it. Bryant is 75 years young.
Brent Faulkner
The Urban Music Scene