Lalah Hathaway – Troubadour – Tuesday April 21, 2015 (10PM show)
A Concert Reflection by A. Scott Galloway
Show Photography: Arnold Turner

Jazz composer/saxophonist Wayne Shorter wrote a piece entitled "Footprints" that within its original instrumental structure conveyed volumes about the dual weight and gravity of upholding lineage and legacy. On a cool Tuesday evening in West Hollywood over the course of two shows, singer/songwriter Lalah Hathaway proudly upheld her end of the genealogical bargain in highly anticipated concerts steeped in the Black Pool of music history. Not only was she performing at The Troubadour nightclub – ground zero for where her father Donny Hathaway recorded the most thrilling half of a "Live" LP 43 years prior in August of `71 – she was recording her shows for CD and DVD, too. This is high hallowed territory for not only is Donny Hathaway Live (Atco 33-386 – 1972) arguably the greatest live album of all time, it is the greatest album of all time. A second volume titled In Performance was released 8 years later containing as many gems as the first.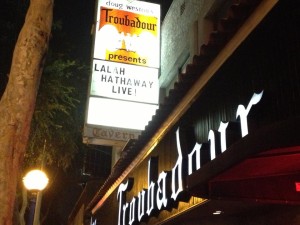 The Troubadour marquee (Photo: Wendy Smith-Brune')