by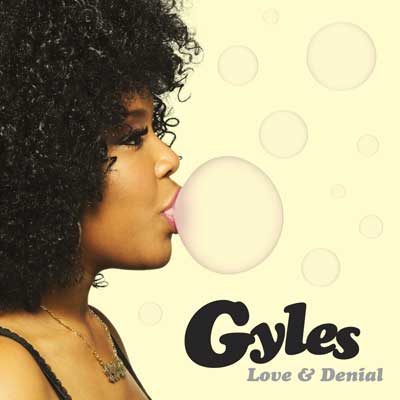 Gyles | Love & Denial
(2012 Duffmusiq)
by Brent Faulkner
Described as a "powerhouse vocalist and thoughtful lyricist", R&B
artist Gyles releases EP Love & Denial via Duffmusiq, supported by a
lofty list of accomplishments. Amongst her artistic resumé, Gyles has
lent her vocals to a host of award-winning and nominated artists
including Juno award recipients Carlos Morgan and Jully Black, and Juno
nominee Camille Davis. Two songs received second place honors at the
Radio Star National Songwriter's competition in 2008 and 2010. Gyles
ushers in 'new Motown' on the five-song EP. She collaborates with
songwriters/producers Duffmusiq (Damir "Duff" Demirovic), Jennifer
Brewer, Reece, and Justin Forsley.
Love & Denial has no misses. Its crowning achievements are opener
"On One Knee" and single "Slow Down". "On One Knee" begins things
jubilantly, characterized by vintage, authentic soul production work.
The palette of sounds includes strings, electric guitar, and old-school
drums. Gyles commands vocally, delivering fun lyrics, capped off by a
capable, catchy chorus: "I accept you defeat you win / White flag up
towel in / No contest had me at hello / you're the one I've been waitin'
for / Knocked me off my feet / and then on one knee he asked me. " On
"Slow Down", Gyles delivers a message about trying to grow up before
youth has expired: "Slow down baby, don't go too fast / the sandbox you
playin' in ain't gonna last / slow down honey / hear what I say / you
growing up too fast and headed down the wrong way." Both cuts are home
runs.
The three remaining cuts also compel. "Talking the Talk" sports a quick
tempo, 70s-soul styled production, and valedictory vocals. "Heart
Bandit" adds a pop/rock edge to its soulful sound, combined with a sassy
lead vocals rocking out lyrics like "Liberated like the fourth of July /
thought that he was Mr. Right…" On the solid, uptempo closer "Someone
Like You", Gyles adoringly labels her lover lyrically "number one,
nothing less… the best", likening her feelings to "fireworks" not
"butterflies." Typical to Motown, the production work is driving and
busy.
Love & Denial is a triumph by all means. Sometimes EP's are
scattered and unfocused on delivering cohesion like a full album would.
Gyles bucks the trend, making the most of her 16 minutes by keeping the
tempo quick and the lyrics both poetic and catchy. Hopefully, Gyles's
full-length is as alluring as this stellar EP.
Brent Faulkner
The Urban Music Scene