Anthony Hamilton | Love Is The New Black
by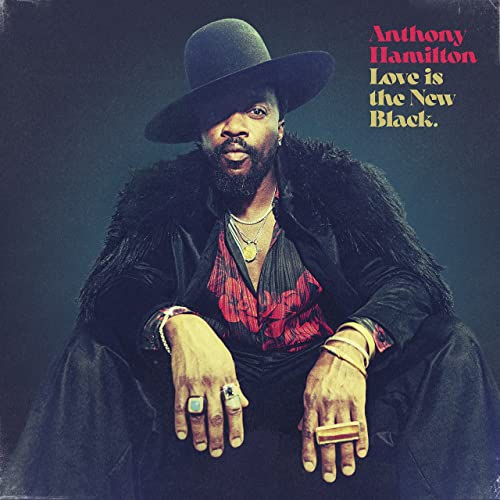 Anthony Hamilton | "Love Is The New Black"
by Cheryl 'Suitelady' Dunlap
It has been about five years since we have heard from the self-proclaimed Country Boy, Anthony Hamilton. I was excited about the opportunity to review his new album. I found myself reminiscing on "My First Love", "Point of All", and "So In Love." His voice is southern hot buttered grits, catfish, collard greens, hush puppies and some sweet tea! His musical roots are evident in every song reflecting gospel, soul, blues and country. Speaking of country music, did he ever release that Country album? Love Is The New Black, is the name of his new album and the title track. It is very hard to say this, but this album is not what I expected. It did not draw me in right away. There is something different about the project, sonically. He made a left turn on this project. What I can say is, there is something for everyone on this album.
Sometimes, I can be apprehensive about the artistic left turns. Therefore, I had to give this album a lot of time.
The first track on the album "Love Is The New Black." It is a great song, and very timely. This track set the expectation of the album. Loving the chemistry between Vocalist Regina McKoy and Anthony Hamilton. She is a vocal beast! "Threw It All Away" feels very nostalgic, with a late 70's and early 80's era sound. "You Made A Fool of Me" has to be an ode to Lenny Williams and he does it well. "I Thought We Were In Love" sampled the Gamble and Huff song performed by Herald Melvin and the Blue Notes song, 'I Miss You". Very Nice! "I'm Sorry " is the words any single-mother would like to hear from a man that let her down in the parenting department. 'Superstar' is a duet with Jennifer Hudson. Originally written in 1969 by Bonnie Bramlett, Delaney Bramlett and Leon Russell. For the most part, it has been a hit for everyone that covers it. Approaching this song as a duet…brilliant! I like the song, but feel that a live version will solidify the vocal chemistry that they did not let loose on this song. "Mercy" is another stand out song on this album. It is a well-deserved tribute to the plight of the Black Man.
Lyrically, this album covers a multitude of topics ranging from self -pride, heart break, humility filled apologies to social injustice anthems and the hope of unity. Musically, I appreciate his honor to his audio roots. Somehow this artistic left turn feels like a bridge of the new school and old school. There are a lot of raw emotions and vulnerability within this project. The 'Country Boy' has spoken, Love Is The New Black!
Cheryl 'Suitelady' Dunlap
TheUrbanMusicScene.com