Take Me to The River: New Orleans Soundtrack
by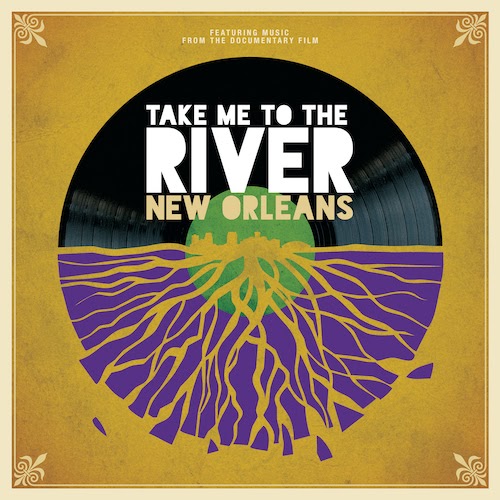 Take Me to The River New Orleans showcases some of the best moments from one of the world's musically passionate cities
In the documentary Take Me to The River: Memphis, filmmaker Martin Shore envisioned the city's music's powerful nuggets through the lens of an already seasoned musician. Several years later, Shore visits yet another musically potent landmark on Take Me to The River: New Orleans (NOLA) exploring the Big Easy's resilience – especially undergoing Hurricane Katrina – evidenced by a complex, yet emphatic canvas of numerous genres encompassing a worldwide phenomenon. For this inclusive look into what makes NOLA tick, the spectrum of artistry represented (most who are New Orleans natives) delivers a hefty 2-disc, 26 track set.
The soundtrack of Take Me to The River: New Orleans on Petaluma Records serves oh so many musical tastes from legends and upcoming talent. On most counts within these 26 songs, this comprehensive soundtrack hits the mark. A charming blend of soul and The Rebirth Brass Band comes via PJ Morton and Cheeky Blakk, in tribute to a "New Orleans Girl." One of NOLA's iconic families, The Nevilles, drop in with contributions by Aaron, Cyril, Ian, and Ivan. Two particular tracks of note are Ian, Ivan and the vocal swagger of Ledisi (w/George Porter) for "Knockin" and Cyril's retake alongside the Voices of the Wetlands of Paul Simon's international hit from 1980 "Late in the Evening," blending the flavors of Cuba and Africa sparked with NOLA rhythmic spunk. Another NOLA favorite, Irma Thomas, along with Lesdisi, are in fine form with the blues ballad, "I Wish Someone Would Care." However, Thomas' rendition of "Carnival Time" with Cyril lacks a bit of that party oomph. Donald Harrison who played a vital role in supporting NOLA's future – Tipitina's Interns, are spotlighted on the modern jazz cinematic, "Donald's Tune." Yet the saxophonist's vision of "When the Saints Go Marching In," is way too brief and a bit safe. As for NOLA's piano masters, Dr. John's consummate blues personality behind "Someone to Love" and the gospel/folk flair of "We Shall Gather at The River" from Davell Crawford outline NOLA's innovative artistic excellence.
This is only a small selection representing Take Me to The River: New Orleans. However, Shore's documentary covers other musical nuggets from a city that proudly wears their musical heart for the world. Four out of five stars.
Peggy Oliver
The Urban Music Scene