Melanie Durrant | Where I'm At
by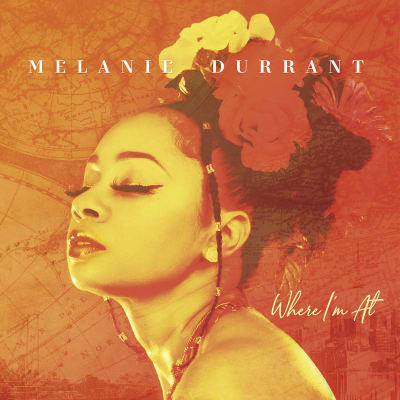 Canadian alternative R&B star Melanie Durrant releases her latest project, Where I'm At
In the next few weeks, Canada will celebrate The Juno Awards, the equivalent to The Grammy Awards in the U.S. Though Toronto, Canada native and 3-time Juno nominated Melanie Durrant ("Made for Love," "Gone" and "Four Seasons") has scored consistently in the Canadian R&B market, her last full-length in 2015, Anticipation – recalling Motown Records heyday – succeeded on a worldwide level with over 3.5 million Spotify listeners along with a Sirius XM Indie Award nomination. The singer/songwriter's resume include shared stage appearances with Common and Jill Scott.
Durrant's keen inspirational choices draw upon soul music greats from Marvin (Gaye) to Minnie (Riperton). But because of her skills incorporating reggae, rock, swing, and other genres into her playful and passionate soul kissed vocals, Durrant has achieved her own artistic identity in an almost twenty year career.
The latest for Durrant through her Melo-D, Inc. moniker, entitled Where I'm At, shifts away from Motown in showcasing her impressive musicality. Coming out of the gate, the CD's first single, "Listen," illustrates a hip-hop edged canvas regarding emotional abusive relationships and how the victim turns toward victory over her circumstances. "Good Stuff" takes its cue from Durrant's lovers rock hit "Made for Love." The hooks of the early 70's smash "Get it On" by T. Rex and sandpaper drum pads resonate on the rock/R&B track, "Ride with Me."
Where this project falls short are "One in A Million" and "High on Love" that is bogged down with cliché arrangements where Durrant's usually confident vocals are underwhelming. Yet the delights outweigh the disappointments. One of Where I'm At's highest points reaches back to the vibe of Anticipation with the do wop'esqe, "I Cried," complete with a la-la-la chorus. "Dirty Shirley" shimmies its way with a contagious bass line and the best overall hooks gracing Where I'm At. A riveting contemporary Latin kick sparks "Still Lovin You" as the baritone sax heads the rhythm section sealed with guitar fills and luscious backing harmonies. Despite the few hiccups, Where I'm At is a welcome alternative in today's R&B landscape and hopefully will garner enough attention to make a dent on the U.S. charts in the near future. Three-and-three quarter stars out of five.
Peggy Oliver
The Urban Music Scene