Jeff Beck Roars into L.A. For Week of Classic Cars and Legacy Music
Event & Concert Reflections by A. Scott Galloway

On Monday night, August 8, `round about 6pm, English Blues-Rock guitar legend Jeff Beck hooked a right off Sunset into the parking lot of Mel's Diner (location for George Lucas' `50s nostalgia classic "American Graffiti") in a 1932 Tudor to greet fans that had plunked down $500 in advance for a signed copy of his jaw-dropping new coffee table photo album/autobiography, "Beck01." Heavy on pics (over 400 rare and unseen) with choicely edited 20,000 words of text, the tome is the ultimate big ticket souvenir for fans of Beck detailing his meteoric ascension in the world of rock guitar, his passion for classic cars and the colorful cavalcade of characters he has encountered along the way (from Albert Collins to Stevie Ray Vaughan). It was a casual yet exclusive burgers-n-beer kickoff event of two stellar evenings in Los Angeles that culminated in a star-studded commemorative "50 Years of Jeff Beck" concert at the Hollywood Bowl on Wednesday. Following this feting for what is only meticulous Genesis Publications' 99th book since 1974, Beck roared back onto Sunset with two girls – one on the passenger seat, the other in her lap – into an intense Tuesday of rehearsals for the once in a lifetime gig.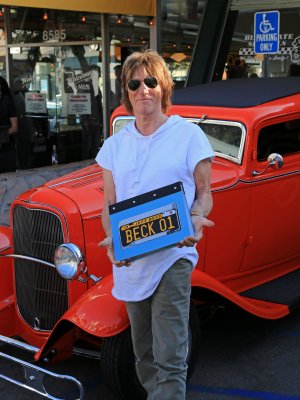 Jeff Beck with 1932 Ford Tudor and his book, Beck01