Paul Jackson, Jr. | Stories From Stompin' Willie
by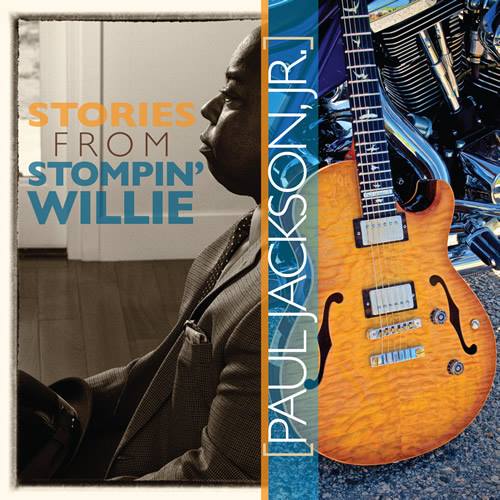 Paul Jackson, Jr.
Stories From Stompin' Willie
(M and P Music Factory)
A Record Refection by A. Scott Galloway
As a sideman, super guitarist Paul Jackson Jr. has been responsible for many memorable musical moments…from his enigmatic rhythmic stabs on Angela Bofill's "Tell Me Tomorrow" to the ethereal ghosting flavor he brought to "Maputo" by Bob James & David Sanborn. For his eighth CD as a leader since his 1988 debut I Came To Play (and his first in 8 years since 2008's Lay It Back), Paul continues his eclectic path of modern groove jazz with an all-star cast of cohorts that runs the gamut from everyday smooth to some exceptional Funk-Rock Fusion. The river running through it all is the spirit of the late, great George Duke who bestowed upon Paul the nickname "Stompin' Willie"…thus the album's novel title.
The album opens with Paul's composition "SaSsAY" an up-tempo group scat vocal that's like George Benson meets Earth Wind & Fire. Following two signature smooth jazz collaborations with Jeff Lorber and a super slick one co-penned with Brian Culbertson titled "B.F.A.M. (Brother From Another Mother)," it becomes curious that horns are playing so much a part on a guitar player's CD. However, a third Lorber collabo, "Ocean Explorer," offers a refreshing reprieve featuring Paul, a string section, Gary Novak on drums, Jimmy Haslip on bass and Karen Briggs on violin for a buoyant compositional adventure in an 11/8 time signature. Now we're "going somewhere"…Tally-Ho!! Rounding out the first half of the CD is a tribute to Tom Scott entitled "L.A. Express Yourself" that Paul co-penned with longtime bassist Cornelius Mims and that features Mr. Scott lending his instantly identifiable flavor to the churnin'-n-percussive groove.
The final four songs of Stories From Stompin' Willie comprise The Dukey Suite, beginning with George Duke's Brazilian lilted composition "Geneva." Paul played on Duke's recording and brings a rapturous adoration to the melody in his lead and rhythm playing. This sets up the absolute most smokin' track of the CD, a remake of "Hip Pockets," a Funk-Jazz Fusion classic penned by drummer Billy Cobham that Duke recorded in a co-led quartet with Cobham, guitarist John Scofield and bassist Alphonso Johnson in the mid-`70s. Bassist Alex Al brings some ferocious thumb funk to the party that thoroughly updates the track and Paul opts to swing his ass off as drummer Teddy Campbell and keyboardist John Beasley anchor the slam jam through its winding anthology of mind-bending grooves. ("Mercy!")
Next, Paul tackles "That's What She Said," another classic that Duke recorded on his seminal 1975 LP, I Love The Blues… She Heard My Cry. For this, he brings back that track's original rhythm section of Ndugu Chancler on drums and Byron "Psycho Bass" Miller on bass with Patrice "Baby Fingers" Rushen holding down Big Daddy's chair, turning in a burnin' solo. Violinist Nicole Neely doubles the intricate melody line as Ruth Underwood did (on marimba) on the original. It's a nice, though smoother, new look as the original holds the distinction of being among the most radio-friendly hardcore fusion recordings of all-time. Closing the CD, you KNOW Paul had to reach for "It" and take "It" to The Bridge – "It" being The Funk. This is handled with Rushen, Ndugu and Byron once again on "Dawili Gonga," the title being the alias Duke used to record on other people's records while still under contract (Industry Rule #3,081: Never try to constrict a prolific musician from practicing his art…for they will make A Way!) All of Byron's & Ndugu's comical philosophical homage jive, and all the slippery creepin' bottom one expects from all involved are present…in spades (or is that spooks?).
With so many bases so passionately and expertly covered, Paul Jackson, Jr.'s Stories From Stompin' Willie will have fans steady lookin' out for Volume 2.
A. Scott Galloway
Music Editor
The Urban Music Scene
August 2, 2016