Leela James | Loving You More…In the Spirit of Etta James
by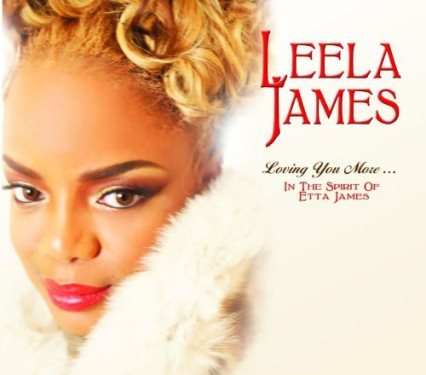 Leela James
Loving You More…In the Spirit of Etta James
(Shanachie)
By Peggy Oliver
When a potential artist navigates the journey to professional music glory, their friends and family probably told them at one point that they were born to be a star. Then there are others who hint that the aspiring talent reminds them of a specific music superstar. As Leela James was preparing to aim her sights towards greater musical heights, she already had an advantage over some of her counterparts. Her rich, blues-enriched voice drew comparisons since childhood to Etta James, an influential vocalist who garnered a Lifetime Achievement Grammy Award and an induction to the Rock and Roll of Fame in 1993. Those comparisons to Etta might have imposed big expectations for her personal career but Leela was more than thrilled to accept those comments as full-fledged compliments.
In fact, even though this singer/songwriter never had the privilege to meet Etta who passed away in January of 2012, Leela strongly feels there is plenty in common with this blues music icon. Firstly, Leela chose James as her professional last name in homage to Etta's legacy. While the two are not related by blood, Leela and Etta share the same drive in their musical quests, the pain in their personal struggles and their drive to call their own creative shots.
Similarities aside, Leela has already proven she is her own soul diva with a raw, smoky style that navigates between neo-soul, hip-hop nuances and throwbacks from the sixties and seventies. Her first major exposure was in 2005 with A Change is Gonna Come, featuring the Sam Cooke signature piece and predominately original material. The 2009 follow-up, Let's Do It Again, was a cover tunes affair with Leela's knockout voice and appealing takes on pop and soul standards like Foreigner's "I Want to Know What Love Is" and The Staples' "Let's Do It Again."  The following year, My Soul, released by the resurrected, historical Stax Records, focused on Leela's unique vision of soul sans covers.
The eleven tracks on Leela's latest for Shanachie Entertainment, Loving You More…A Tribute to Etta James, pay the utmost compliment to her hero but with substantial makeovers that etch a neo-soul-kissed modern R&B canvas. The average fan could deem this as just another cover project. However, despite the liberties being taken with the orchestrations, Loving You More is the perfect vocal platform for Leeta's admiration of Etta and for her unapologetic soulful strut.
Leeta incorporates two original songs for Loving You More including the intro "Soul Will Never Die." The first single, "Something's Got a Hold on Me," has plenty of gospel hops anchored by piano waterfalls and fills; all of which the clubs should feast on. "It Hurts Me So Much" feeds off of Leela's intense reading accompanied with the pounding piano riffs from Dr. Dre's "Still D.R.E." while "I'd Rather Go Blind" featuring co-producer Shannon Sanders in a duet respects the original melodic structure. The two aforementioned tracks are taken from the Muscle Shoals Sessions in the late sixties. Leela's perspective on "Damn Your Eyes" (recorded by Etta in 1989) zooms in on the funk-driven Minneapolis Sound as the rhythm track clearly mirrors Prince's "Little Red Corvette." Just like Etta's version from the 1998 release, Life, Love & The Blues, Leela exhibits plenty of sexual tenacity on "I Wanna Ta-Ta You Baby." Etta's early days with Modern, Kent and Crown Records are represented with the country-flavored "Nobody Loves You Like Me" that maintains the bluesy aftertaste but rides on hip-hop grooves. Two songs from the At Last sessions close out Loving You More: "Sunday Kind of Love" and the much heralded and recorded, "At Last." By far, Etta's version in 1960 embodies the song's emotional intent, but Leela and Sanders create enough spark to make this a reasonable listen.
In retrospect, there are no clunkers on Loving You More…In The Spirit of Etta James. It is also safe to say that Leela is a more than suitable ambassador on behalf of Etta's legacy and Loving You More makes a bold statement that Leela's immeasurable brand of soul will stand strong for years to come.
Four and three-quarter stars out of five.
Peggy Oliver
The Urban Music Scene