Terri Lyne Carrington | The Mosaic Project: Love and Soul
by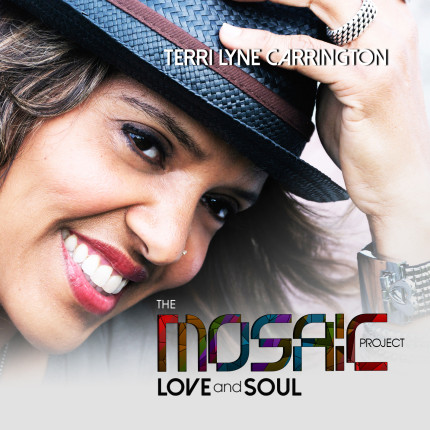 Terri Lyne Carrington | The Mosaic Project: Love and Soul
Concord Records
by Peggy Oliver
Music was at Terri Lyne Carrington's beckoned call throughout her childhood. Her father was president of the Boston Jazz Society and her grandfather Matt Carrington presented a drum set to his grandchild at age seven. The private lessons that followed have taken her through many thrilling experiences since playing alongside trumpeter Clark Terry at eleven years old. 'Her Story' that graces Ms. Carrington's webpage is full of pictures that signify a very fruitful career for this drummer/percussionist who has come full circle as a student and now professor at the prestigious Berklee College of Music. This very in-demand supporting musician for Herbie Hancock, Esperanza Spaulding, Dianne Reeves, et.al. and as an award- winning bandleader who recently produced Reeves,' A Beautiful Life, also holds a special honor as the first female to win the Grammy for Best Jazz Instrumental Album for Money Jungle (Provocative in Blue), inspired by Duke Ellington's envelope pushing recording from 1962. In essence, Carrington's innovative arranging and envelope pushing was the foundation of a critical two-part series in her solo journey, beginning with The Mosaic Project in 2011.
The ambitious, artistic gem in The Mosaic Project (Grammy winner for Best Jazz Vocal Album) teamed prolific female musicians and vocalists in their own right with Carrington on several switched up compositions from The Beatles to Al Green and original material by Spaulding and Carrington (including a Teena Marie tribute) that encompassed spoken word, funk, bop, pop, electronica and R&B, but within a modern jazz landscape. Four years later, Carrington presents the follow-up entitled The Mosaic Project: Love and Soul, once again invites a supporting cast of ladies but this time celebrating the men with an emphasis on R&B and soul.
"Come Sunday" opens T.M.P.: Love and Soul with a spiritual written by Ellington, as Natalie Cole's caressing lead vocal is accompanied by a feathery 'drum and bass' backdrop: "Lord, dear Lord above/God of love/Please look down and see my people through/I believe that God put sun and moon up in the sky." Jaguar Wright engages in a gospel fueled, original piece, "So Good (Amazing)," highlighted by Carrington's pulsating snare drum solo. Frank Sinatra's pop standard from 1951, "I'm A Fool to Want You," is practically unrecognizable in a sassy R&B drenched way by Chaka Khan.
R&B legend Valerie Simpson revisits one of Ashford & Simpson's hits, "Somebody Told a Lie," accented by a spoken word overture from Billy Dee Williams about how "men should learn more about the female part of themselves…the soft side of themselves." Listen for an adventurous shift when the listener least expects it, as pianist Geri Allen, percussionist Nêgah Santos and flutist Elena Pinderhughes indulge in a spirited samba. "Imagine This" returns on its second go-round, with a subtle makeover by Nancy WIlson compared to the original take on Carrington's More to Say: Real Life Story CD. This breezy contemporary jazz approach touched with synthesizers still accommodates Wilson's articulate alto. On the disappointing end, the go-get it passion that embraces Luther Vandross' hit from 1988, "For You to Love," does not quite suit Oleta Adams' more understated approach. However, "You Can't Just Smile it Away" packs a punch, thanks to Paula Cole's majestic voice that sweeps this Bill Withers' 1985 track off its feet.
Another spot-on performance on TMP: Love and Soul belongs to Lalah Hathaway's poignant storytelling proficiencies on "This Too Will Pass." Finally yet never least, "Best of the Best" is Carrington's earnest acknowledgement towards George Duke's unquestionable impact to contemporary jazz, decorated by soft percussive grooves and Chante Moore exercising her extensive vocal range. With all the synergy between Carrington and her musical friends backed by her uncanny ability to re-craft material in keeping the content relevant to today's market, The Mosaic Project: Love and Soul further justifies the case of why jazz music continues to flourish. Four and a half stars out of five stars.
Peggy Oliver
The Urban Music Scene