Take 6 LIVE at Jazz Alley in Seattle, WA | Sept. 21st, 2017
by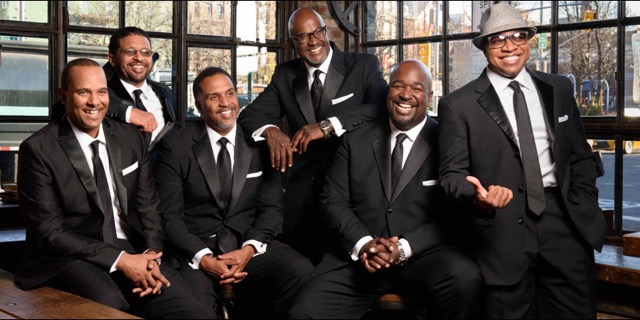 Take 6 Concert Review
(Mark Kibble, Joey Kibble, Alvin Chea, David Thomas, Claude V. McKnight III and Khristian Dentley)
September 21, 2017
Jazz Alley – Seattle, WA
The house was packed and rightfully so as six debonair gentlemen named Take 6 claimed and owned the stage, engaging the audience with their extraordinary repertoire of inventive re-imaginations of pop, jazz and gospel classics, plus a few of their own originals. Most of the night focused on their vocal instrumental interplay and crisp harmony skills, though on a couple of occasions, several members played acoustic guitars and piano.
After the electric praise opening of "Come Over," Take 6 dug into the archives, showcasing their undoubtable musicality; from Pharrell Williams' Happy, an elegant version of Windmills of Your Mind featuring Joey Kibble on muted trumpet, to their joyful, improvisation filled "Wade in the Water." Of course, Take 6 honored their jazz roots leading a master workshop. The dazzling speed of Miles Davis,' "Seven Steps to Heaven" (with a special nod to Jon Hendricks and recently passed Al Jarreau), a cool piano jazz take of Charlie Chaplin's signature piece, Smile and the last song of their initial set, Mary Don't You Weep, capped by a brotherly love exchange from Joey and Mark Kibble, was mesmerizing indeed.
As for the encore, there were several epic moments highlighted by a Michael Jackson battle between Mark Kibble and Khristian Dentley. What else can we expect from a jazz/gospel institute that has been around a lot of blocks for forty years.
Peggy Oliver
The Urban Music Scene