Peabo Bryson LIVE at Dimitriou's Jazz Alley – Seattle, Washington | March 2nd, 2018
by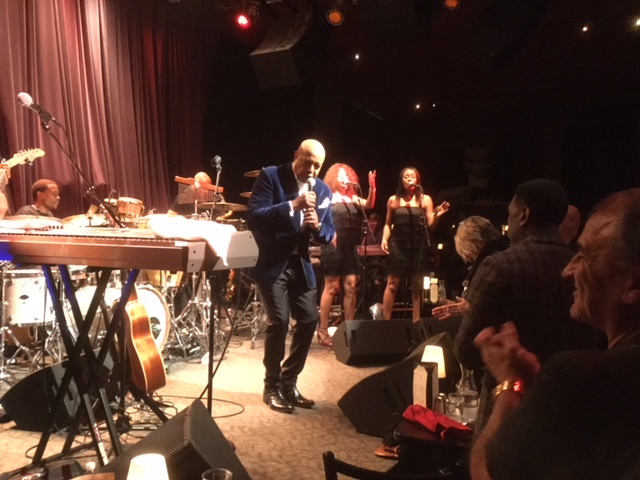 Peabo Bryson Review at Dimitriou's Jazz Alley, Seattle Washington
March 2, 2018
Longevity in the music industry comes only every once in a great while. Since he began recording at the age of fifteen, Peabo Bryson continues to win over urban music fans with a mature piercing tenor voice that remains secure to this day. The energetic, consummate entertainer visited Dimitriou's Jazz Alley in Seattle, Washington, engaging the audience with song and stories encapsulating gratefulness of life and the gift God has given him.
Backed by a superb band and two backing vocalists, Bryson pulled several hits at his disposal, including "Can You Stop The Rain," "If Ever You're In My Arms Again" and "Show & Tell." He also paid homage to other veteran hit makers like Chaka (Khan) and Sade, plus newer voices like Ed Sheeran. Naturally, there was a spot reserved for the female duet partners through the years. honoring Roberta Flack with "Tonight I Celebrate My Love." As an extra treat, there were some nimble acoustic guitar licks from an artist celebrating fifty-two years of powerful R&B mixed with smooth jazz. After all was sung and done, Peabo gave the people an extended encore with his exuberant take on "Feel The Fire."
Now with ten years in waiting, Bryson also announced a new project produced by Jimmy Jam and Terry Lewis was coming out in late April (HEAR new single above!), which he states was a "constantly challenging," but worthwhile experience. Still going strong and sweet after all these years. Four and three quarter stars out of five.
Peggy Oliver
The Urban Music Scene