Jeff Beck Takes L.A. For a 50th Anniversary Soul Spin
by
Jeff Beck Roars into L.A. For Week of Classic Cars and Legacy Music
Event & Concert Reflections by A. Scott Galloway
On Monday night, August 8, `round about 6pm, English Blues-Rock guitar legend Jeff Beck hooked a right off Sunset into the parking lot of Mel's Diner (location for George Lucas' `50s nostalgia classic "American Graffiti") in a 1932 Ford Tudor to greet fans that had plunked down $500 in advance for a signed copy of his jaw-dropping new coffee table photo album/autobiography, "Beck01." Heavy on pics (over 400 rare and unseen) with choicely edited 20,000 words of text, the tome is the ultimate big ticket souvenir for fans of Beck detailing his meteoric ascension in the world of rock guitar, his passion for classic cars and the colorful cavalcade of characters he has encountered along the way (from Albert Collins to Stevie Ray Vaughan). It was a casual yet exclusive burgers-n-beer kickoff event of two stellar evenings in Los Angeles that culminated in a star-studded commemorative "50 Years of Jeff Beck" concert at the Hollywood Bowl on Wednesday. Following this feting for what is only meticulous Genesis Publications' 99th book since 1974, Beck roared back onto Sunset with two girls – one on the passenger seat, the other in her lap – into an intense Tuesday of rehearsals for the once in a lifetime gig.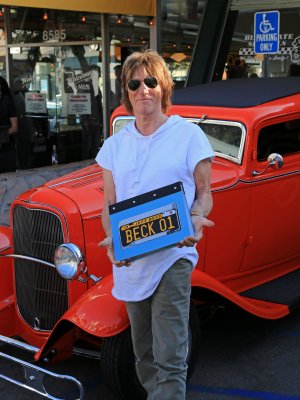 Jeff Beck with 1932 Ford Tudor and his book, Beck01
Opening the Beck show at The Bowl was legendary blues guitarist/singer Buddy Guy, a longtime friend whose naughty mouth and nastier guitar cast a playfully raunchy, mood-setting glow for the grand evening at hand. Taking the stage decked out in a signature polka dot shirt to a soul-clappin' fanfare, Guy lit into "Damn Right I Got The Blues" highlighted by a keyboard solo from Marty Sammon who came off like a Latin Jazz Rachmaninoff. Guy masterfully downshifted into "Have You Ever Been Mistreated" bringing the Bowl to pin drop silence as he picked a solo so quiet yet potent, it made the hairs on your neck standup. He then generously handed the reins to longtime support guitarist Rick Hall who elevated the dynamic with a blistering solo only a man as secure as Buddy would allow someone to play on his stage. Pressed for time, Buddy did one verse of "Blues in the Night" before sharing the title track of his latest album, I Was Born To Play Guitar, came out into the audience for a taste of "While You Were Sneakin' Out, She Was Sneakin' In" then closed with an abbreviated medley paying homage to Muddy Waters ("Hoochie Coochie Man"), John Lee Hooker ("Boom Boom") and Jimi Hendrix ("Voodoo Chile"). As intended, the o.g. bluesman made a mess of new fans in Beck's Rock-weaned crowd.
Looking super sharp, lean and strong in an elegant black and white polka-dotted ensemble (in keeping with Buddy Guy's style), Jeff Beck appeared as his latest singer du jour Rosie Bones roared the pointed "The Revolution Will Be Televised" through a megaphone, sauntering saucily to the stage from the crowd. Whisking us on a loosely chronological journey through his 50-years career with an hour and 50-minues of music (over 20 songs), Beck dug into three classics from his days in the Yardbirds (including the jaunty "For Your Love"), and a few from his initial outing as leader of The Jeff Beck Group (highlighted by "Bolero" and "Morning Dew" featuring singer Jimmy Hall of the band Wet Willie). Things really heated up when Czech keyboard master Jan Hammer took stage left on "Freeway Jam" as Beck, second guitarist Carmen Vandenberg, bassist Rhonda Smith and drummer Jonathan Joseph really got to stretch out on tunes from Jeff's classic `70s stretch of albums Wired, Blow By Blow and There & Back. This was highlighted by the scorchers "Star Cycle" and "You Never Know" then sealed with the strings-bending cry of Beck's take on the Stevie Wonder/Syreeta Wright soul ballad "`Cause We've Ended As Lovers."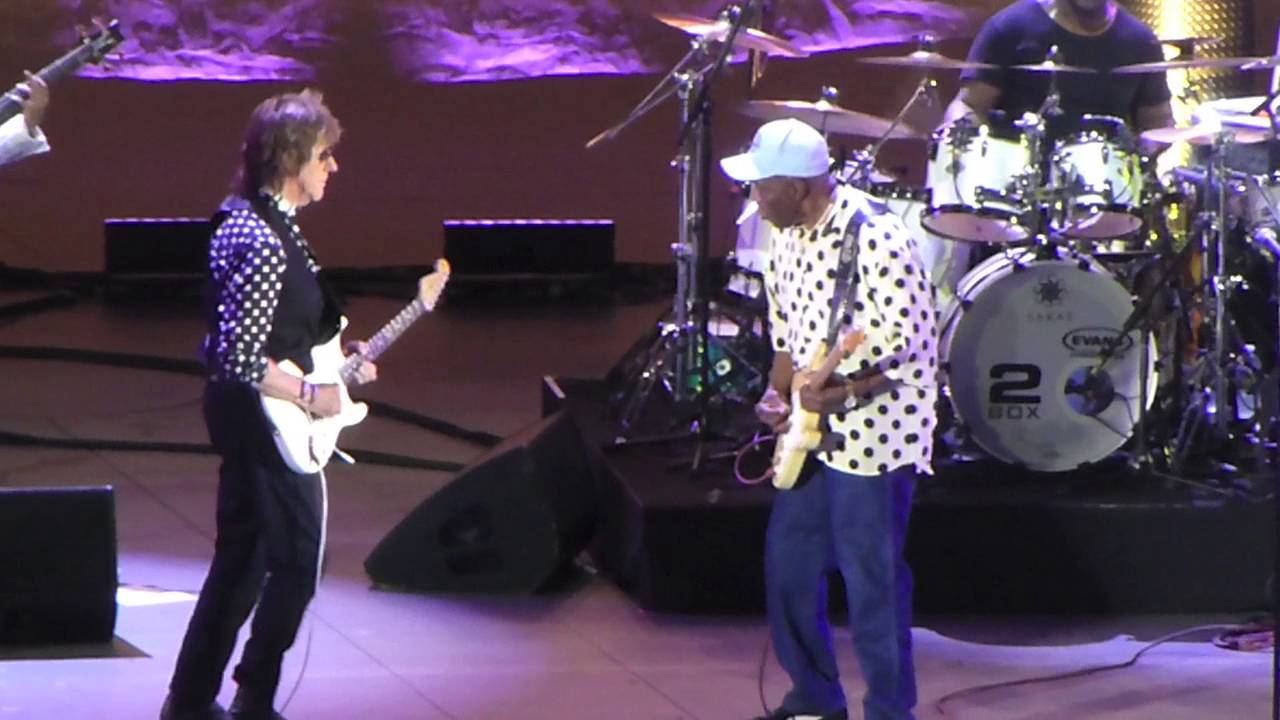 Jeff Beck & Buddy Guy on The Hollywood Bowl stage
The second half of Beck's show was a series of guest mash-ups beginning with Beth Hart tearing everyone's heart out of their chests with a bulls-eye read on the Etta James classic "I'd Rather Be a Blind Girl" followed by the return of Buddy Guy for "Let Me Love You Baby" on which he and Beck faced off at center stage for a shreddin' guitar duel. Next up, Rosie Bones returned to wail through "Live in the Dark" (the lead single from Beck's brand new socially-conscious CD, Loud Hailer, which prominently features her and guitarist Carmen) and the profoundly moving "Scared for the Children" which she sang prayerful and vulnerable on her knees. The signature beard that could be spotted from the back of Bowl gave away the surprise presence of singer/guitarist Billy Gibbons of ZZ Top, who reverently tipped his hat to Beck before landing the one-two punches of "Rough Boy" and "16 Tons." Then, bringing out his own signature scarf-adorned mic stand to the front emerged the ever playful and colorful Steven Tyler of Aerosmith who mouthed off mightily on "Train Kept Rolling" and "Shape of Things." Beck brought it on home with an electrically orchestrated version of Lennon & McCartney's "A Day In The Life" (the bridge done in a Reggae groove) followed by a highly emotive encore of "Purple Rain" (sung by Beth Hart with Tyler, Bones and Hall singing backup) in homage to recently departed gone-too-soon Rock phenomenon, Prince.

Jeff Beck All-Stars Perform Prince's "Purple Rain" as Encore
"50 Years of Jeff Beck" proved that the English rocker thoroughly enjoyed his hell-raisin' days while standing tall as a forward thinking bar-raiser with the weight of the world on his mind…and the conscious heart to include exceptionally talented women and African Americans throughout his unprecedented journey.
A. Scott Galloway
Music Editor
The Urban Music Scene
August 12, 2016