by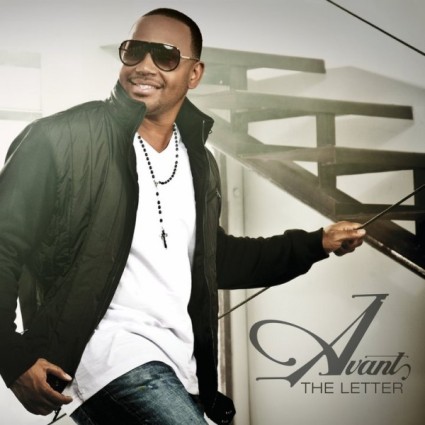 Avant | The Letter
By Brent Faulkner
Avant comes from an older school of R&B singers – much in the vein of R. Kelly – who are the 'consummate lover men.' Avant has never truly broken from the shadow of Kelly, probably not aided by the constant comparisons. The problem also stems from the fact that Avant bowed years after Kelly had already long been established, making the singer play a game of 'catch up,' which truly was not fair given his vocal abilities. Avant's 2010 effort The Letter follows up 2008's underrated Avant on a different record label, Verve Forecast (R&B singer Ledisi is also signed to this label). Despite a new label, Avant sounds much the same as before, which is both a blessing and a curse for the talented singer. Sounding similar to his past, Avant won't alienate his avid fans in the least with this effort. The downside? Avant won't garner a larger fan base given he does not try many new tricks. That is unfortunate as The Letter proves to be another strong R&B effort in a year that has been loaded with some truly sensation R&B albums. The Letter is not 'the second coming' mind you, but it is another solid addition to Avant's discography of sensual, adult contemporary styled R&B.
"Graduated" opens the effort solidly with urban sounding production. The track is pleasant, not revolutionary, with the highlight being the well conceived chorus: "Shorty you done graduated/back in school I didn't even notice/ now there's all eyes on you….girl you don't look the same to me/you done went and flipped the game on me/shorty you done graduated…" If there was one quibble, it would be that because of the quick paced lyrics, it is hard to decipher what Avant or the background vocals are singing at times. "Hot 16" keeps the momentum pulsating, playing to Avant's sensual strengths. The bridge stands out most notably, differentiating its sound from the verses. "Kiss Goodbye" is an even stronger cut, with perhaps the most clever chorus of the album: "(It's ok) if she show up with a couple of Louis bags that you know you can't buy/(It's ok) If you in the bed and her phone starts to ringing in the middle of the night/ (It's ok) If she says she was out with her girls and you know its a lie/But if she kiss him that's your kiss goodbye." Vocally, Avant sounds superb and cleverly uses background vocals to his advantage.
"Had Enough" is a smart change of pace as far as the production, though it lacks the substance of Avant's slower jams. Still enjoyable, the 'clever' (for lack of better words) "Body Police" is a standout, with Avant chanting "they call me the body police." The best line – "I'm charging you with B.T.S.E./that's 'being too sexy.'" "Body Police" is followed by "Nightlife," a brief cut featuring solid production. "Your Body Is The Business" strips the production down, which allows for Avant's vocals to shine even more. As always, Avant calls on his background vocals. As predictable as it is, it is an approach that works well for Avant by all means, though sometimes you'd wish Avant would allow his lead vocals to shine even more.
"Wake Up" reenergizes The Letter with a different sound from the other cuts. As always, Avant remains both polished and sensual in his vocal performance, supported by exceptionally well mixed background vocals. "That Dude" keeps up the pace, picking up shades of the 'gimmickry' that characterizes R&B today. To Avant's credit, the is conservative enough about the gimmickry that it actually works and makes "That Dude" an interesting listen. As always, the chorus is well penned and helps to unify the tune, particularly since Avant has an affinity for such rapid lyrics.
"Where Did We Go" is solid, though not the best performance. Those honors go 'hands down' to the truly genuine sounding "Walking On Water," which finds Avant truly 'saving the best for last.' Avant truly sounds on 'autopilot' on this cut, playing to his strengths as a vocalist. The songwriting is superb and everything just feels like it's 'in the pocket.' Even more interesting is the fact that Avant does not solely rely on background vocals here, which may be another contributing factor to why "Walking on Water" is the albums signature cut. Whatever it may be, "Walking on Water" is the valedictory moment of this effort by all means.
Overall, The Letter is a solid effort. There may not be anything that a new audience will grasp from this album that they would not grasp from Avant's earlier efforts, but dedicated fans will be more than impressed with this consistent set. It is a shame that Avant does not 'receive more love' given his vocal talents. Regardless, Avant keeps alive a breed of R&B singers who are preeminent 'lover men' regardless of how the album sells stack up.
Brent Faulkner
The Urban Music Scene