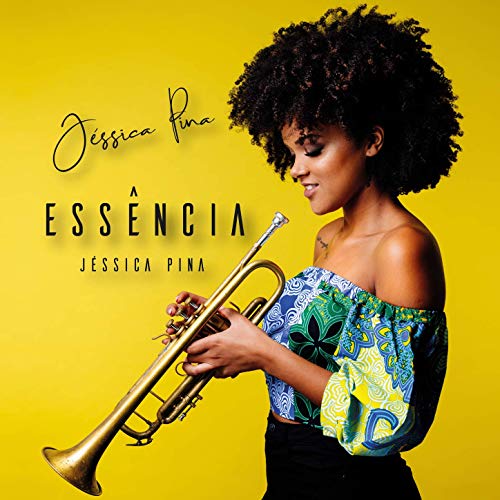 An already established international jazz talent, trumpeter/songwriter/vocalist Jéssica Pina is now being introduced to North America with Essência
Amongst the countless independent musicians that are waiting in the wings, it is refreshing for new blood in offering their special artistry to the contemporary jazz landscape. Portuguese trumpeter Jéssica Pina, born of African descent, blends her roots with various urban flavors from U.K. soul/jazz, R&B and funk. After studying jazz eight years ago, Pina has already developed an international following from Portugal, Norway and several other regions of Africa, plus her 2018 EDP Cool Jazz gig at the annual Cascais Jazz Festival on the Portuguese Riviera. In a series of 'Trumpet Live Records' on video, Pina plays in sync with fellow trumpeter Roy Hargrove on Liquid Streets from the groundbreaking ensemble, RH Factor and provides atmospheric adlib circles around a House Music version of Beyonce's, "Say My Name." Yet, though those are video demos in the long run, Pina is very comfortable leading her own ensemble on the self-released debut CD, Essência, utilizing a variety of dynamics in her sensitive trumpet approach.
While the temptation might arise to market Pina as a contemporary jazz artist, this eight track project in Essência reflecting Pina's warm improvisational skills should never be delegated towards a specific musical box. For instance,"Made in CV" pays homage to her homeland of the Cape Verde Islands. Gentle atmospheric orchestrations surrounding the title track fit snugly into Pina's musical personality. Heading to the opposite spectrum, Pina's fluidity flows perfectly on the organ-driven funk of "Numero 5." Representing her affection for R&B, Pina turns to an Alicia Keys' classic, "A Woman's Worth" – this time playing a muted trumpet alongside saxophonist Elmano Coelho. By the way, when not on the trumpet, Pina assuredly scats her way through the soulful sway encompassing "Beauty," joined by vocalist Joel X. Though Essência clocks in at barely over thirty minutes, the listener receives a fair share of Pina's qualities in all her musical capabilities. As her career jumps into further gear, we look forward to Jéssica Pina for more opportunities on the North America concert stages. Five out of five stars.
Peggy Oliver
The Urban Music Scene