Second Outing from Corea McBride & Blade Finds Trio as Virtuous and Versatile as Ever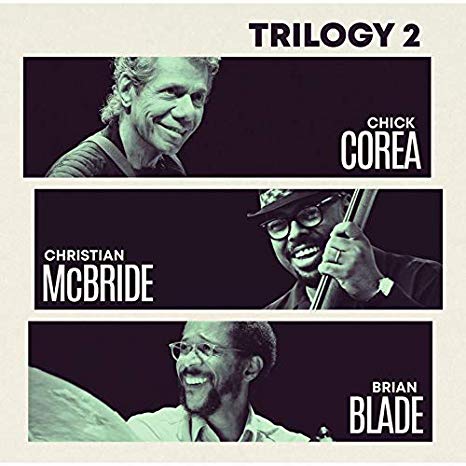 Chick Corea / Christian McBride / Brian Blade
Trilogy 2
(Concord Jazz)
A Record Reflection by A. Scott Galloway
At 78-years-young, pianist/composer Chick Corea has assembled, led and cultivated a number of uncannily synergistic groups – large and small, acoustic and electric – in several sub genres of music classified as "Jazz." Among his more recent alchemies is Trilogy, the Chick Corea Trio featuring bassist Christian McBride and drummer Brian Blade. This is a shining case where all three players have distinctive styles of their own and the prerequisite intuitiveness and playfulness to spark and be sparked by the fertile imagination of Corea. Their second outing on record, Trilogy 2, is a generous double-disc of 12 pieces that show off their collective mastery in suitably stretched and riveting fashion.
The first standout is "500 Miles High," an original composition that Corea introduced in 1972 on Light as a Feather, the second LP of the original Return to Forever quintet. On that one, the voice of Flora Purim (singing the Neville Potter lyric) and the tenor saxophone of Joe Farrell were featured with Corea dancing his fingers over the burgeoning Fender Rhodes electric piano. On the new recording, the focus is completely acoustic yet no less dazzling as the group revels in the tonal warmth and lightly Latin rhythm of the piece. Solos go all around including a nice one from Blade who brings joyous light in his playing throughout. Not the kind of drummer to lay black and keep cool time, he is always tinkering on equal footing with the piano and bass, making it almost unnecessary for him to take a solo to be heard. However, when he does, the aura is always golden.
The Thelonious Monk pieces "Crepuscule with Nellie" and "Work" as well as Miles Davis' "All Blues" on the other hand, suffer from a bit too much overlapping interplay. In the case of the Monk tunes, perhaps we have become too comfortable with the way Thelonious set up the meaty heads then relied on his groups to swing them straight and hard as he jabbed merrily at the innards – with satisfying results. Hearing these three giants skittering about on them feels more like fun for them and less so for the listener. With "All Blues" as well, they completely disregard the blue feel of Davis' classic recording opting for a busy-ness that blows the mood.
Much more satisfying is the classic ballad "But Beautiful" where the sensitivity of all is on sparkling display. Equally so is Steve Swallow's "Eiderdown" with compositional opens spaces that are a perfect playground for these musicians' cunning instincts. "Now He Sings, Now He Sobs," an early Corea trio classic from `68, is brought to highly impressionistic life here. Most delightful of all is the way the trio massages Stevie Wonder's chamber gospel classic "Pastime Paradise" (from 1976's Songs in the Key of Life) into a reverent jazz canvas all their own.
Corea, McBride and Blade are currently on tour logging miles and time well spent further honing their collective instincts, boding well for what a hopefully inevitable Trilogy 3 will further bring to light.
A. Scott Galloway
October 17, 2019
The Urban Music Scene