Paulette McWilliams Digs Deep Into Introspection On Career-Best Project, "A Woman's Story"
by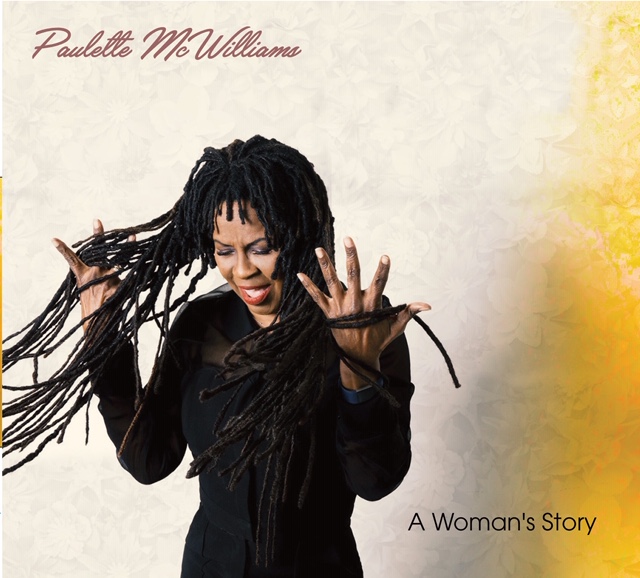 Paulette McWilliams
A Woman's Story
(BluJazz)
A Record Reflection by A. Scott Galloway
Singer Paulette McWilliams has proven herself an invaluable presence in Soul and Jazz beginning in the `70s as the original lead singer of Rufus, preceding Chaka Khan. She then came to Los Angeles at the personal request of Quincy Jones to be officially "introduced" on his LP, Mellow Madness, after which she released her debut album, Never Been Here Before. With her low smoky voice, crystalline diction and ability to sound like anyone she was asked to, Paulette did not become a star overnight but instead became a much in-demand vocalist for hire for artists ranging from legends Johnny Mathis and Marvin Gaye to sax man Tom Scott. However, it was as one of the key singers in the late Luther Vandross' cherry-picked cadre of vocal sirens that she found a most comfortable niche, recording and touring with the master perfectionist for decades. Upon Luther's tragic passing, Paulette returned to the jazz world that missed her, recording the projects Flow, Telling Stories and a live album.
Ms. McWilliams has had many fine moments on record but none quite as roundly engaging as her eagerly anticipated collaboration with producer Kamau Kenyatta, the man responsible for the launch of current jazz vocal and composing phenomenon Gregory Porter. Kenyatta's taste, vibe and attention to detail as a producer who also arranges was the shrewd choice to helm a project in which Paulette reached back to take a deep dive into some songs that were inspirational to her personally and professionally as she was honing her craft.
McWilliams conceived A Woman's Story as autobiographical introspections from a lady reflecting on her life and love lives. One of the first standouts of this 12-song collection, not surprisingly, is Paulette's interpretation of Luther Vandross' "So Amazing" by giving the background vocalists the night off and sinking deep into a luxuriantly relaxed tempo, taking her time (as Luther was known to often instruct) to milk a suitably dreamy original reading all her own. When it comes to Luther, that's mighty hard to do. Respect.
Another highlight is a song that was written especially for Paulette by Chicago legend Donny Hathaway with Tennyson Stephens back in the mid-`70s that is only now seeing the light of day. Entitled "Chasing the Sun," it is a delightful new love reverie full of musical warmth, lyrical bedazzlement and a trumpet solo by Curtis Taylor. For anyone lucky to find new love in this troublesome summer of 2020, this is a perfect sun-dappled soundtrack. And come the evening time, ditto for her dreamy spin on The Blue Nile's "Let's Go Out Tonight."
On certain selections, McWilliams takes liberties with old favorites that may shock longtime fans of the songs. The album begins with a version of Marvin Gaye's "Just to Keep You Satisfied" quite different from the original arrangement. Where Gaye – who originally wrote the song for Motown vocal quartet The Originals before snatching it back – sang the song as an aching farewell, McWilliams sings it as a much breezier kiss-off which, coming from a woman's point of view, is sure to make some females emboldened and pleased. On her version of "Never Letting Go" (penned by Stephen Bishop and made famous by Phoebe Snow as the title track of her fourth album), McWilliams & Kenyatta drop words, shorten choruses and alter the song's closing line altogether – all at the service of sending their own message. And with Kenny Rankin's "In the Name of Love" which was originally swung at a "hep jazzbo" tempo, they slow it way down to explore the nooks and crannies of all the questions the song asks about love at its craziest.
Deepest of all of the songs is Paulette's naked take on Janis Ian's 1975 gem "At Seventeen," a song about so-called average girls being passed over for what Prince dubbed "the beautiful ones" that Paulette interprets more from the inspiration of her struggles working in show business than her awkward high "school daze." Beautifully reharmonized and kissed with harmonica statements by Gregoire Maret, Paulette's confessional will bring a tear to your eye as will the closing selection, Joni Mitchell's "Both Sides Now."
A Woman's Story is Paulette McWilliams finally doing a record 100% her way without compromise. If you've been following the lady across the decades, you might just feel like you're hearing her for the first time all over again.
A. Scott Galloway
July 21, 2020