by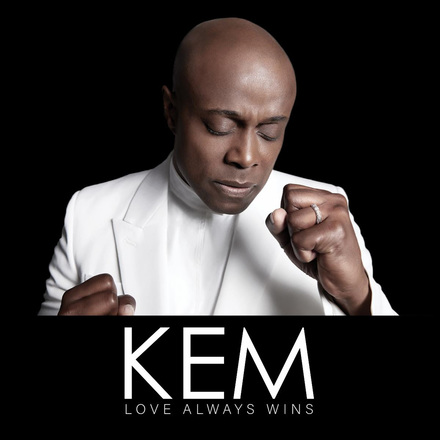 KEM
Love Always Wins
(Motown)
An Album Reflection by A. Scott Galloway
Singer/songwriter KEM (Kim Williams) returns with his first album in 6 years since Promise to Love in 2014. As one of Black music's preeminent love troubadours, the artist continues his richly textured pledges of the heart in a set that fans will surely find well worth the wait.
The album opens with KEM accompanied by acoustic and slide guitars, strings and a cajon heartbeat pulse, gently singing about a love so rare and pure in his life that he's never experienced anything like it before. The tempo picks up for the poetic teardrop "Lonely" featuring ambient piano touches from smooth jazz star Brian Culbertson. The scene turns to rapture with the orchestration of "With You in My Life" before KEM ushers the listener to the dancefloor with two shout outs to the world to tap into "Love" and "Praise": of each other and The Creator.
In an interesting wrinkle, KEM has two versions of two songs for this project. The first, "Live Out Your Love," he sings solo then later as a duet with special guest Toni Braxton. Though the groove is the exact same, it's like two completely different songs – much more than an obligatory bonus track. The second song is the title track, "Love Always Wins," on which KEM waxes like a bishop in Al Green's church. The second version adds deaconess Erica Campbell chiming in from verse 2 on, encouraging folks to have each other's backs to attain the brighter day we all seek…after some changes are made. They will get an Amen.
Rounding out this serenely sequenced serving of soul food is the especially powerful "Friend Today," which opens with the telling lines, "Ripped straight from the headlines, the devil's on every page / Keep away from the spotlight cause people are drifting away / And I just wonder if you're my friend today…" It's followed by the most overtly club-oriented spirit-lifter of the project, "Can't Stop Giving Love," which vaccinates with sunshine, positivity and groove.
For so much of what is ailing "us" today, KEM has delivered one sho' `nuff soul fortifying care package.
A. Scott Galloway
The Urban Music Scene