Toni Braxton | Spell My Name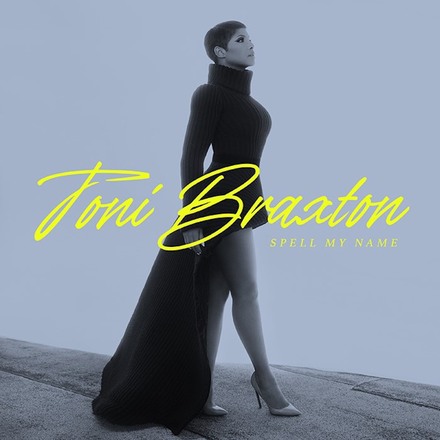 Toni Braxton | Spell My Name
Album review penned by Brent Faulkner
Among the marks of truly compelling and distinct singers is an instantly recognizable voice. Grammy-winning R&B artist Toni Braxton has had this box checked off since the very beginning of her career. Braxton possesses one of the more interesting voices in the game, perfectly suited for the adult contemporary vein of R&B that was incredibly popular during the 1990s. Her 1996 hit "Un-break My Heart" remains iconic to this day. Since then, she's continued to enjoy a degree of success, even if she's never achieved the same level of success of her heyday. Two years after impressing on the short but sweet Sex & Cigarettes, Toni drops another short but sweet album – her tenth to be precise – Spell My Name.
Spell My Name isn't game changing, nor does it need to be. This is a consistent, solid, and tight album by an artist who has NOTHING more to prove. Braxton delivers a polished 10-track album where her vocals are always 'on-fleek.' The opening trio of songs, "Dance," "Do It," and "Gotta Move On" are particularly strong. "Dance" is a feel-good, major-key joint that definitely encourages dancing. Antonio Dixon is behind the boards, constructing an energetic groove, robust bass line, and lovely keyboard work. As for Braxton, she exudes personality and superb vocals. She follows-up with "Do It," featuring another legend, Missy Elliott. Produced by Elliott and Hannon Lee, "Do It" is a sublime blend of the old (grown folks R&B) and a touch of the modern, hip-hop infused R&B. Does Toni compromise? No way! Those husky, commanding vocals continue to exemplify the ultimate level of finesse. The chorus is a huge selling point. Meanwhile, Missy reminds us why we loved her music so much with an enjoyable guest verse.
Giving "Do It" a run for its money is "Gotta Move On" featuring another Grammy winner, H.E.R. "Gotta Move On" ranks among the most soulful records on Spell My Name as well as a lit backdrop produced by Soundz. The guitar solo is especially ear catching, hearkening back to the past where instrumental interludes and soloing were far more common. The success of Spell My Name doesn't end there, of course. "O.V.E.Rr." enlists the production talents of Dixon once more, supporting Braxton with dramatic strings, timpani, and fresh drum programming. You can be she takes advantage, particularly soaring on the chorus: "…Promise we gon' end it 'cause we both know (Both know) / It's just O-V-E-R, we're O-V-E-R-R." And of course, on title track "Spell My Name," the icon's name is spelled out in full during the chorus. Fitting, right?
All in all, Spell My Name gives Toni Braxton another well-rounded addition to her discography. Again, there's nothing game changing served up, but consistency is key. And, to the singer's credit, there are select modern production cues woven in that keeps the sound of the album fresh. No, Spell My Name doesn't supplant an 'ace in the hole' like 1996's Secrets – certainly nothing eclipses "Un-break My Heart" – but the singer, in her 50s, clearly still has it, without question.
Brent Faulkner
The Urban Music Scene