by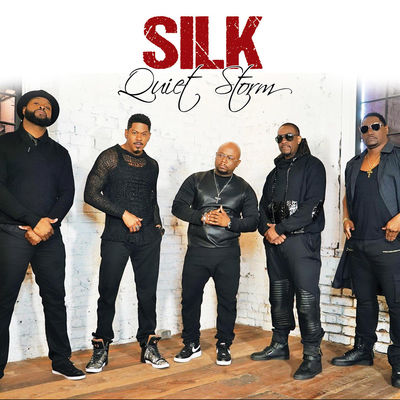 Silk | Quiet Storm
Shanachie Records
by Peggy Oliver
The R&B male vocal bands such as Jodeci, Dru Hill, Mint Condition and many more were dominating the charts in the nineties, emphatically reminding the ladies that the infatuation, romance and relationships were in huge supply. One of R&B's solo crooners in that decade, Keith Sweat, discovered a group who stood toe-to toe with the aforementioned, whose harmonies absolutely aligned with their namesake. Led by the passionate lead vocals of Gary 'Lil G' Jenkins, the hits from the Atlanta-based quintet, Silk, flowed throughout the nineties (mostly on the Top 50 R&B Charts) including "Hooked On You," "Happy Days" (w/Sweat), "If You (Lovin' Me)" and by far their signature piece, "Freak Me." Silk took its first hiatus in 2002 before regrouping as a quartet without Jenkins for the independently released, Silktime, and an homage to their fellow R&B peers with Always and Forever (Shanachie Entertainment), featuring another pairing with Sweat on Blue Magic's "Sideshow" that placed on the Billboard Top 200. Nearly a decade later, Silk and Jenkins return for a complete original package entitled, Quiet Storm. Though there are occasions where the auto-tune tweeking needs sorting out with the sharp vocal harmonies, this Quiet Storm has some very respectable moments that blend their nineties R&B flavor with modern day, more synthesized arrangements.
The title track is simply about pushing physical love to the maximum. Looking for the hip action, "Slow Grind" drops all the sexy with very attractive clicking beats. While "Baby Maker" is adequate in words, there is a heavy influence of the master funkmaster Prince, which actually accents Silk's vocal presence. On the other hand, "Baby Suit" simply drowns in incredibly unimaginative lyrics about "putting your panties in the air," etc. etc. Where "Baby Suit" fails miserably, "Love 4 U 2 Like Me" registers a genius song choice for their first single, in revealing the getting to know each other stage and the accountability of wanting to rush the whole thing. Credit the gentlemen for some humorous antidotes on romantic distractions for "On My Mind:" "I started singing the wrong words to all of my songs/Then overslept/To say the least." "Only Takes One" should find a home with R&B and pop radio: "It takes an army of thousand to win a war/But it takes nothing for me to love you more/Darling, I'm glad that you are mine" and "Billionaire" detours Quiet Storm briefly to the dance floor with a light techno flair but with R&B frosting.
Whether this can be deemed a comeback CD with a decade absence or otherwise, Quiet Storm chalks up a welcome return for Silk. Now, if one can overlook a few production weaknesses and songwriting snafus along Quiet Storm's way, this CD is a nice investment for current and future fans of this vocal band, who remains on track with their musical destination. Four out of five stars.
Peggy Oliver
The Urban Music Scene