Dominican-based Singer Anthony Jefferson Swings On a Star in Sophomore CD All I Am
by
Anthony Jefferson
All I Am
(Jefferson Faculty)
A Record Reflection by A. Scott Galloway
Photography by Pedro Bonilla
In 2019, singers of Jazz classics and Pop standards hurl themselves Herculean challenges tackling material that has been sung, recorded and captured on film performed before live audiences by some of the greatest that have ever illuminated a song. While the newcomers may connect themselves to a great lineage and possibly bring these songs to the attention of new (i.e. younger) audiences, anyone who has studied or pleasurably partaken of the earlier renditions are inevitably want to not only make comparisons but also have to wrestle personal moments experienced with them as part of the soundtrack and very fabric of their lives.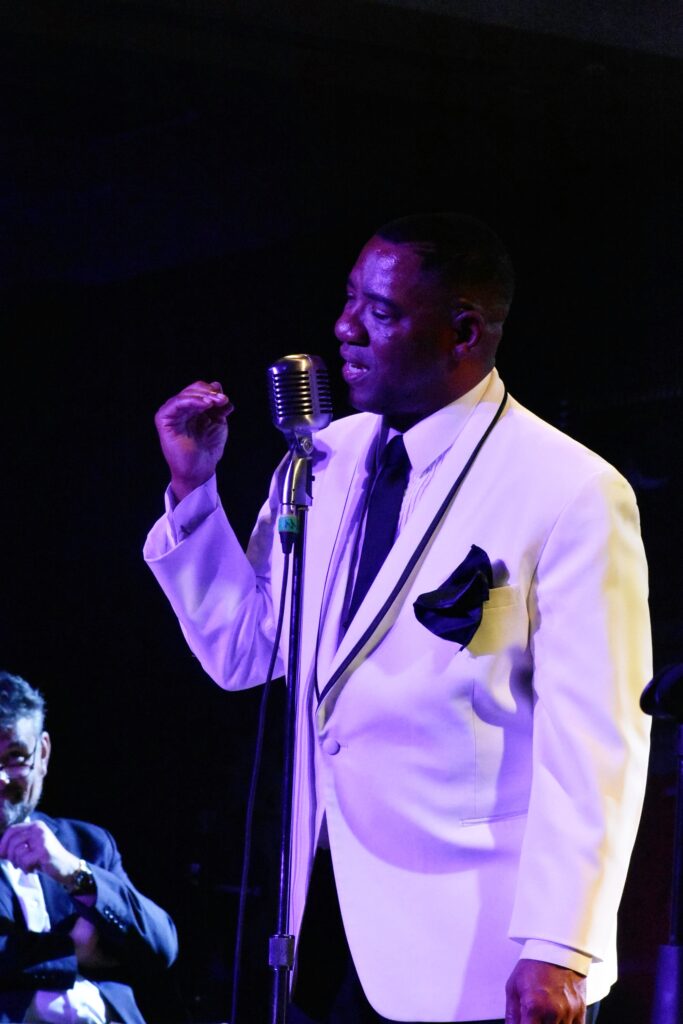 Anthony Jefferson wows as Musical Director Corey Allen looks on
Singer Anthony Jefferson is a man in possession of a baritone voice that is first class, studied, warm and finely inviting. For All I Am, his second solo recording following his 2013 debut But Beautiful, Jefferson has couched himself in rhythm, horns and strings arranged and conducted by the masterful Corey Allen. Together, the friends apply themselves to material ranging from the 1930s to the 2000s – from Cole Porter, George Gershwin and Consuelo Velazquez to Kenny Gamble & Leon Huff and Tony Joe White. The 11-song project spans torch songs in two languages, Blues and Pop to both traditional and contemporary Jazz. Therefore, Herculean is the appropriate adjective for this undertaking.
All I Am opens with the title track, a song written by Philip Jackson and Rex Rideout for the occasion of Al Jarreau & George Benson recording an album of duets in 2006. The masters sang the song straight and heartfelt, and Jefferson sticks wisely to this script. This allows the purity of his voice to carry the melody and the emotion which buoy it in loving tribute to Jarreau who sadly departed this earth in 2017. This is followed by "Marnie," the tender titular theme from Alfred Hitchcock's 1964 thriller with music composed by the great Bernard Hermann and lyrics added later by the team of Jason & Shayne for Nat "King" Cole to croon. Jefferson is magnificent in his phrasing of this lesser-known screen gem, floating effortlessly on the wings of Allen's strings. Ditto for Cole Porter's "Night and Day" and Steve Allen's "Impossible." Like Johnny Mathis before him, Jefferson excels in lovely lyrical material that allows his tone to hang glide on a melody as if on a cloud. He could have done an entire CD of these…but he aims higher.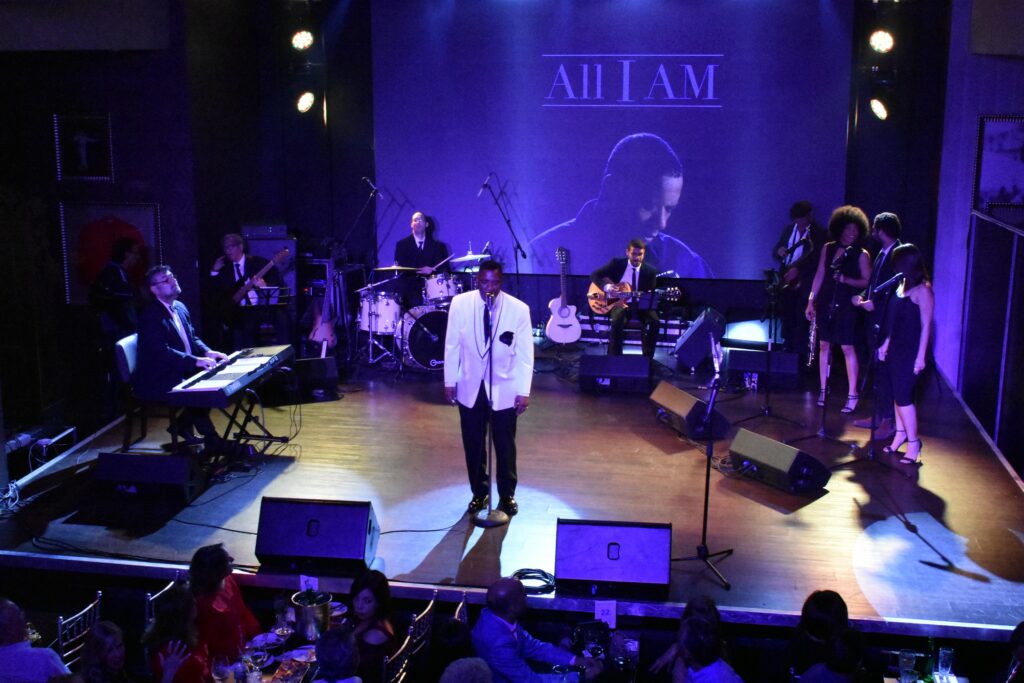 Anthony Jefferson Live at Hard Rock Café, Santo Domingo
Jefferson – also a consummate New Orleans chef – offers his most delicious surprise on this menu in a searing take on Ann Ronell's timeless "Willow Weep For Me," recorded by many but perhaps most memorably in a wee hours tinge by the team of Lou Rawls with Les McCann Ltd. Jefferson shuns the traditionally slower and mournful approaches to deliver a fiery big band blast set to an arrangement that shamelessly lifts from `60s horn rock band Blood Sweat & Tears' classic revamp of "God Bless The Child." The risk pays off, pulling Jefferson's most bitingly emotive vocal of the album, capped with a blazing alto sax solo by Sandy Gabriel. He is similarly dashing on a soul stroll through Gershwin's "Porgy & Bess" perennial "Summertime" for which he clearly has been singing DuBose Heyward's words for years, paired with a tasty tenor sax solo from Jesus Abreu.
Challenges arise in a duet arrangement of "Besame Mucho," sung with the Dominican Republic's queen of Blues and Jazz vocals Patricia Pereyra. The song finds both singers giving their earnest best but lacking chemistry and connection. Pereyra dives particularly deep into the lyrics, milking her range with sexy inflections, singing the lyric in its original Spanish language. Jefferson, who only tackles the Spanish in the dramatic introduction, sounds a trifle stifled replying in thankless English to Pereyra's velvety Spanish. An acoustic guitar solo by Federico Mendez provides a lovely reprieve.
The stickiest numbers are Jefferson's takes on the Soul classics "Rainy Night in Georgia" and "Me and Mrs. Jones," etched into Mt. Everest by Brook Benton and Billy Paul, respectively. These songs require a steady buildup of passion and fire that Jefferson has yet to attain in this genre. Where he nails it in a swing vein on "Willow," he is less convincing on these numbers where the resonance of his baritone voice is not enough to convey the full spectrum of emotions swirling at the essence of such heart-wrenching R&B potboilers.
Thankfully, another area of Jefferson's excellence remains in the wedding of his lyrics to the music of trumpeter Mark Rapp. On his debut CD, But Beautiful, they conjured that album's most shining moment with "Thank You." And here again on All I Am, they prove themselves effortlessly simpatico with the evocative crepuscule ballad "In the Presence of." Instrumentalist Rapp is thus far Jefferson's most perfect duet partner in all dimensions. One wonders what an entire album or at least an EP of collaborations by them would sound like…on record or even on celluloid.
All in All, All I Am is a strong sophomore outing for Anthony Jefferson, a diamond talent who has only just begun to shine.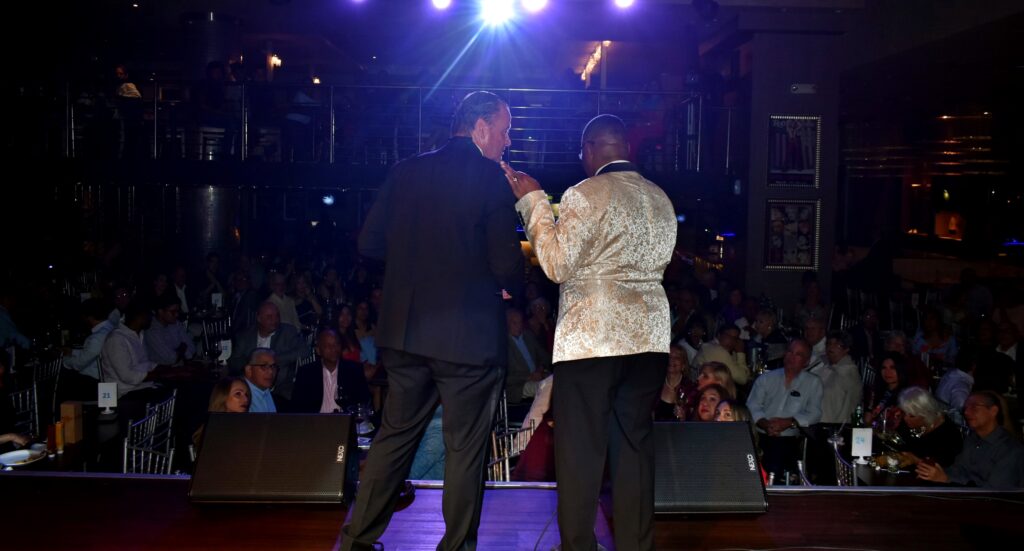 Anthony Jefferson with concert host Gustavo De Hostos
[A captivating performer, Anthony Jefferson held a chic release party concert for All I Am at the Hard Rock Café on February 7 in Santo Domingo. Photographs from the gala are included in this editorial.]
A. Scott Galloway
Music Editor
The Urban Music Scene
February 25, 2019