Charlie Wilson and The O'Jays' Polar Extremes of Soul
by
"Party Train" Meets "Love Train" at Historical Charlie Wilson & O'Jays Double Bill
A Concert Reflection by A. Scott Galloway
August 3, 2018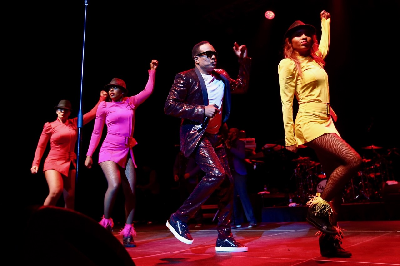 The world-famous Hollywood Bowl was the venue for a bittersweet time capsule of Black Music History on Friday, August 3, as former GAP Band lead singer Charlie Wilson headlined a triumphant generations-leaping show – his first time with an orchestra – with the mighty O'Jays trio celebrating its 59th anniversary as the opening act and what may be their final time performing in Los Angeles as they are said to be retiring at the end of 2018.
The O'Jays took the stage at 8pm sharp dressed all in black and in complete darkness to eerie wah wah guitars and percussion like chains dragging the floor, reenacting a dramatic entrance they used to make back in the day opening with their introspective masterpiece "Ship Ahoy" which takes its inspiration from Africans' travel to the United States aboard slave ships. Though time constraints kept them from speaking context into this choice for an opening selection, the group has always been known to have plenty of sobering 'messages in the music' along with the love ballads and party jams from their hallowed days on Kenny Gamble & Leon Huff's ground-breaking Black-owned record company Philadelphia International Records. The soul elders seized the moment before a near capacity Hollywood Bowl audience to remind all in attendance that we are not too far gone from such inhumane treachery as the powers that be in this country seek to turn back the hands of time to an America that has nothing to do with liberty and justice and for all…

Then, following a brief overture and a proper introduction individually and collectively, The O'Jays gently eased the audience into unwind mode with their sweetly inviting "Time to Get Down." However, it wasn't until original member Walter Williams sang out the opening line "It's Friday" from "Living for the Weekend" that the crowd really began to respond as the group performed the classic number that seamlessly moves from blues to disco to jazz to aurally inebriating effect! From there they had the crowd in the palms of their hands as they delighted with a mere fraction of their hits, squeezing in "Forever Mine" (dedicated to all the fans that stuck by them over the decades), "Darlin' Darlin' Baby," "I Love Music," "Use Ta Be My Girl," "Love Train" and the all-too-soon finale "For the Love of Money" for which the crowd – most on their feet – sang every gospel truth line along with them.
As a lover of The O'Jays personally since their 1972 hit "Back Stabbers" (which they also performed) and having seen them at least a dozen times over the years, I must say their performance this night was one of mixed emotions. For one thing, there was no mention made of it possibly being among their last ever on the West Coast. More important, though, was the obvious struggle that once powerhouse co-lead singer Eddie Levert was having vocally and physically. In the past, Eddie was often the one who carried the show with his unbridled soul hollers and ferocious attack while being masterfully set up by "Mr. Smooth" Walt Williams to do so. For nearly six decades, they have been soul music's perfect vocal team. Yet, this night, Walter was the one delivering and firing on all cylinders, tugging on heartstrings with his faithful to the recordings renderings of his sacred soul parts. Props are also in order to third member Eric Nolan Grant who has been with them 23 years now. Grant held down the classic choreography and harmony parts with pride and precision. If there is any justice, The O'Jays should return one last time to L.A. headlining a show that gives them the proper time to say farewell that includes three times more songs from their timeless catalog…and a golden opportunity for the peerless Eddie Levert to rest up, heal up and give us the very best left in him on showstoppers from "Let Me Make Love To You" and "Lovin' You" to "Survival" and the telling "Give the People What They Want." The people demand and deserve a final full-throttle O'Jays farewell.
"Uncle Charlie" Wilson is in the throes of an amazing second half of his career as the sole soul singer of the `70s to not only have a cache of classic hits to share but several more contemporary chart-toppers that include pairings with young rappers and singers that have extended his demographic influence across three generations. And at age 65, he looks to be just getting started and nowhere near retirement! Charlie took the stage in a line formation with his band and dancers to the throwdown of the GAP Band fire-starter "Party Train" right into "Early in the Morning," making an instant connection with the adoring crowd. It was clear Charlie has mastered the art of conserving his energy by playing it cool for long stretches then giving a burst of vocal or dancing energy at just the right moments, letting his beautiful quartet of female dancers and fantastic show band keep the high energy levels going. But he never misses a lick.
The Hollywood Bowl Orchestra, under the direction of African American conductor Thomas Wilkins, began to make its presence known on selections from Charlie's solo career such as "Beautiful," "There Goes My Baby" and "Good Time" as Charlie crooned and showed off some of his smoother laid back footwork. Following a fiery duel between guitarist Michael Anderson and sax man LaDarrell Johnson, Charlie launched int the GAP Band smash "Burn Rubber" on which he detoured to boast, "I'm a baaaad man! I beat drugs, I beat prostate cancer and I beat two knee surgeries…how ya like me now?!" Putting the exclamation point on his royal baaaadness, Charlie then launched into a one-two punch of "Humpin'" and a cover of Zapp's "Doo Wah Ditty" as he and his dancers donned cowboy/cowgirl gear that lit up in the dark. From there, Charlie slid into mid-tempo ballad mode with "Chills" (which he equated with the feeling he felt performing at the Bowl for, surprisingly, the very first time) into "Yearnin' For Your Love" (lovely orchestral accompaniment here), a cover of Roger Troutman's "I Wanna Be Your Man" (which he promised the late entertainer he would always do) and "Where Would I Be" during which his dancers surrounded him dressed as white-clad angels with wings.
Nearing the end of his show, Charlie took his time to praise The Lord for delivering him from nasty and very public addictions to alcohol and crack cocaine as he sang his heartwarming song "I'm Blessed" (a phrase emblazoned on t-shirts at his merchandise counter) then took the crowd to church with some old-fashioned hand-clappin', foot-stompin' praise and worship. It all came to a fabulous close with the enduring GAP Band staple "Outstanding" – a declaration that doubled as an assessment of Charlie's performance as well as the way he made everyone feel as they filed back down the Hollywood Bowl hill to their cars, buses and Ubers. Charlie Wilson is as good as it gets where old school meets new school. Respect!
A. Scott Galloway
Music Editor
The Urban Music Scene
August 4, 2018