Celebrating the Passion of 13 Y.O. Jazz Pianist Joey Alexander
by
A Place for Joey: Celebrating the Passion of 13 Y.O. Jazz Pianist Joey Alexander
by A. Scott Galloway
There's a very tricky tightrope that young jazz musicians come upon when thrust into the public eye. It is a hurdle that has tripped up many a prodigy over the eras. That is when a teenage or pre-teen wonder arrives at 18 or 21 and no longer has youth as a hype mechanism. Usually what happens is a player who develops or happens upon a lot of chops and ability early on winds up sounding like everybody else when they reach adulthood. What they failed to develop was individualism, adventure and heart. It's like a young runway model that gets by on youthful freshness yet never develops a style of their own as an adult. In those cases, you just pray their parents saved her money.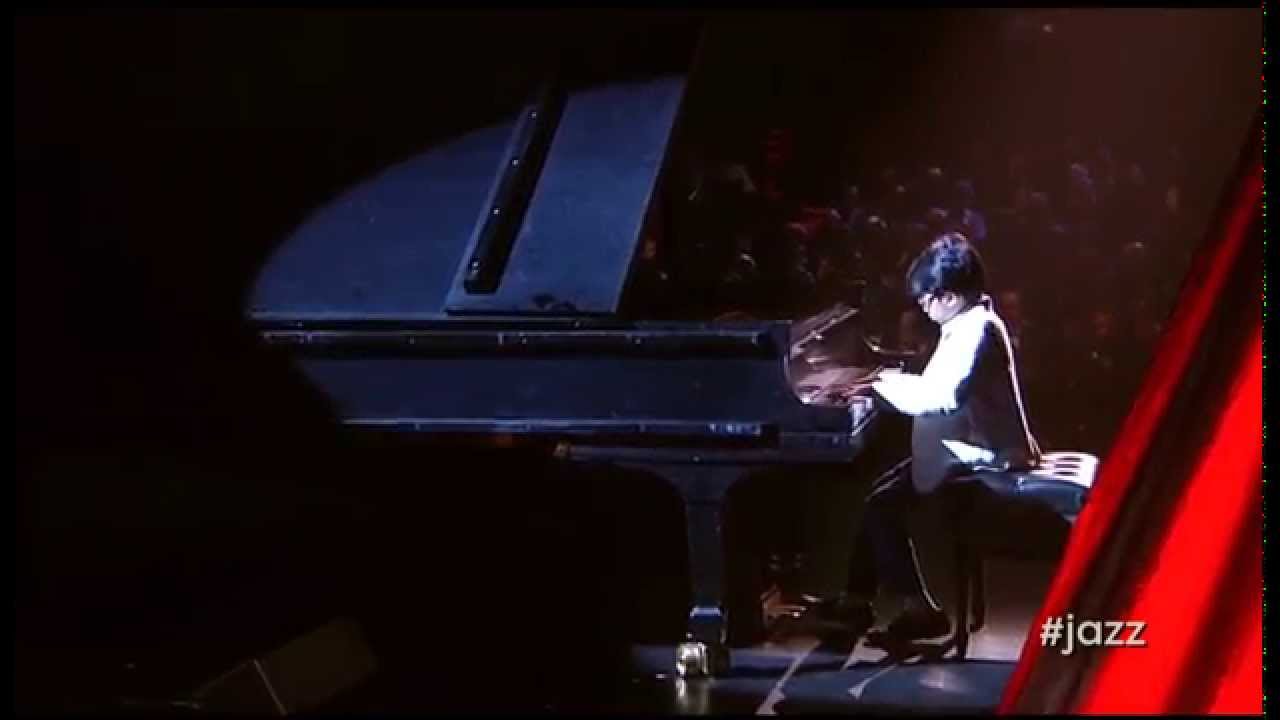 Joey Alexander, at 10, Lincoln Center Gala
This does not look to be the future for Bali-born pianist/composer Joey Alexander. If his sophomore CD Countdown (Motema Records) and recent performances in Southern California at the Playboy Jazz Festival (Hollywood Bowl) and The Broad Stage in Santa Monica are any indication, this is not a kid longing to play baseball with schoolmates. The dedication and passion this young man from Jakarta, Indonesia, is investing in music is coming from an audibly authentic place.
Starting with "Countdown," the John Coltrane-penned title track of the new disc – which soars leaps and bounds over his already impressive 2015 debut, My Favorite Things – Joey's ferocious attack of the challenging song is spell-binding…from his assured and tasteful introduction, approach to the head and the dexterous flurry of his soloing to his precision rhythmic comping under Larry Grenadier's bass solo to his stutter stepping rhythmic trades with longtime drummer Ulysses Owens, Jr. as they trade 4s (more on their rapport later). Also impressive are his three original compositions (!): the ominous groover "City Lights," the gospel-tinged "Sunday Waltz" and the introspective album closer "Soul Dreamer." Joey is bringing a love, respect and joy to jazz that could very well help to bring much needed younger audiences to appreciate it. It's not a museum piece with him yet it is rooted in tradition. There is nothing "cute" or "aww-shucks" about what this boy is bringing to the table. We haven't seen him pick up a walk around synthesizer yet!
Also on Countdown we are treated to inventive covers of Herbie Hancock's "Maiden Voyage" and Thelonious Monk's "Criss Cross." And when you hear them, they are not standard treatments. He is already lovingly taking them apart and thoughtfully putting them back together because…THESE ARE HIS FAVORITE PLAYERS and he digs orbiting in their universe…interactively. The one area we will see the most growth in for Joey is in his approach to ballads such as "Smile" but that is understandable. He hasn't lived enough to inform them with the kind of love that pierces the heart…yet. And yet, even now, the playing is incontestably lovely.
However, the place we really know we are seeing the future of jazz in Joey is live in concert. It starts with how he walks onstage, introduces his musicians and speaks of the pieces he is about to play. Even with the language barrier and youthful shyness, it is so captivating to observe how he approaches these rituals of jazz presentation with dignity as well as the inherent "cool" the quintessential jazz cat is supposed to deliver this information…nonchalant yet indubitably cognizant. And when he is playing, what the audience is receiving is not safe, rote recital-esque playbacks. Joey is fully engaged with his trio…listening, walking the tightrope, making a mistake here and there, playing nothing when he hears nothing to play, thinking and having a ball! Key to all of this is the support Joey receives from his players. While these older gentlemen are clearly having moments of being astounded by their young leader's facility, they do not handle him with "kid gloves." They challenge him and engage with him in the same way they would any other player their age or senior…their level or above.
At the conclusion of the Broad Stage concert, I stuck around and got a question in at the open Q&A. I asked drummer Ulysses and then-new bassist Reuben Rogers about the advanced engagement with which they play with Joey and if they felt a "responsibility" in shepherding him "on the road." While they both spoke of the importance of being strong moral influences around him, they adamantly insisted that they are a team onstage, pushing the music wherever it is meant to go in the moment. In that respect, they never dumb down the sophistication or dexterity of what those moments call for. Joey is considered a full fledge member of this team holding down his end of the bargain magnificently. And this is why he is truly going to continue growing because once he is out there with musicians that may not be as kind, let alone going for the throat of the young kid who caught a fortunate break, he'll be able to hang that much more confidently in any situation into which he is thrown. He was raised by lions.
Hearing this, I was profoundly impressed…and proud. Because that first time I saw him at Playboy Jazz Festival wowing an early afternoon crowd of serious jazz fans to the point where they were shouting out, clapping and offering up standing ovations, I knew I wasn't being fooled. I was seeing the next Chick Corea or Michel Petrucciani.
Anyone astutely watching and listening to this young man comes away blown away by how hungrily, seriously (and coolly) he is taking his giant steps as a young jazz man. He recorded his most recent CD on the threshold of thirteen years-old. And the world will be enjoying his evolution for many decades to come.
A. Scott Galloway
Music Editor
The Urban Music Scene
November 17, 2016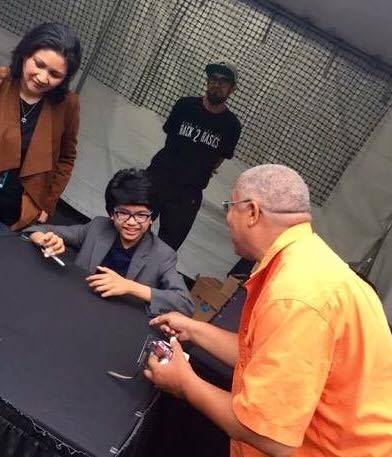 Music Writer A. Scott Galloway introducing himself to Joey Alexander, buying his latest CD and assuring him he will be interviewing him down the line just after his electrifying set at the Playboy Jazz Festival (June 11, 2016) Photo by Michael Adams / Crop by Gina Marcelin