Quincy Jones Hollywood Bowl Tribute Soars Individually Yet Coasts Collectively
by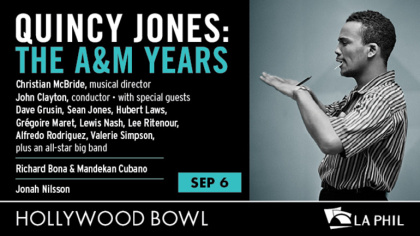 Quincy Jones: The A&M Years
Hollywood Bowl
Wednesday, September 6, 2017
Concert Reflections by A. Scott Galloway
I'm going to begin this review by stating two things upfront. This salute to Quincy Jones focusing on his early `70s big band albums Walking in Space (CTI/A&M – 1969), Gula Matari (CTI/A&M – 1970) and Smackwater Jack (A&M – 1971) was THE concert in this summer's Hollywood Bowl Wednesday Night Jazz Series that I was most looking forward to. The reason being that I grew up with these glorious gatefold albums which are bedrock staples of my development of not just musical enjoyment but musical over-standing. That is to say I know them inside-out, backwards-n-forwards, like the backs of my hands assimilating Grady Tate grace notes. The music that transpired this evening under the stars was a frustrating affair dotted with some jaw-dropping contributions that quelled some but not all of my disappointment. I'm electing to start with the not-so-good news first.
While some very fine musicians were dispatched to present this music – I believe from Q's original charts pulled by librarian Marty Frenton-Frear and conducted by the esteemed John Clayton – there were two quintessential elements missing: the full dynamic punch required to sock it to the audience's collective solar-plexus and the "magic" that Jones often speaks of when a room is properly prepared for God to walk through. Their absences were the culprit for why there were no standing ovations after such powerhouse pieces as Q's electrifying TV hit "Theme from 'Ironside'" (THE first piece EVER to wed Big Band horn blasts with the spine-tingling then-new far out sounds of the Moog synthesizer), the multi-dimensional Afro-Jazz Suite "Gula Matari" (that transports you to deepest darkest Africa for a sensual midnight soul patrol stroll that descends into a hellish run-for-your-life chase and back) or a downright bitter truncation of Q's amazing arrangement of Marvin Gaye's "What's Going On" – a masterpiece for which it is never a strain to repeat is as timely now, even more urgently so, than it was when Q was among the very first to boldly cover it back in `71.
As a reviewer with a laptop and outlets from which to write about the music as it happens, I have grown bone weary of being led to the river of there just wasn't enough rehearsal time to get all of this together when it comes to live music. I am often told my expectations are unrealistic and far too high. However, to me, it's simple: it is one thing to "get through" these awe-inspiring "charts" but quite another to bring them to full-dynamic-range life. That feat requires an intuitive killer reflex that comes from musicians thoroughly absorbing the works at hand. On top of all that – this is a salute to Quincy Jones, a Living Legend who resides mere minutes from Hollywood's heart who left indelible imprints on music, movies and television…here then around the globe. Q had the best seat in the house – seated stage right behind Dave Grusin's Fender Rhodes – and while he was surely honored and knocked out by what was best about the night, I will go out on a limb to say that he had to be somewhat disappointed that the ensemble charts as a whole were not delivered with the PUNCH he wrote and produced them with that would have brought the audience to its feet – en masse – throughout the night.
One final note about the downside: While it was generous for this program to be opened by Dirty Loops lead singer Jonah Nilsson (a highly capable blue-eyed soul lover of Stevie Wonder and Michael Jackson) and singer/bassist Richard Bona with his ensemble Mandekan Cubano (props to pianist Osmany Paredes for an extra fine solo within), I am not alone in my declaration that this entire evening would have been better served as dedicated to just the three Quincy Jones albums at hand, possibly in their entirety, with intermission. They are 5-star works of contemporary jazz at its finest worthy of recognition and respect in full.
NOW, the sweetest aspect of the evening was experiencing flautist Hubert Laws and vocalist Valerie Simpson not just reprising their vital roles from the original recordings but investing them with much love and heightened sensibilities. The program opened with Q's classic arrangement of Richard Carpenter's "Walkin'" which featured a tasty alto solo by Bob Sheppard and some understated improv from Dave Grusin on piano and John Beasley on vibes-patched synth. Next was "Walking in Space," Q's genius take on the Rock Opera "Hair's" ode to autoerotic bliss. Trombonist Art Velasco truly shined here (Q always loved trombone). Lewis Nash, an A+ anchor on drums all night long, played but was shortchanged in his critical solo that leads all back into the groove (Grady and I have your back, man). The aforementioned "Theme from 'Ironside'" benefitted greatly from nice solos all the way around by Bob Sheppard, the indispensable Laws and a particularly peppery Sean Jones on trumpet. This was followed by the finest song of the night: the late, great bassist Ray Brown's "Brown Ballad" from Smackwater Jack, played to Brown's widow Cecilia who was in the house, and featuring a heart-melting and spot-on Grégoire Maret bringing the harmonica mastery of the immortal Jean "Toots" Thielemans back to life with all the emotion and cinematic flourish the man from Brussels deserves. This was the stuff that makes eyes water…
"Brown Ballad" was smartly sequentially followed by guitarist Arthur Adams' "Love and Peace," a feature for Lee Ritenour who was reprising the signature work of the late, great Eric Gale for two sanctified choruses here. But it was tenor man Rickey Woodard who stole the number right out from under him with some robust Soulful Sunday wailing that was another of the evening's most standout solos, packed with emotion and taste. Ritenour made up for this in the next song, the sweeping, intended-to-be-epic "Gula Matari," the night's one piece composed by Quincy Jones himself. Valerie Simpson truly transcended her evocative reading on the original recording (with haunting background vocal assist from Lynne Fiddmont, Valerie Fiddmont and Tammi Brown), guest pianist Alfredo Rodriguez ripped the ivories with line flourishes AND rhythmic comping for the heavens, Ritenour brought the voodoo with a guitar solo played through effects and once again, Hubert laid down the "By Laws" on flute… Still, the edge-of-your-seat dynamic passages of the chart lacked that emphatic wallop. The less said the better about the evilly edited version of Gaye's "What's Going On" (which contained an entire section of the key modulation naked of a solo over the top – criminal) except to say Christian McBride – emcee for the evening – did the Grey Goose he imbibed earlier much justice with his liquid song-opening upright bass solo.
It took an appearance from Q himself conducting the band for the encore of his buddy Benny Golson's classic chart "Killer Joe" to close things out on a nostalgic and hard swinging note, inspiring one last gem from Laws and some fittingly slaying muted trumpet from Sean Jones doing Freddie Hubbard quite proud.
In a parallel universe, there's a band with more intestinal fortitude to animate this peerless music of L'Q in the way it was intended to knock audiences on their butts upon every hallowed resurrection.
A. Scott Galloway
Music Editor
The Urban Music Scene
September 10, 2017