Stern and Lorber Find Equal Footing at Level Eleven
by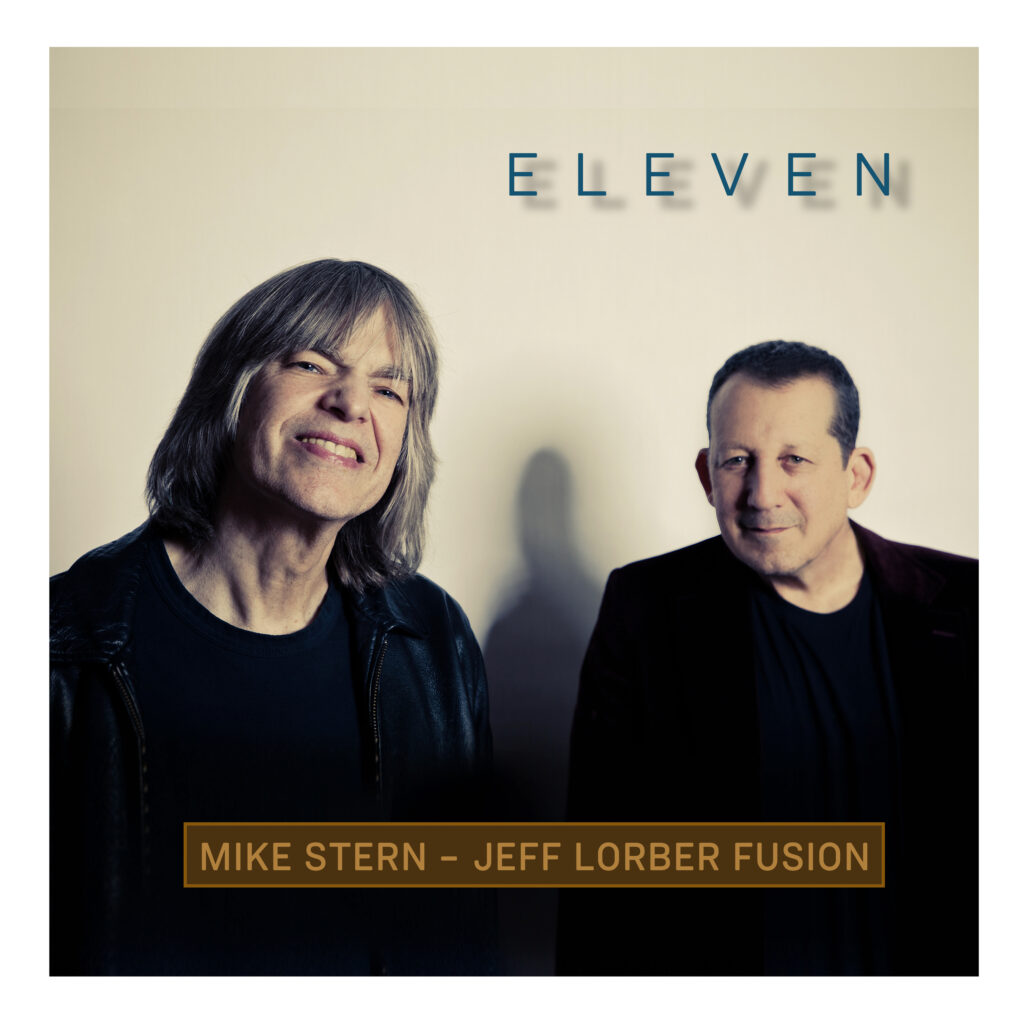 Mike Stern – Jeff Lorber Fusion
Eleven
(Concord)
A Record Reflection by A. Scott Galloway
On paper, the pairing of stalwart New York guitarist Mike Stern (veteran of the Miles Davis, Steps Ahead and Blood Sweat & Tears bands – to name just three) with studio slick Oregon-native/West Coast transplant keyboardist Jeff Lorber seems like oil and vinegar- highly unlikely to mix. And truthfully, upon first listen, you do get the sense that these two are working awfully hard to meet in the middle. However, upon repeated listening, their new and first duo release Eleven turns out to be quite the formidable feast.
Unfortunately, the album opens with its weakest tune, an overly bubbly smoothy called "Righteous" that makes you cringe for what's ahead. This feeling is immediately abated by "Nu Som," a song with an African folk whine blessed by the inspiration of photographer/model Sandrine Lee (creator of the fascinating new coffee table book "Nudescapes" that finds her artfully infusing her naked body in urban and rural settings) and the presence of Mike's wife Leni Stern guesting on the African stringed instrument the n'goni. Stern's compositions in general always have a keen balance of perceived simplicity yet with powerful inner depth that make them a joy to listen to over and over without exhaustion. The gorgeous "Nu Som" is followed by Stern's big bluesy "Jones Street" which struts into a bridge of hip Steely Dan chords before descending back into the groove for both to solo over, Lorber on piano. Meanwhile, Dave Weckl gets in a great drum solo as well.
Lorber's "Motor City" is a horn-inflected four-on-the-floor soul lark dedicated to Detroit and Motown. Props to Dave Mann for his horn playing/arranging on several numbers herein. It's followed by the slick radio friendly night-cruiser "Big Town" co-composed by Lorber with current Jeff Lorber Fusion bassist Jimmy Haslip, who also co-produced the album. The song boasts a bridge that kicks the fire up a few notches, as well as some tasty melodic and harmonic components. It's followed by Stern's epic blues burner "Slow Change" that comes on like a Sasquatch in heat, inspiring Lorber to dig in on organ for his solo. This would make one hell of a movie theme.
The heartbeat of Eleven arrives next with "Tell Me," a gorgeous remake of a song Stern first recorded in 1996 on his Between the Lines album on Atlantic Records, then featuring Bob Malach on sax. This new rendering is far superior, tender and emotive with Stern featured on guitar as his wife Leni insisted upon suggesting the revisitation. Mike Stern always has one ballad per project that makes your heart and soul cry. "Tell Me" is that one for this project.
Eleven closes out with a trilogy of groove monsters starting with the funk workout "Ha Ha Hotel," a Stern composition reminiscent of past thrash and burn classics such as "Chromazone." Next up is the techno club experiment "Rhumba Again" highlighted by a wordless vocal line from Stern and Chelsea Maull, and a rock steady four-on-four pulse. The finale is Lorber's cool, intricately woven closer in 6/8 time called "Runner" with counterpoint keyboard and horn lines, and tasty goodbye solos from both stars.
All in All, Eleven shows two long tenured artists from different sides of the jazz fusion fence locking and gelling beautifully on record for what promises to be an even hotter exchange when they take it on the road this winter. Well worth looking ahead to.
A. Scott Galloway
The Urban Music Scene