by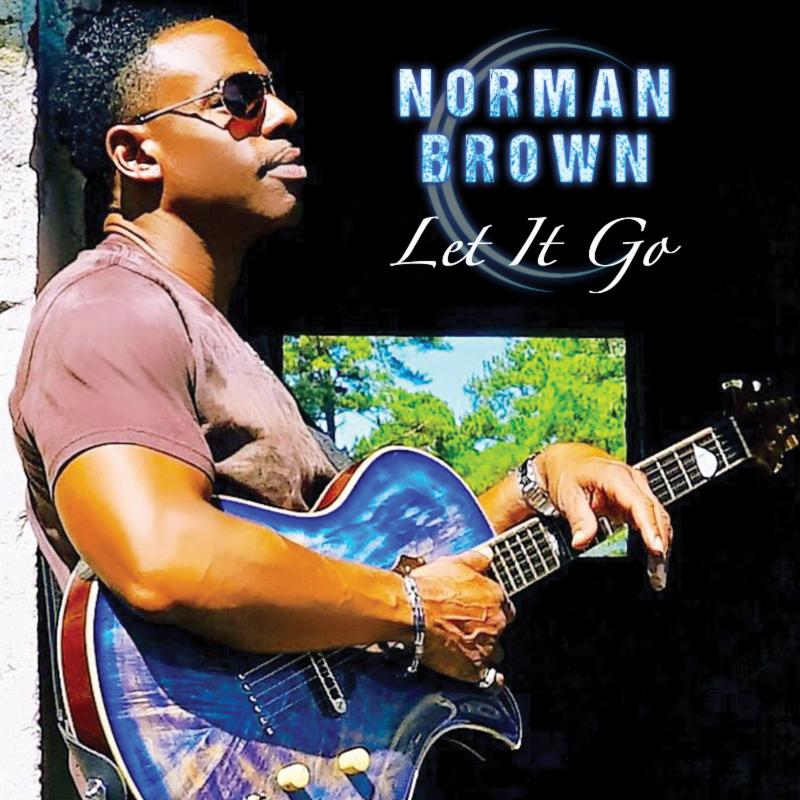 Norman Brown | Let It Go
Shanachie Entertainment
by Peggy Oliver
The musical dexterity of Wes Montgomery has inspired many contemporary jazz guitarists through the years despite his early days as a hard bop musician. One of many musicians who gravitated to this icon was Norman Brown, a huge turning point in studying and performing jazz, despite his earlier influences and interest in Jimi Hendrix and the Isleys. It turned out Brown, who draws many comparisons to another guitar legend, George Benson, would soon teach musicians what he discovered for his professional career at his alma mater, The Musician's Institute in North Hollywood, California. Eventually Brown began an impressive path as an influential smooth jazz/R&B artist that possessed strong harmonics and nimble guitar fluidity since his early days with MoJazz in the early nineties. After breaking through with his second CD After The Storm, the Grammy winning Kansas City native has collaborated with Gerald Albright for the 24/7 in 2012 that elevated the contemporary jazz market and the super trio BWB with Rick Braun and Kirk Whalum, whose groovin' interpretations of Michael Jackson and other R&B and jazz classics added another dimension to the contemporary landscape.
Designed to teach those in learning life's lessons that Brown embraces in his personal life, Let It Go marks his tenth solo project, merging jazz sensibility with R&B, pop, blues and funk, pretty much keeping true to Brown's musical personality. While the results are hit and miss, Brown's musicianship is clearly the star of the show.
"It Keeps Coming Back" with the theme of living by the laws of the spirit (truth,) floats on air with a funky backdrop that accents Brown's wonderful guitar range and improvisational prowess. Once the title tracks finds its groove, Brown simply lets his guitar fly, painting delicate colors in the smooth jazz sky. One of the more engaging pieces, "Living Out Your Destiny" (about experiencing peace and joy), excels instrumentally and vocally, all driven by a cool funk arrangement. "Liberated" provides more dance funk with guests BWB easing into a soft but sassy samba towards the climax.
Besides the mostly original tracks for Let It Go, Brown scores highly on the cover pieces. The much covered inspirational soul smash, "O-o-h Child" by The Five Stairsteps is decorated with the warm voice of keyboardist Tray Car, Brown's scat frosted guitar and a soulful breakdown before the finale delivers a special charm that is appealing in its own way. Brown revisits Michael Jackson again, this time with "Man in the Mirror, " delivered with a welcome performance by Brown on acoustic guitar, backed by the versatile vocal ensemble The Sounds of Blackness.
Though Let It Go shares plenty of delights, there are several disappointments. What launches as a thought provoking concept in "Conversations" ends up with a squishy vocal production and ordinary orchestrations. Chante Moore also reunites with Brown on "Holding You," yet the auto-tuned production dampens the romantic passion from the get-go. Overall, however, Brown still manages to maintain a pleasing taste for the contemporary jazz palette and a special nod to Montgomery and Benson, as well. Three and three quarter stars out of five.
Peggy Oliver
The Urban Music Scene