by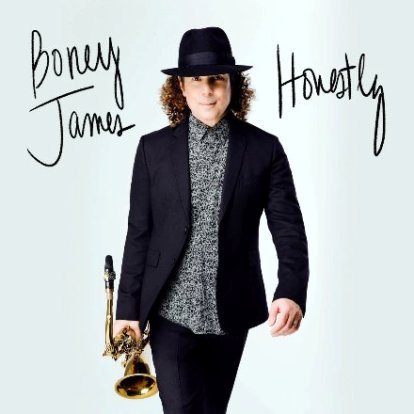 Boney James | Honestly
Concord Music Group
by Peggy Oliver
Going into the recording studio to write music, lay down tracks, and such, can be quite a demanding multi-tasking situation which requires weeks, maybe months, to get every last details just the way the artist would envision. Certainly bearing their passion when crafting new, untried material cannot hurt their musical cause. When Boney James enters the studio, he swears that anything he records is all about brutal honesty with every note he plays, not caring what the genre may be. That is the first and foremost protocol for this saxophonist/songwriter, including his latest CD, simply entitled Honestly. With a body of work stretching to a quarter century in the music industry, James was deservedly awarded with the No. 3 Billboard Contemporary Jazz Artist of the Decade in 2009. Though equipped with a strong jazz aptitude and a strong gift for crossing genres, his strongest musical zone lies in adult R&B and Soul, considering his background playing for The Isley Brothers, Teena Marie and others while featuring vocalists throughout his solo career such as Faith Evans, Anthony Hamilton and Dave Hollister.
For Honestly, James recruits two of today's popular adult urban stylists in Eric Roberson and Avery*Sunshine. There are also a couple of surprises that steer from his contemporary urban flavors, including a jazz/pop standard from way back. Two steady funk grooves, "Up All Night" and "Tick Tock," is wrapped up in brass responses and James' fluid, layered leads. "We Come to Party" recalls the spirit of the sophisticated disco grooves of the seventies and eighties that dance clubs could gravitate to today. A title that speaks for itself, "Kicks," drops a kick it back R&B vibe spotlight James' inviting soprano sax.
Then there are the vocal heartbeats behind Honestly. The first single and title track sends a tell-it-like-it-is message regarding empty promises in romantic relationships, thanks to Sunshine's vocal precision and of course, a nothing less than honest tone. Roberson's rich timbre accentuates pure sensuality and classiness on "If I Can't Hold You."
Shifting in a slightly different direction from the R&B/Soul side, James paints a hip-hop underpinned soundtrack in "On The Prowl," with a blues tugging performance. He also tackles Johnny Mercer/Hoagy Carmichael's classic, "Skylark," a winning risky move, mixing a contemporary arrangement with respect for the lush mood behind the original melody.
Besides the aforementioned tracks, everything else on Honestly is filled with James' genuine musical expressions. Even though the hard work in investment in the studio should not be overlooked, the ultimate truth as told by James illuminates oh, so brightly. Five out of five stars.
Peggy Oliver
The Urban Music Scene