Ramsey Lewis, Tower of Power, Anthony Hamilton and More Help Playboy Jazz Festival Turn 40.
by
Playboy Jazz Festival Celebrates 40th Anniversary at The Hollywood Bowl
by A. Scott Galloway
Under clear blue skies, 80-degree temps with a sweet breeze blowin' on both days, the "Playboy Jazz Festival" celebrated its 40th anniversary with days split almost squarely between World Music leaning on Saturday and Jazz on Sunday.
Saturday June 9 began with the traditional Los Angeles County High School For The Arts Jazz of promising young students followed by Columbian party band Monsieur Perine'. Things got really interesting when blind 17 year-old organ prodigy Matthew Whitaker and his trio wowed the crowd with the passionate and eclectic set list of his original arrangement of Dr. Lonnie Smith's 'Play it Back," the `60s pop hit "More Today Than Yesterday" by Spiral Staircase made famous on the jazz side by Charles Earland, the Brazilian gem "Mais Que Nada," John Coltrane's "A Love Supreme," and the finale of a dual medley of Earth Wind and Fire's "In the Stone/September" with Stevie Wonder's "As/I Wish" – what a prodigious talent and people-pleaser.
Cuba's Dayme' Arocena worked hard to connect with the audience with her single "Got to Get My Life" and "Party" yet left her greatest impression with a sexy song she chose especially for Playboy: "Don't Unplug My Body" for which host George Lopez and an audience member gamely participated over her Donna Summer-like moans and some sensual fretless bass guitar. The highly unique trio of Columbia's Edmar Castaneda on electric harp paired with trombone, drums and special guest Gregoire Market on harmonica lent an exotic rock flair highlighted by a solo piece: a prayer for love and peace around the planet on which Maret returned to seal with a sweet aural kiss at the end.
Roy Gaines and his Tuxedo Blues Orchestra arrived next – suited and booted for some uptown blues that Gaines kicked off solo before blasting off into Big Band renderings of "Goin' to Chicago Blues" and "Everyday I Have The Blues." Next the Miles Electric Band including trumpeter Jeremy Pelt, saxophonist Antoine Roney, keyboardist Robert Irving III, guitarist Blackbird McKnight and Miles' nephew Vince Wilburn on drums, played spacey stretched out takes of Miles Davis material ranging from "Nefertiti" and "In a Silent Way" to "You're Under Arrest" and Cyndi Lauper's "Time After Time." They also played "Footprints" reverently under Cooper Hefner taking the stage to pay loving homage to his father, Playboy founder Hugh Hefner, and the enduring legacy of his music festival.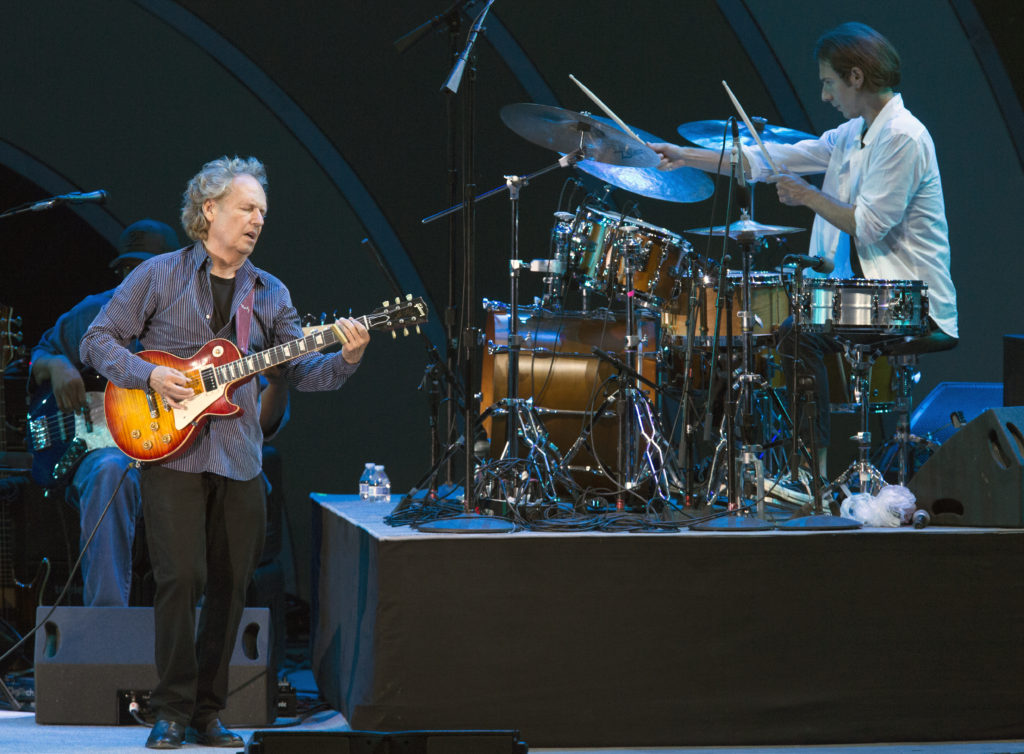 Lee Ritneour (son Wesley on drums)
A pairing of old friends – guitarist Lee Ritenour and keyboardist Dave Grusin – was mostly satisfying save for Grusin appearing a bit fragile and detached. Aside from bassist Melvin Davis' playful imitation of the late lamented Al Jarreau's vocalizing on a snippet of "We're in This Love Together" and a nice contemporary take on Oliver Nelson's "Stolen Moments," the highlight was papa Lee beaming with pride watching his son Wes Ritenour man the drums, especially on the intro of the raucous "Rio Funk." "Rit" also told a great story about how he first played the Hollywood Bowl 50 years ago at a Battle of the Bands in which his combo came in 2nd place to Richard & Karen Carpenter's trio…and she wasn't even singing yet – only playing the drums!
Ever-innovative band Snarky Puppy of rhythm section and 4-man horn section returned to the festival turning in a blistering, forward-thinking set of killin' original jazz rock compositions. And Day 1 closed out with excellent singer Anthony Hamilton, among the last in a long line of legit soul men…sincere soul sans theatrics. He had ladies of all ages and hues on their feet swaying and dancing to selections such as "So in Love," "Best of Meaning," Prince's "Adore" and a medley of things over the groove of the `70s soul novelty "Float On" that included nods to Roger Troutman & Zapp, James Brown & The JBs, Sly & The Family Stone and Parliament. In the center of his set, Hamilton stated, "We're here to share the greatness that has graced this stage and I am honored to be here. The point of it all is I love U."
******
Jazz in earnest arrived from note one on Sunday June 10 when The LAUSD Beyond the Bell All-City Jazz Band played spot-on renditions of the Juan Tizol classic "Perdido," a soulful composition by recently departed L.A. mainstay drummer Ndugu Chancler, John Coltrane's "Giant Steps" arranged by Frank Foster, and Duke Ellington's evergreen "Satin Doll."
Visually and aurally arresting was Parlor Social, a group that described themselves as Speakeasy Soul – as if Cab Calloway, OutKast and Lauryn Hill had a baby (though this writer would switch out Hill for Teena Marie in that description). Led by husband and wife Dessy Di Lauro & Ric'Key Pageot, they did head-nod-inducing flips of Cab Calloway's "Hi-De-Ho," Louis Armstrong's "Heebie Jeebies," Screamin' Jay Hawkins' "I Put a Spell On You" (with a mid-song rap), "Sweet Georgia Brown" and "Hep-Hep" featuring two lovely female dance dancers. Especially nice was arranging master Benjamin Wright joining them to conduct the horns on the original "Higher Place."
The most electrifying set of the weekend goes to the 17 years and counting quintet of L.A. & NYC collaborators Kneebody which opened with the amazing piece "For the Fallen" anchored by fretless bass, a depth charge submarine call keyboard refrain, limb-shaking drums and phased horns…WOW! And it just got deeper and more transcendent from there with "Drum Battle," the debut of a new song "Chapters," "Profar," "Uprising" (an anthem for troubled America's long fight ahead), a jazz take on Rihanna's international pop hit "Work," and "Mikey Lee" (in memory of a friend). If you see this band coming near your town, GO!
The Legendary Count Basie Orchestra kept the torch lit with a set that included a new arrangement of Stevie Wonder's "My Cherie Amour" and a salute to singer Joe Williams. It was followed by bassist/vocalist Richard Bona & Mandekan Cubano that blended Latin and African motifs, often with a splash of all American rock and roll. Next up was Hubtones, an all-star ensemble celebrating jazz trumpet great Freddie Hubbard's 80th birthday featuring a 4-man frontline of horn men Randy Brecker, Nicholas Payton, a returning Jeremy Pelt and David Weiss along with bassist Vicente Archer, pianist Benny Green and drummer Roy McCurdy. Playing strictly Hubbard compositions, they turned in powerful takes of "Birdlike," "Up Jumped Spring," "D Minor Mist" and "Red Clay." Venerable jazz saxophonist Charles Lloyd was having the time of his life with his all-star band The Marvels playing a soulful mix of styles for the early evening crowd. Then special guest vocalist Lucinda Williams joined him and sang a really-really depressing alt country blues…completely lyrically inappropriate for anyone paying attention in the dinner time crowd. Thankfully, she rebounded with a triumvirate of wonderful pieces: "Dust," "We Have Come Too Far to Turn Around" and "Joy."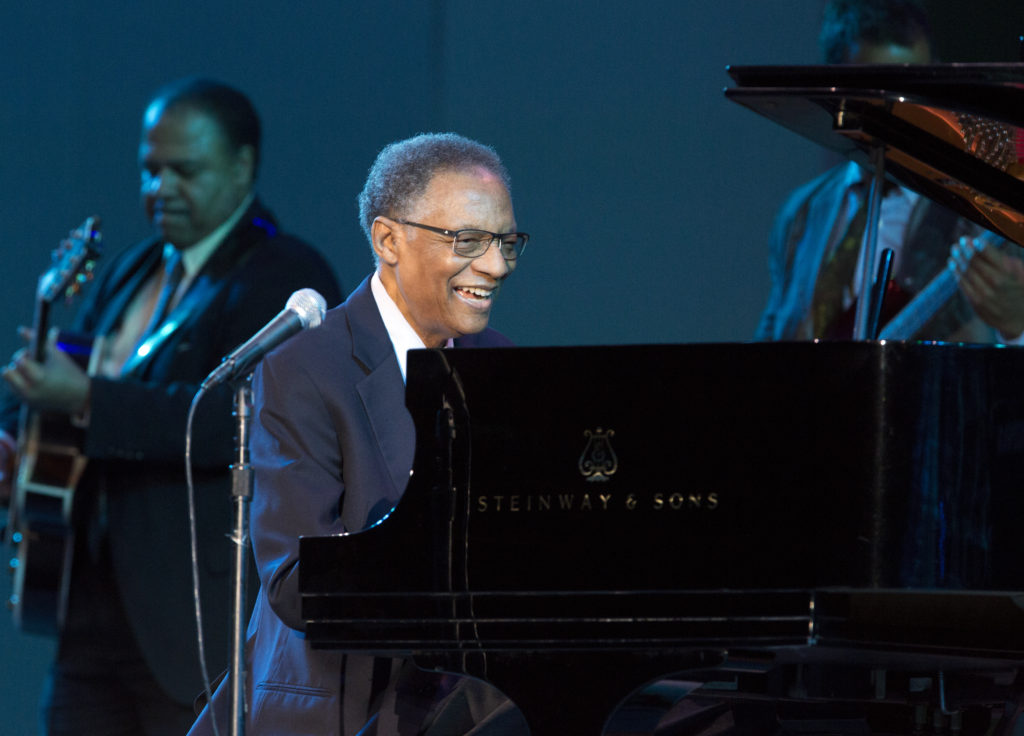 Ramsey Lewis (Henry Johnson on guitar)
The Ramsey Lewis Quintet overcame initial mic issues and a plane flying overhead during the opener "Tequila Mockingbird" by surprisingly dipping into a medley of the ballads "Here There and Everywhere" (Lennon/McCartney) with "Betcha By Golly Wow" (Bell/Creed) – the work of a revered master who can snap attention with a move like that. Ram triumphantly lit into Stevie Wonder's "Living For The City" (with a drum solo by Charles Heath), "Blues For The Night Owl" (with a tasty bass solo by Joshua Ramos and guitarist Henry Johnson – exceptional all night – dueling himself like B.B. King vs. George Benson). Ramsey ended with his Earth Wind & Fire collaboration "Sun Goddess," his first big hit "The 'In' Crowd" and the pleasant surprise of "Brazilica" as the closer.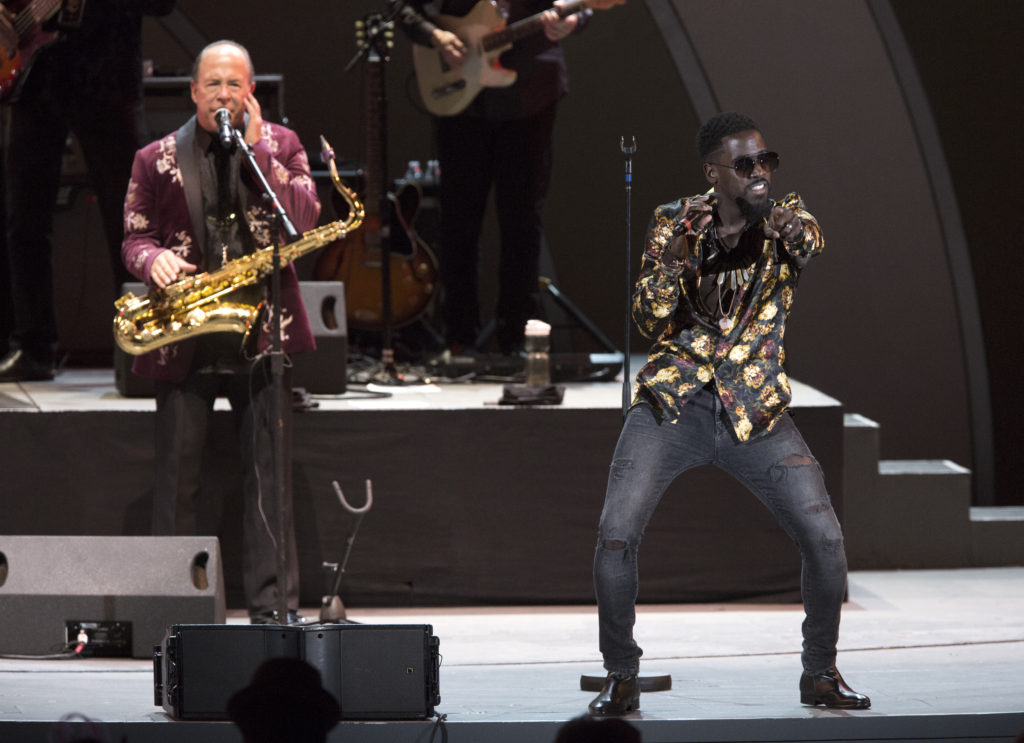 Tower of Power founder Emilio Castillo on tenor with lead singer Marcus Scott
In the festival's continued efforts to attract a younger audience, the inclusion of powerhouse soul-pop singer Jazmine Sullivan catered to them as she sang her modern soul hits "Bust Out Your Windows," "Lions and Tigers and Bears," "Insecure," "Forever," "Stay On" and her #1-charing debut single "I Need You." However, the 40th Anniversary of Playboy Jazz Festival closed out on a classic soul tip as Oakland's own Tower of Power "ten-tet" blew everyone away with both selections from their brand new 50th Anniversary release, Soul Side of Town, as well as fan favorites from the `70s such as "You Ought To Be Havin' Fun," "You're Still a Young Man" (dedicated to George Lopez), "Soul Vaccination," "So Very Hard to Go", "What is Hip/Soul Power (medley)" and "Knock Yourself Out" on which the 5-man horn section traded solos and tagged the ancient classic with a new unison lick. Also, of note was original trumpeter Greg Adams sitting in on those last three selections. New lead singer Marcus Scott has really settled into his role as front man, turning in a stellar vocal performance, punctuated by tight dancing skills and audience outreach. T.O.P. was the perfect choice to close out the festival's milestone celebration.
Photo Credit: Craig T. Mathew and Greg Grudt/Mathew Imaging
A. Scott Galloway
Music Editor
The Urban Music Scene
June 16, 2018