Dee Dee Bridgewater Returns To Birthplace For Soul Food on Memphis…Yes, I'm Ready
by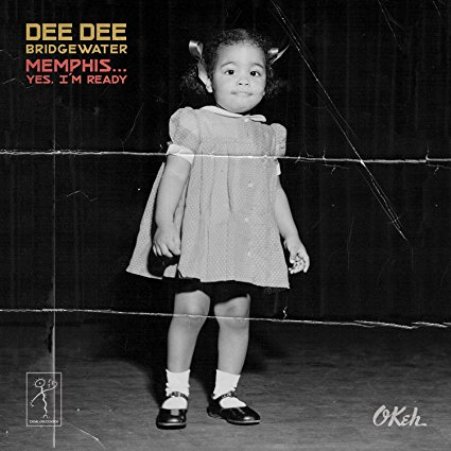 Dee Dee Bridgewater
Memphis…Yes, I'm Ready
(Okeh/Sony Masterworks)
Dee Dee Bridgewater is a woman who has lived…well…and in a lot of places. She grew up in Flint, Michigan, recorded her first album in Tokyo, Japan, won her Tony in New York, won her Grammys in L.A., escaped to Paris where she thrived as a pure jazz singer, returned stateside to Nevada where she regrouped, and now resides in New Orleans where there was enough of Mother Africa to sustain her after she'd traced her roots back to Nigeria (musically documented a decade ago on her 2007 album, Red Earth). Ms. Bridgewater's latest album excavates roots of another level of metaphorical red clay: that of her birthplace: Memphis, Tennessee. There, at soul music reservoir Royal Studios, Dee Dee and her daughter Tulani Bridgewater Kowalski teamed up with the legendary Willie Mitchell (of Hi Records and sexy years Al Green renown) and his Grammy-winning recording engineer son Lawrence "Boo" Mitchell to produce another personal project entitled Memphis…Yes, I'm Ready.
Though she has sung some of everything, Dee Dee is known as a Jazz singer. And though much music has emanated out of Memphis, it is primarily known as the heartland of The Blues and early Rock N' Roll. Bridgewater gets one good foot firmly into this soil and raises a respectable amount of sand on certain numbers. But on several…she stumbles. Carla Thomas' "B.A.B.Y." and Barbara Mason's "Yes I'm Ready" – though fun and animated – wax more like passing nostalgia from the rearview mirror. On "I Can't Stand The Rain" which has had some heavyweight interpretations by originator Ann Peebles, Tina Turner (on Private Dancer) and even Patryce "Choc'let" Banks as a member of Graham Central Station, Dee Dee falls flat in a take that Boo quickly fades on out. The opposite problem surfaces on "I Can't Get Next To You," the Temptations' Norman Whitfield/Barrett Strong-penned showstopper that Al Green slowed down to a sexy simmer in a version all his own. Dee Dee picks up on Al's gritty version but tries too long and too hard to bring those beans to a bowl – a shame, too, because guitarist Gary Goin most definitely brought the spice.
The biggest and best surprise is how strong her versions of two songs associated with Elvis Presley go over. Presley – long a controversial figure in the Black community – is not often given an admiring look. But Dee Dee and company invest his hits with inventiveness and passion. "Don't Be Cruel" gets a groovy, saucy makeover with a tasty sax refrain by Kirk Whalum that audibly tickles our heroine to no end. Meanwhile "Hound Dog" (originally recorded by Big Mama Thornton in 1952 but made an oldie but goodie by Presley in `56) finds Dee Dee moanin' at midnight and fully acting out the role of a woman who has had enough of some low down mangy hound…though this one fades out too soon – just as Dee Dee and G.G. begin to trade licks.
Dee Dee is shrewdly strong as she sinks into the cushion of Bobby Blue Bland's "Going Down Slow," letting the timbre of her voice carry the weight of the song's fate-pondering emotion sans over riffing. But on The Soul Children's "The Sweeter He Is," her extended mid-song rap (the Isaac Hayes/Bobby Womack version of "rapping," as in runnin' down a confessional story inside of a song) is less convincing.
The unimpeachable grand slams of Memphis…Yes, I'm Ready are the stately and traditional reading of the closing gospel chestnut "(Take My Hand) Precious Lord" and – on the other side of the tracks – an eye-opening reimagining of the late, great Riley "B.B." King's "The Thrill is Gone," done as if she got together with The Meters around the corner from her current home in Nawlins and dropped it off into some funky Gumbo Ya-Ya!
It's one thing to be born somewhere yet quite another to come up there. Ms. Bridgewater has expressed an interest in maybe moving to Memphis as her next stop. Given her track record, I make the following prediction. Give Dee Dee some quality time to spend in "Soulsville" and marinate in the music then her next Memphis sides will be more authentically lived in, naturally.
A. Scott Galloway
Music Editor
The Urban Music Scene
September 22, 2017