Incognito | Transatlantic RPM
by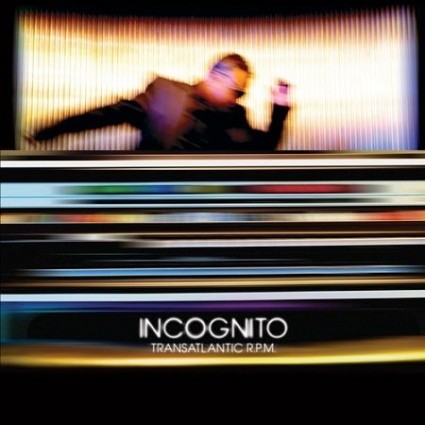 Incognito | Transatlantic RPM
by Peggy Oliver
Happy 30th Anniversary Incognito! Yes; thirty years of old school soul, funk, disco, hip-hop and jazz produced by the U.K. sensation that still sounds as fresh today as when they were first introduced to the world in 1980 with an album appropriately named Jazz Funk. Despite a ten-year absence after their debut, they returned to the recording studio with Inside Life and have never looked back since. After signing with club DJ Giles Peterson's Talkin' Loud imprint through Verve Records, Incognito was one of the label's prominent acts throughout the nineties. Their long string of singles including "Always There," "Still a Friend of Mine" and "Don't You Worry 'bout a Thing," plus various dance remixes, have charted consistently on the U.K. Top 100. Incognito's percussive groves were fueled by the funky jazz of mid sixties and seventies played by Roy Ayers and Donald Byrd. As the club scene progressed, depending on who you talk to, these grooves were also dubbed Acid Jazz, Nu Jazz, Soul Funk, Jazz Rap, etc. Other prolific groups and vocalists including Greyboy All-Stars, James Taylor Quartet, Ronny Jordan and The Brand New Heavies deliver those funky beats with jazz sensibility to this day. But for now, it is Incognito's turn for their close-up. And boy, are they celebrating the biggest year of their life with full abandon.
In 2010 alone, they released their 30th Anniversary DVD (Livein London) which included Incognito alumni Maysa Leak and Jocelyn Brown; followed by a brand new studio release Transatlantic RPM. What astounds me about Incognito is how the many contributing talents have surpassed their counterparts; all under the direction of their founder Jean Paul 'Bluey' Maunick. Though Bluey has full hands on as producer, musician and songwriter, he stands by the philosophy of congregating various musicians and singers who are able to keep their ego at the door and share the same musical vision. Thus,the ever expanding Incognito family remains intact, even while popular soulful vocalists such as Maysa, Imaani and Brown who enjoy fruitful careers return to the fold on various occasions, including their 30thAnniversary celebration.
Incognito and a stellar supporting cast including 'family' members Maysa, Joy Rose and Tony Momrelle, Italian soul star Mario Biondi and R&B legend Chaka Khan are onboard the Transatlantic RPM. This labor of pure love was one year in the works to accommodate everybody's schedules, and the result on this Shanachie Entertainment release (Dome Records in the U.K.) is full of old school good times. The title Transatlantic RPM was inspired by Bluey's observation of U.S.funk/R&B's overwhelming popularity trickling across the Atlantic;generated by Earth Wind & Fire (EWF), Stevie Wonder, and others. Putting their spin on the 1976 top forty smash, "Lowdown," Khan and Biondi are vocally sizzling and Stewart Zender's in the pocket electric bass increases the deep funk factor to this Boz Scaggs' classic. Chaka returns for an encore (and an electrifying Rufus-style moment) on "The Song," teamed with EWF veteran, guitarist Al McKay. Momrelle's creamy tenor voice is all over the disco jam "Put A Little Lovin' in Your Heart." Rose takes the lead on "1975" with those soulfully delicious vocal hooks, hearty brass punches and plenty of party-down memories: "He remembers boogie brought down the house DJ's turned it out…" Maysa's vocal resonance melts in the ears throughout "Your Sun Your Sky." "Expresso Madureira" provides an opportunity for the musicians to strut their house-music flavored jazz. Bluey shines on "Tell Me What toDo," with his understated lead vocals, backed by soft broken beats. Other outside contributors include Tortured Soul's frontman John-Christian Urich, whose sass appeal drives "Gotta" and the reason Tortured Soul is one of the U.S.'s talked about soul dance underground groups today. Singer/songwriter Ursula Rucker incorporates bits of spoken word on the solemn ballad, "Gotta."
So what is there to truly say after experiencing Transatlantic RPM. How about Happy 30thAnniversary Incognito! And here's to sixties and seventies jazz funk at is peak in the millennium.
Tracks:
Lowdown
Everything That We Are
1975
Your Sun Your Sky
Line in the Sand
Gotta
Let's Fall In Love Again
The Song
Put a Little Lovin' in Your Heart
All of My Life
Expresso Madureira
Life Ain't Nothing But a Good Thing
Make Room for Love
Can't Get Enough
The Winter of my Springs
Tell Me What to Do
Peggy Oliver
The Urban Music Scene