by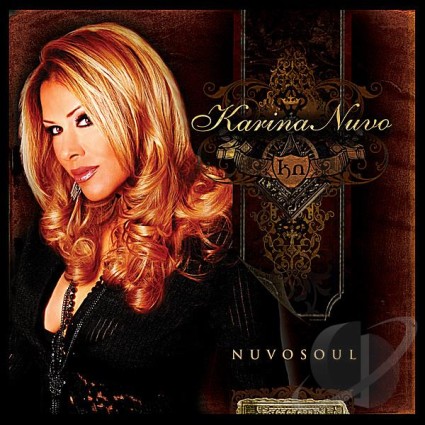 Karina Nuvo | Nuvosoul
By Marv D.
Karina Nuvo was born in Miami, Florida with Cuban decent, and is propelled by a powerful heart-felt force, and a voice to go along with it. Even after a six-year illness, it did not detour her from pursuing her dreams. If you listen closely to her voice, you'll hear a slight quiver, which reminded me of Randy Crawford. After moving to the Los Angeles area to further her career, she selected a team of talented musicians to help envision her dreams, which resulted in her debut CD "Nuvosoul," a soul/jazz/latin/R&B flavored project in English and Spanish.
"On My Way," "Love Is In My Life," & "Its Not Impossible" are sultry slow songs which should fit into any quiet storm format. "Amate" is a nice smooth r&b song co-written by Johnny Britt from Impromp2, which is sung in Spanish. Karina has been influenced by lots of artists but none so influential as Earth, Wind and Fire – where she lays down a hot version of "Shining Star" with a serious latin flavor (can you see yourself salsa dancing to this song…). "With Or With Out Your Love" is a very lovely jazz flavored song. With the help of special guests Saxophonist Michael Lington and Sheldon Reynolds (former E.W.F guitarist), this song should be in rotation on every jazz station.
"Tiempo" & "Adios" are both smooth R&B/latin flavored songs also sung in Spanish, which was so-written by Gerald McCauley (on the song 'Tiempo'), Danny Thomas and Gerard McMahon (…'Adios'). "Es Que Soy Yo" & "Cuba" are both latin swing songs that might be heard in clubs like the "Copa Cabana" and other Cuban Clubs from the early days. Music Trumpet legend Arturo Sandoval had success with songs like these.
Karina did not leave out the latin hip/hop community with a cover of the classic song "Guantanamera"; "I Will Love You" is a compelling Gospel song that exposes her soul while inspiring others to charge on with positiveness and hope to succeed in anything that want to do in life. "I Will Love You" is about losing a loved one. "Its Not Impossible" is about succeeding in life.
The two Bonus tracks are the Spanish version of "With Or With Out Your Love" and the English version of "Adios."
Karina Nuvo is determined to bring her bilingual soulful sound to the forefront and hopefully bring her music back to her parent's homeland, and the world over. Karina is polished and ready for that task. As Executive Producer of this wonderful project, Karina's range is yet to be determined.
This project can be found on CDBaby & CDUniverse!
Marv D.
The Urban Music Scene