37th Annual Playboy Jazz Festival Proves An Avalanche of Diversity
by
Playboy Jazz Festival – Saturday June 13, 2015
Concert Reflection by A. Scott Galloway
Photos: Mathew Imaging
June gloom morphed into jazz-soul glory for Saturday June 13, 2015 – the first day of the 37th annual Playboy Jazz Festival – a day of great music that found the heat slowly and consistently escalating to the very end.
The day began with the Los Angeles County High School for the Arts Vocal Jazz Ensemble (under the direction of Pat Bass) showcasing seamless extended harmony on jazz classics, including Stanley Turrentine's "Sugar" (in an arrangement made famous by the `80s group, Rare Silk).
Next was a young Chilean saxophonist Melissa Aldana fronting her Crash Trio of bass and drums. The daughter of a jazz musician, the 2013 Monk competition winner sounded like she's listened to a lot of Stan Getz and Paul Desmond – gentle yet dexterous. Aldana, who has three albums to her credit, performed the songs "Alegria," something else composed by her father, and a piece titled "Bring Him Home" reminiscent of Sonny Rollins' buoyant "St. Thomas."
Morgan James is a white soul singer currently playing Teena Marie in "Motown the Musical." Taking the stage in a black and gray summer ensemble set off with bright red pumps, she fronted a 7-piece group of rhythm and horns plus backup singer Asmeret Ghebremichael. Promoting her latest CD, Hunter, Morgan dazzled with sultry soul and powerful pipes – crossing Etta James with Mariah Carey on the crowd-pleaser "Say the Words" on which a climactic long-held note drew wild applause, as did her single, "Call My Name," composed by Prince.
As Mardi Gras beads and beach balls flew over my head, the first astounding set of the day came from The Campbell Brothers (three brothers and a son) out of Rush, New York who offered up an inspired twist on John Coltrane's "A Love Supreme" suite which they dubbed "A Sacred Steel Love Supreme." Led by pedal steel guitarist Chuck Campbell, the quartet flipped each of the four parts in novel ways – the opening most famous part kicked off with bassist Philip Campbell laying down a solo that incorporated fluid lines over the meditative drone, the second part being played as a blues swing, and the third part opening with a rousing 3-minute drum solo by Carlton Campbell (with two snare drums) that led into the band kickin' up much dust before the prayerful finale! Drenched in eerie reverberating oscillations, I dubbed this jaw-dropping set "PsycheDelta."
Pianist Jason Moran provided an apropos backdrop for all the New Orleans beads tossing going on with his raucous "Fats Waller Dance Party" set – contemporary flips on Waller hits highlighted by any time he slipped this massive headpiece on his head, identical to Fats' world-renowned visage complete with cigar, and commenced to ticklin' those ivories. Like the song he chose to close his festive set with, "This Joint Was Jumpin'!" And Moran is also noted as the only artist of the day to acknowledge the passing of Ornette Coleman two days prior.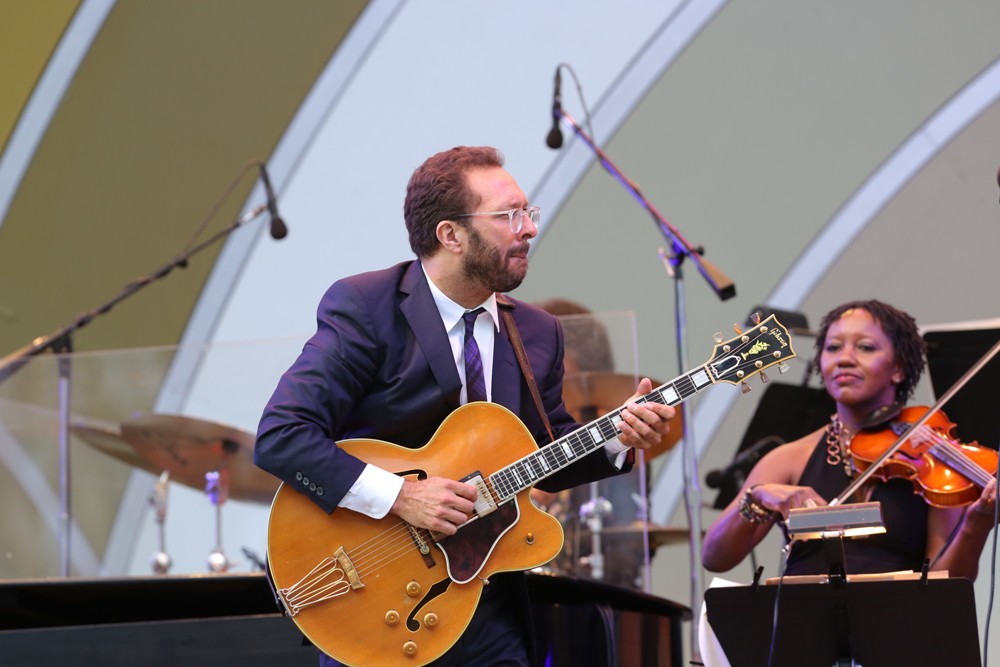 Anthony Wilson & Yvette Devereaux
The most swingin' and poignant set of the afternoon was a very special tribute to the late jazz giant Gerald Wilson played by an L.A.-based ensemble of the bandleader's alumni dubbed The Celebrating Gerald Wilson Orchestra, under the loving direction of his son, guitarist Anthony Wilson. With the dearly departed jazz legend's wife and daughter in the audience, the group leaped into the first of seven numbers with "Triple Chase," which contained a blazing solo by L.A.'s fast-rising jazz son Kamasi Washington on tenor, followed by Ricky Woodard on alto, Terry Landry on baritone then Anthony Wilson switching from conducting to guitar-ripping.
The set continued with stellar renditions of Wilson compositions "Blues for Yna-Yna" (dedicated to a beloved family pet), "Romance" from his Theme for Monterey suite (featuring Scott Mayo on soprano sax on a song Wilson dedicated to All the lovers – straight, gay, interracial and otherwise), "Nancy Jo" (penned for his daughter), a fiery version of Juan Tizol's "Perdido" (which Anthony pegged as his favorite of his father's arrangements) and, of course, Wilson's 'greatest hit,' "Viva Tirado," highlighted by trumpeter Dr. Bobby Rodriguez's solo of peppery staccato flourishes, Wilson trading 4s with violinist Yvette Devereaux, and another torrid turn from Kamasi Washington on tenor. This outstanding set (marred solely by woefully regrettable sound issues) closed with a blues that Gerald Wilson dedicated to Count Basie and that featured his son opening with a solo guitar interlude then a great trombone solo by ever-stalwart George Bohannon.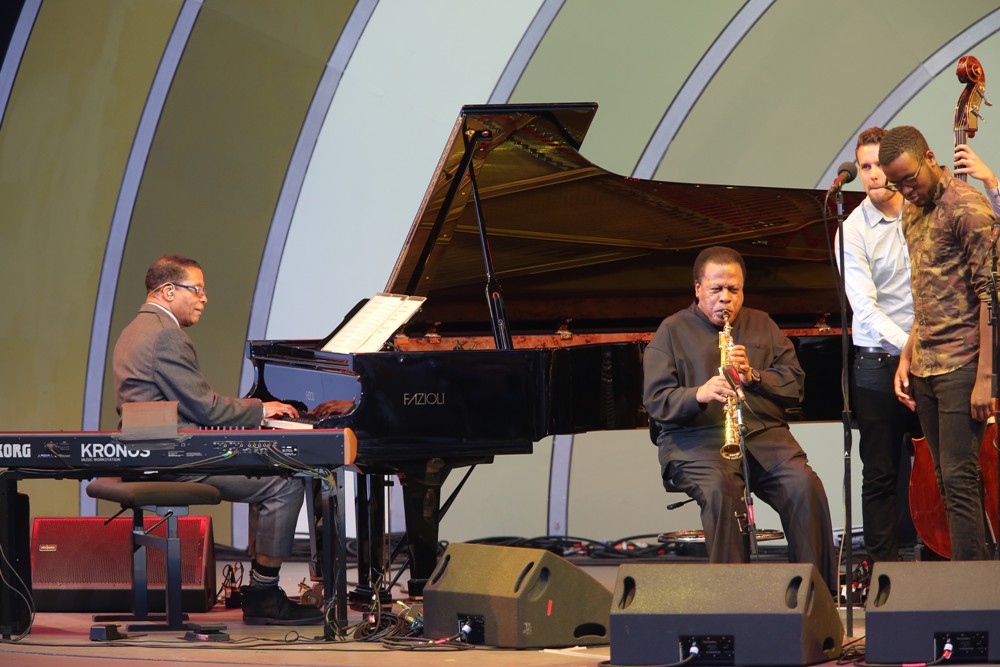 Herbie Hancock, Wayne Shorter & The Monk Institute Jazz Ensemble
The Thelonious Monk Institute Jazz Ensemble opened its set with a new arrangement of Laura Nyro's "And When I Die" (a song made famous by the pioneering `60s rock-jazz band, Blood Sweat and Tears) then launched into a version of Herbie Hancock's "Watermelon Man." Herbie Hancock, along with the Wayne Shorter were special guests of the ensemble who also played a duet in the middle of the set that humorously incorporated John Williams' movie theme from "Close Encounters of the Third Kind" (no surprise as both, especially Shorter, are ardent science fiction geeks). Later, a version of "Speak Like a Child" led into a passage of passionate interplay between Hancock and Monk Institute pianist Carmen Staaf that found the latter more than holding her own with inventive ivory aplomb.
Contemporary R&B singer Aloe Blacc was up next with a warm and gentle set of songs influenced by his idols Bill Withers and Donny Hathaway. Decked out in a tasteful suit and stylish hat, the young man did not break any sort of sweat strolling the stage crooning with his feel-good offerings from his CDs Good Things (2010) and Lift Your Spirits (2014), which were pleasant if not very singular.
However, the heat was most definitely cranked up to 11 with the after dark sets of the final two bands!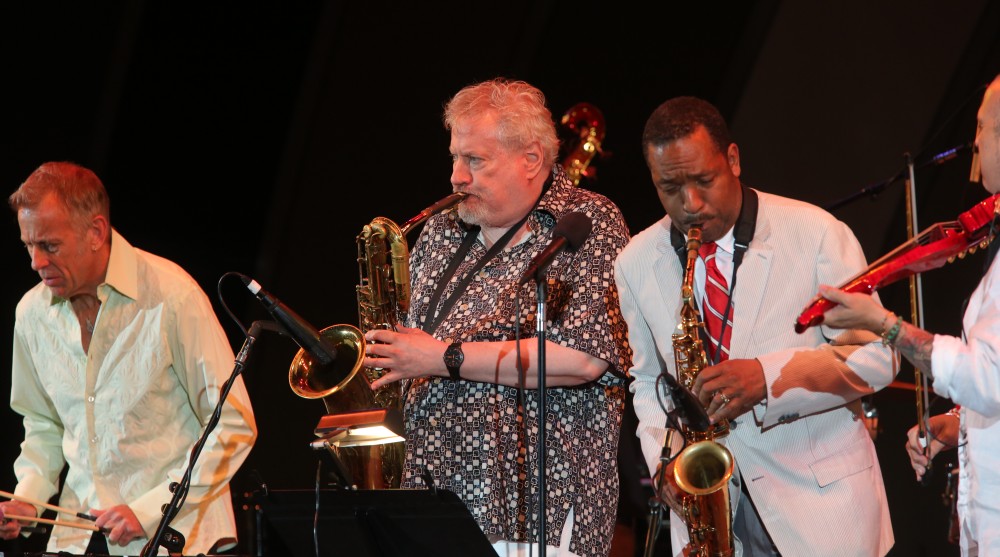 Joe Locke, Ronnie Cuber, Donald Harrison & Alfredo de la Fe
First up was the legendary Eddie Palmieri who – special to the festival – augmented his skin-tight touring band with four special guests ALL of whom matched their fire degree for degree: vibraphonist Joe Locke, saxophonist Donald Harrison (who also sang-led a Latin arrangement of a New Orleans soul classic), baritone sax man Ronnie Cuber, and violin master Alfredo de la Fe! Every musician carried his weight and then some in this blast of nonchalant excellence. It made the massive Hollywood Bowl feel like some corner dive where The CATS gather to enjoy the kind of jam only friends operating on the highest level can achieve.
And then the world famous custom-crafted Playboy Jazz Festival stage spun around for the last time this day to reveal Tower of Power – THE most outstanding 47-year surviving soul band in the land – JAMMING on their signature instrumental hit "Squib Cakes." Highlighted by the group's trademark 5-man horn section (led by Emilio Castillo on tenor and Stephen "Doc" Kupka on baritone – both gentlemen also the primary composers), this band has been both a launching and a landing pad for many lead vocalists over the years. They are graced by one of the finest they have ever had in Ray Green – a Boston transplant who was making plenty-plenty money leading top wedding bands before T.O.P. snatched him up! I mention this to say that this young man is both naturally gifted not only as a singer but is well-seasoned beyond his years as a performer of the highest order. Where Aloe Blacc earlier in the day was cool and laidback, Green electrifies. Like Blacc, he doesn't engage in choreography, instead strolling the stage and communicating directly to the people. The difference is his passion and swagger is on par with the 'powerhouses' that came before him such as Otis Redding and Wilson Pickett. He opens his gate-mouth and out comes blast after blast of core-rattling soul and funk, from his tenor to his falsetto, that are the markings of an all true Soul Man.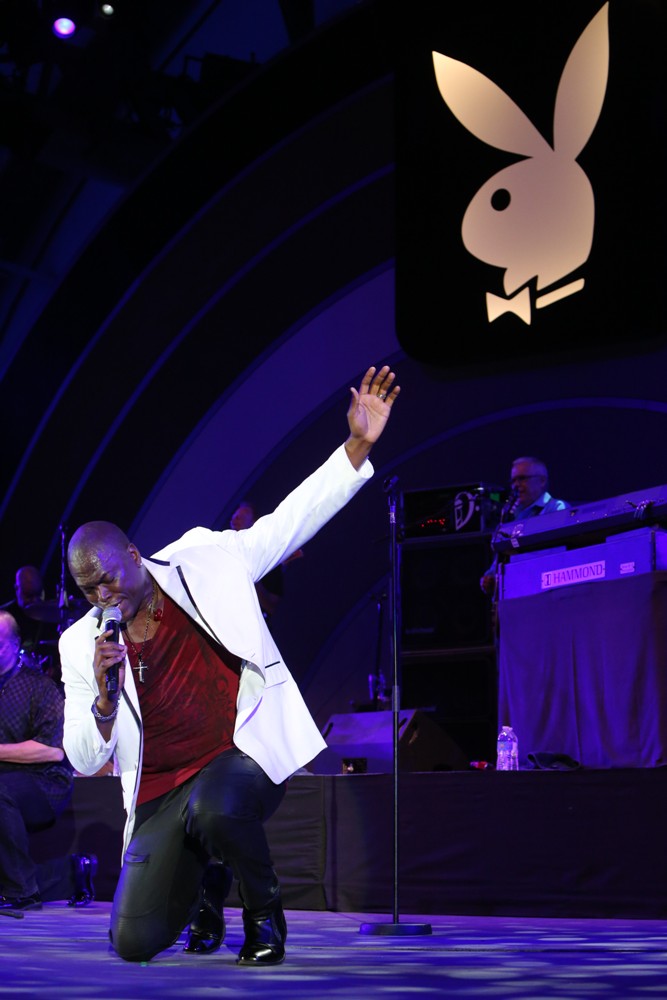 Tower of Power Lead Singer Ray Green
Be it deep crate-dig fan faves like "Don't Change Horses in the Middle of the Stream" or "As Surely As I Stand Here" to well-known T.O.P. classics such as "Soul Vaccination," "This Time It's Real," "So Very Hard To Go" and the juggernaut "What is Hip," he holds the audience in the palm of his hand – which is no easy feat considering all of the master players he is fronting – from bassist Francis Rocco Prestia and guitarist Jerry Cortez to monster drummer Herman Matthews (filling in for founder David Garibaldi who is on leave for hip replacement surgery). Fast approaching a glorious 50th anniversary with their timeless arrangements plus glowing improvised solos from tenor man Tom Politzer, organist Roger Smith and the aforementioned Cortez, Tower of Power is, perhaps, the perfect band to close out a Saturday night at "Playboy" with both musicianship and showmanship.
by A. Scott Galloway
Music Editor
The Urban Music Scene
Read Review for Day 2 of the 37th Playboy Jazz Festival by clicking HERE!