Powerful Jazz Film "Bolden" Paints a Greater Socio-Political Story
by
Bolden Film Plants Seed of Real-Life Jazz Creator's Mythology and Harvests a Stark Reflection of the Dark Side of America's Soul
by A. Scott Galloway
Jazz music is America's greatest homegrown art contribution to the world. Like anything that comes out of this country, its inventor paid a dear price for having just enough so-called freedom to create it. Jazz's creator is a cornet player out of New Orleans named Buddy Bolden. A new film by first time director Dan Pritzker entitled "Bolden" places the fiery musician front and center in what is not so much a biopic – since very little is known about the man – but a plunge into Reconstruction America of the 1890s time period in which he taught Gospel music to dance amidst the bitter realities of post-slavery America.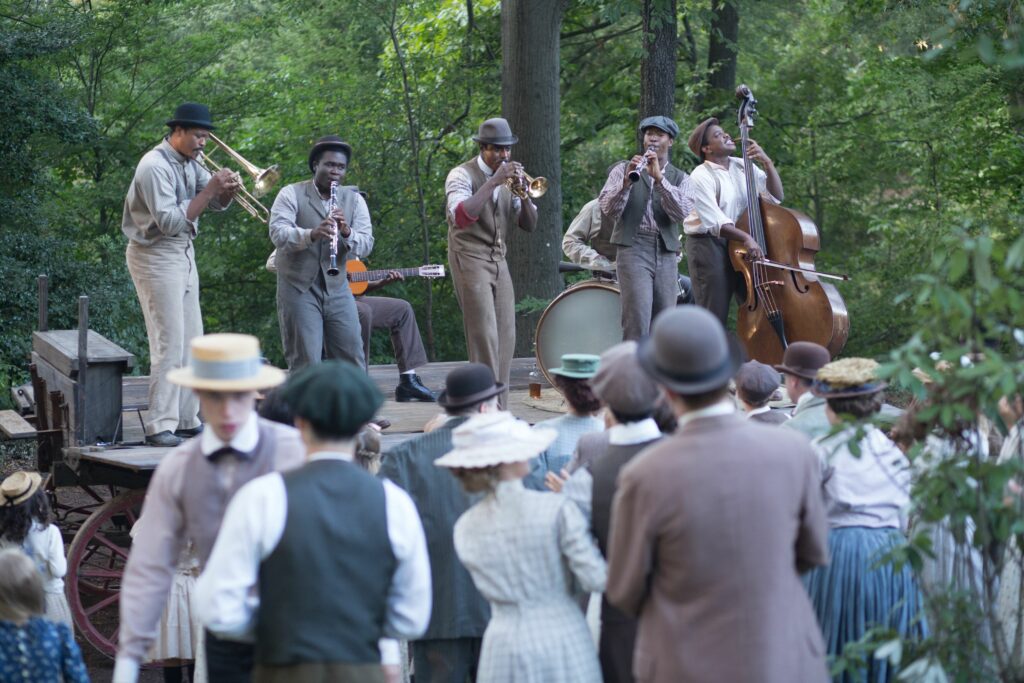 Not for the faint of heart, this raw, surreal and impressionistic film takes you to the birthing ground of where Jazz blossomed like a hot house flower during a treacherous time to be Black in America – whether one was gifted or not. Visually stunning with an amazing score by Jazz luminary Wynton Marsalis and strong performances from leads Gary Carr ("Buddy Bolden"), YaYa DaCosta (Bolden's wife "Nora"), Erik LaRay Harvey (Bolden's manager "Bartley") and, in a key time-leaping role, Reno Wilson (as "Louis Armstrong"), this is a disturbing story of truth telling surrounding a real yet mythological figure of music history.
Pritzker, a musician turned filmmaker, initially learned about Bolden from Donald M. Marquis' book "In Search of Buddy Bolden: First Man of Jazz." After further research, he became so inspired about telling this story that over the course of the last 20-plus years, he has filmed it twice: once in a linear format he ultimately wasn't happy with and the second draft that is now the impactful final draft.
"To me, Bolden really is the progenitor of 20th century American culture," Pritzker states. "I see a clear line from Buddy Bolden to Louis Armstrong, Dizzy Gillespie, Miles Davis, Motown, Stax, Jimi Hendrix, the Stones – all of it. It all came from Buddy Bolden. The fact that I had never heard of him seemed to me like American mythology – poetic, tragic and typically American. 'Oh, my God we have this Black guy who changed everything and we not only not recognize him but left him in an anonymous grave for no one to have heard of him?' From the time I was a kid, I recognized the through-line from Jazz to the R&B and Rock and Roll that I loved. This guy should have statues all over the country! This guy was one of the major innovators in American history. He changed the way we walk, talk, and look at time. He created the soundtrack for the way people move from the 20th century on. We should know who he is like we know who Albert Einstein is."
Getting the music right was crucial. Enter Wynton Marsalis, not only a master brass player but an arduous student of traditional Jazz forms. Marsalis stresses the accuracy of Bolden truly being the architect of jazz, stating, "The best musicians who were around at that time said he invented it – musicians that could really play and came from him like King Oliver, Freddie Keppard and Bunk Johnson. People saw Buddy and his band playing in parades. He had attribution at the time as 'The First!' And he was dubbed 'King Bolden.' That was for a reason: his playing was so deeply personal that one man said his heart broke every time he played. He could play so sweet; it would reduce you to tears. He could also play so hot, especially on a slow blues, he would have people jumpin' out of windows!"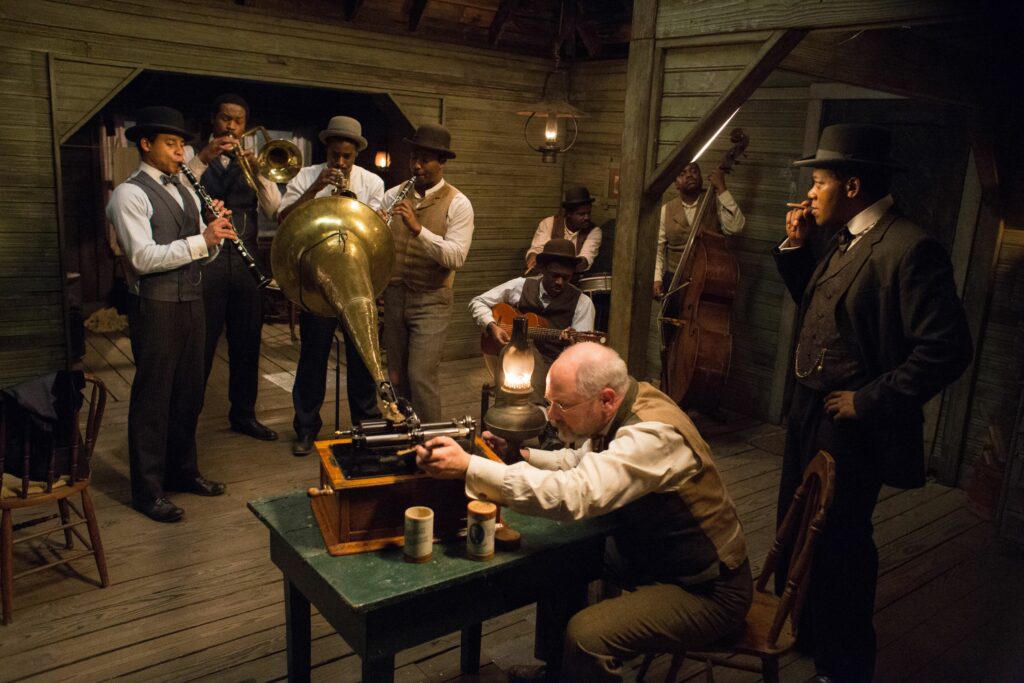 The music is captured beautifully, particularly places where Bolden's cornet is played in duets with a clarinet…a cello…a trumpet. The filmmaker did an excellent job of depicting how Bolden's music affected audiences…especially women. It was passionate…it was soulful…it was improvisational and conversational…born from a man who instinctively knew how to seduce audiences by playing the spaces between the lines of what other bands were passively padding through. You can see how he became a star.
Marsalis praises, "It's important to see the effect the music had on people; who Bolden was and another perspective on an American story. You see how his music was exploited, the decisions he made – good and bad. He's an important figure to know. You can tell from watching this film that Dan is a musician. A lot of movies are afraid of music and run from (the realities of) musicians. The music is too often sanitized. Dan didn't do that. He put the music and the fact that this man is a musician at the center of the movie. That makes it different from almost any other film you've seen about a jazz musician."
Those heading to the theater, especially Blacks, should be forewarned that while Pritzker and his team shot the film with a painterly art house sensibility that is often quite beautiful to behold, there are also graphic scenes of violence, sex and drug use – scenes the director insists that, while explicit, are tame compared to the atrocities that were being administered to Black people during this period.
Marsalis defends this, stating, "My great uncle was born that period of history. I lived with him when I was 6-years-old. He was always talking about Reconstruction and the Repeals of Reconstruction. He was born in 1883. He was not as old as Bolden but he was of that time. He was in his 80s when I stayed with him. The graphic nature of this film doesn't bother me. You can't make the man's life 'Disney.' Because it wasn't. I felt like Dan achieved a lot of his objectives, so the history of all that was realistic." Pritzker adds, "I tried to make the violence metaphorical and epic. The violence in the film is nothing compared to the violence of the period. It was so much more outrageous and horrible than anything on the screen. People that feel that way really have no idea of what was going on in New Orleans back then and America in general. There are people that feel like violence like that was only going on in the south. Bull****! It was terrible…"
The role of art has always been to reflect the spirit of the artist through their perception of the space in which they live. In the case of Blacks in America, art has tapped into a joy and sensuality that cannot be dulled by harsh circumstance. "And still we rise." However, Marsalis cautions that Blacks are not the only ones that have suffered in life and through their art.
"The good thing about Buddy Bolden's music and the music of the Blues, is it recognizes that there is a struggle yet it's optimistic music," Marsalis muses. "Our music protests against injustice and all these things, but it finds joy in the act of life. Not in living with your eyes closed but looking at it. Our history has not existed on the end of a diamond ring. We've been in the coal mine for a long time out here. But Black people don't corner the market on that. This world in this place and time is one example of inhumanity to a group of people amongst all of the inhumanities since the beginning of time. And because of democratic freedom, this man was able to channel that and express it. And that sound is still alive. Because of those democratic freedoms, someone like me can come down through that system and receive the kind of education I received and reflect upon it with a kind of perspective and intention that I have. I can come together with Dan Pritzker and the two of us can find a commonality in our 'American-ness' across that time."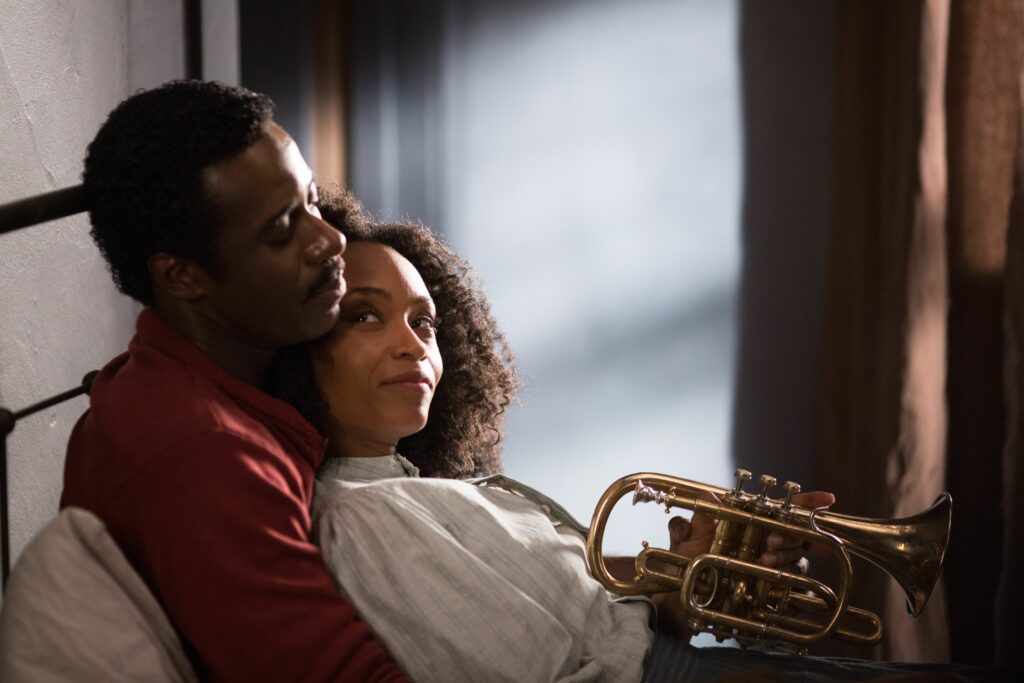 Summing up his intentions for "Bolden" and the way he hopes it affects audiences around the globe, Pritzker states, "I tried to make something that I believed and felt good about. If it's right with me it will resonate with other people. I didn't spoon feed the audience. You have to stay engaged. If you let the movie continue to engage you for the whole hour and a half, it will resonate things inside the viewer that they feel themselves. And then they are invested in the movie. It's like when you watch something and can put yourself in the position of the protagonist, now you're in it. Now, it's not about Buddy Bolden. It's about you. That, to me, is what successful art does."
"This is not a biopic of Buddy Bolden. Not enough facts about his life are known. We could have made it a love story or a buddy story… To me, the film is an allegory about the soul of America. If people leave thinking about the film more so than talking about how much they enjoyed it, that's o.k. with me. That will resonate for a longer time and have longer life span as a piece of work."
A. Scott Galloway
Music Editor
The Urban Music Scene
May 3, 2019