Sy Smith | Sometimes a Rose Will Grow in Concrete
by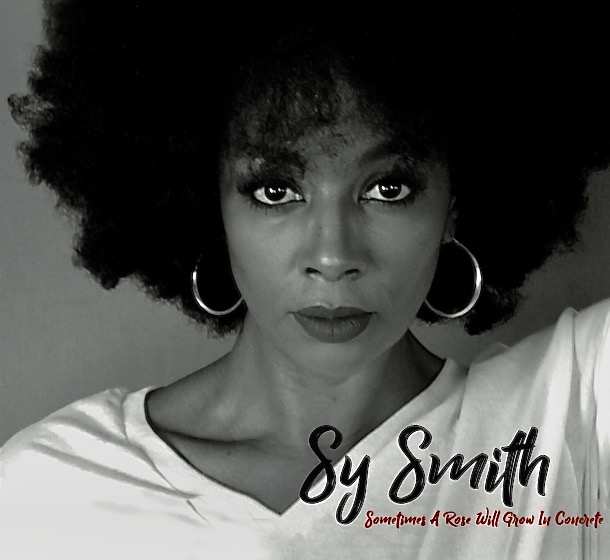 Sy Smith Blossoms into Full Singer/Songwriter Bloom on "Sometimes a Rose…"
A Record Reflection by A. Scott Galloway
Sy Smith has been a work in progress as a most valuable session and touring singer for others, and a developing artist in her own right with four acclaimed albums behind her. Her latest, Sometimes a Rose Will Grow in Concrete, is her first since 2012, its title foreshadowing that a sister has been through some things but come out the other side steeped in artistry, ancestry and 'Les Fleur de la Corazon.'
Lightly conceptual, the album feels like a cross between the `70s Soul gemstones Minnie Riperton's Charles Stepney-produced Come to My Garden and Roberta Flack's Eugene McDaniels-derived Feel Like Makin' Love with contemporary works by Estelle and Esthero. Most impressively, Sy has gathered all of her experience and acquired expertise to compose, arrange, perform and produce all of these 9 songs and 3 interludes herself, even playing piano, keyboards and bass on several selections. The result is gentle eclectic, sensitive and soulful – Doo Wop and Scat strains soaring into spirited and spiriting Techno realms.
Sometimes a Rose Will Grow in Concrete opens with the jazzy "Perspective" that gets deep into her expectations in the realm of love and mutually replenishing romantic relationships. Sy flaunts her vocals in lead and overdubbed backgrounds that are a haunting tour de force. It's followed by the bittersweet "Can't Get Over You," swimming in shimmering guitar and Stevie-keys. That melts into the luscious "Camelot," a blissful float about how a woman daydreams of adoring completeness that feels like what Deniece Williams and Thom Bell might come up with together with today's technology. Ditto for the thought-provoking "We Were Never Free" that truly feels like Riperton revisited…in Wonderland Baptist Church. Then…it's off to The Motherland with a musing on the weight of the world entitled "Catastrophe" (featuring Sheila E. on percussion).
The intimate spoken word confessional "I'll Always Come Back to You" shifts the emotional center back to love leading with the sensuous "Closer Than You Know" which takes some unexpected sonic turns into the Beatles' Pepperland. After a sweet interlude in which Sy raps to her Pops about his back-in-the-days of street corner Doo Wop, our ears are treated to the sassy dual-tempo swing of "Now and Later." A quick consultation with Sy's friends daughter Suri on the beauty of a rose leads us all too soon to the title track finale, "Sometimes a Rose Will Grow in Concrete" – contemplations on the eternal spiral of life.
Sy Smith's Rose is to be dug in the auditorium of your mind between your headphones and within your most open of hearts.
A. Scott Galloway
January 19, 2018