Marcus Miller | Afrodeezia
by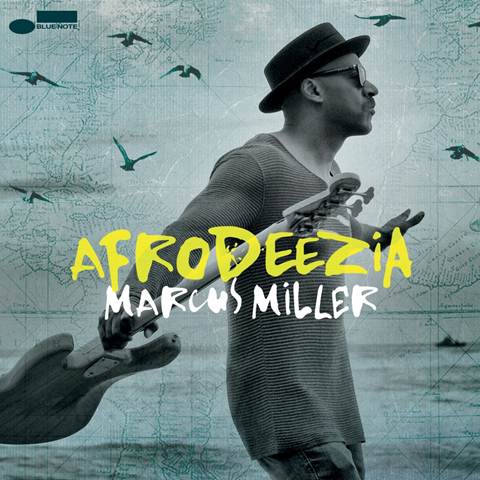 Marcus Miller
Afrodeezia
(Blue Note)
Album Reflection by A. Scott Galloway
Africa has been a river running through the music of Marcus Miller since he began his sojourn into the art form – as literally as from "Maputo" (his composition made famous by Bob James and David Sanborn) and "Gorée" (his mediation on the portal through which Africans were shipped as property to other lands far away, from his previous CD Renaissance) to the figuratively emphatic manner in which he percussively speaks his soul through the electric bass. As thrilling, impressive and expressive as all of that music has been, it is but a long sweet prelude to Miller's latest magnum opus, Afrodeezia. Here Miller purposefully plumbs the history of African people, the places they have since survived and flourished around the globe, as well as his own personal roots and travels within that framework to craft his most richly autobiographical work to date. In Miller's own words, "Afrodeezia is the most exact reflection of the person I am today." The level of inspiration is palpable from composition #1.
Following the spirit lifting album opening lead single "Hylife" that recreates the heartbeat music of`70s/`80s Africa, there is the aural grandeur of "B's River" inspired by a description Miller's wife made about the indescribable beauty of a waterway she encountered in Zambia. Miller evokes it in song, opening "B's River" playing a gimbri – Africa's predecessor to the bass – that was gifted to him in Morocco. The striking segue from gimbri to electric bass in the intro gives way to a fittingly lovely melody for horns that takes you straight to the river's edge.
"We Were There" and "Son of Macbeth" – the first dedicated to the late George Duke and Joe Sample who adored the music of Brazil, and the second dedicated to the late master Calypso musician Ralph MacDonald who helped teenaged Marcus make his first professional song placement – find Miller tapping both indigenous music cultures to express his appreciation for their friendship and the spirit they left behind. And, as has been an eagerly anticipated custom on his records, Miller turns his attention to just one cover song this time: The Temptations' "Papa Was a Rolling Stone," one of several sprawling movie-for-the-ears soundtracks that the late composer/producer Norman Whitfield drove the vocal quintet crazy with by giving more attention to the music than the singing. Marcus moves beyond the explicit 'wayward father story' of the lyric as well, shifting focus to the urgent urbanity of the groove, telling a broader tale by thumping out the melody on bass as well as the ominous, wide open space of that bass line (a pulse that also near-ruined Nite-Liters bassist Leroy Taylor's life when Whitfield forced him to play it – and not one note extra – for over 12 minutes on the original. Marcus revels in his low-end liberation here.)
The bodacious experimentalist in Miller is alive and well in "Water Dancer," a meeting in 12/8 between African musicians and Zydeco cats in Louisiana, and in a more serious manner on "I Can't Breathe" on which Marcus taps into the power of rap elder Chuck D – Hip Hop's most consistently credible CNN translator to the world – to illuminate how the struggle continues for the Black man from Gorée Island to Staten Island. That lineage is wedded through a brilliantly layered track of percussive rhythms, shifting melody lines and instruments on top, jazz and hip hop dancing in the middle, and Chuck kickin' the frontlines 411.
Afrodeezia also contains three of the most soul-stirring compositions and arrangements of Miller's canon. First is "I Still Believe I Hear," an instrumental extension of a piece from a George Bizet opera that Marcus and operatic tenor Kenn Hicks vocally recorded in a classical/jazz mash-up for the album Avanti. Marcus revisits the haunting Arabic evoking melody with cello, percussion, piano and fretless bass. The latter two instruments similarly provide a sentimental lyricism to "Xtraordinary" and "Preacher's Kid (Song for William H)" – dedicated to the late athlete/bassist Wayman Tisdale and Marcus' father, respectively – and find Miller creating songs akin to new jazz spirituals for band and voices reflecting the acknowledgment of each man's singular gifts as God-derived.
It's no accident that a project this profoundly inspired coincides with Miller's arrival to Blue Note Records. Marcus blesses the hallowed jazz label with a depth of perception as relevant and honest as anything masters from Monk to Blakey laid down in their tenure. His young band of Alex Han on saxophones, Adam Agati on guitars, Brett Williams on keyboards and Louis Cato on drums provide exceptional solos and accompaniment throughout. They are joined by musicians from around the world that bring the broadest color palette and textural meshing of instruments and voices Miller has utilized on one project to date.
Between his telegraphing thumb on the bass, and the fingers he uses to take pen to paper plus dial up the world's finest musicians, Marcus Miller's got the whole world in his hands on Afrodeezia. He dispatches it all to the fans of the windmill, sending messages of profound unifying human spiritual fortitude, resilience and always – even in spite of adversity – joy.
A. Scott Galloway
The Urban Music Scene