Dr. Lonnie Smith | All in My Mind
by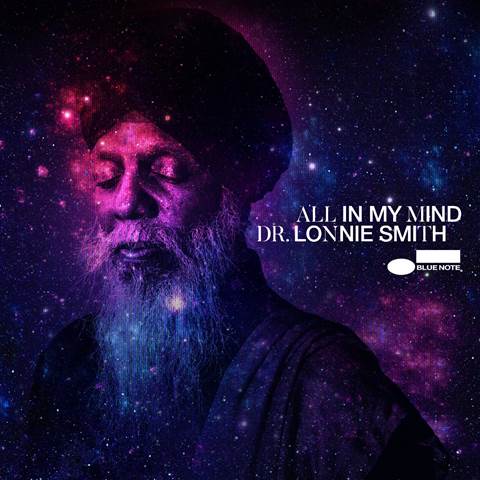 Dr. Lonnie Smith | All in My Mind
Blue Note Records
by Brent Faulkner
Ah, Dr. Lonnie Smith! He's one of the legendary jazz musicians still alive and well who continues to record sweet music. What makes Smith most unique – besides his beard and turban – is the fact he's a jazz Hammond B3 organist. While there are numerous organists in jazz, compared to other instruments, it's rarer. The iconic organist returned to Blue Note Records in 2016, following a 46-year absence from the label. All in My Mind, a thrilling live album, marks his second recording since returning. Joining him for the ride are his go-to guys: Guitarist Jonathan Kreisberg and Drummer Johnathan Blake. Don Was serves as the album's producer.
Dr. Lonnie Smith eschews miscues throughout the course of All in My Mind, which sounds like a classic, vintage jazz album. The effort commences with a bang on "Juju," the Wayne Shorter standard that also served as the opener and title track for the 1965 critically-acclaimed, classic album. Smith shines, whether he's fueling the fire with roaring organ comps, or delivering agile, melodic improvisation. Follow-up joint "Devika," written by Dave Hubbard, keeps the momentum rolling without a hitch. Even though things are 'rolling,' "Devika" lays back, never getting overwrought. Smith approaches things melodically initially, accompanied by Kreisberg, before the roles flip-flop. Then, on "50 Way to Leave Your Lover," things shift from the jazz catalogue to classic rock-pop, courtesy of Paul Simon. The trio continues to 'kill it,' particularly guest drumming from Joe Dyson. Melodically, Kreisberg plays a notable role, carrying the melody, and improvising with incredible agility.
As All in My Mind progresses, the music never misses a beat. Things are more 'cool, calm, and collected' on Tadd Dameron classic "On a Misty Night." As cool it is, eventually, Smith asserts himself late on the ballad with his dynamic B3 playing. "Alhambra" is the wildest, most distinct record, incorporating a variety of sounds. After opening enigmatically to the nth degree, things settle into a rollicking, up-tempo groove, where Smith comps the melody behind a cooking guitar solo by Kreisberg. He adds in a stellar solo himself, continuing to showcase his virtuosity. On mysterious, vintage title track "All in My Mind," Smith sings, and duets with Alicia Olatuja, while the album concludes with a more straight-ahead, Freddie Hubbard classic, "Up Jumped Swing."
Ultimately, Dr. Lonnie Smith delivers a truly sublime and superb live effort with All in My Mind. As aforementioned, this album sounds like a classic jazz album as opposed to a contemporary effort from the 2010s. Even so, this classicism is refreshing as opposed to being anachronistic. There are elements of hard-bop, soul-jazz, and fusion. In regards to the musicianship, it's as virtuosic as ever on the end of Smith, even at 75 years old. Furthermore, his "brotherhood" – Kreisberg and Blake – seal the deal. Smith starts 2018 off right with this tour de force.
Brent Faulkner
The Urban Music Scene