A Peek Into Transcendence with Anoushka Shankar at The Grammy Museum
by
Anoushka Shankar
Grammy Museum
April 12, 2016
Special Event Reflections by A. Scott Galloway
As she glided to the stage of the Clive Davis Auditorium inside downtown Los Angeles' Grammy Museum for a sweetly emotional mini-concert and chat commemorating the closing of a months-long museum exhibit focusing on the career of her legendary father, sitar master/composer Ravi Shankar – before she played a single note – the first thing I could not get over is how short Anoushka Shankar is… When photographed with the birthright sitar instrument she, too, now plays so beautifully, it appears to stretch her, not dwarf her…a trick of the eye into the mystical properties that her art and art form manifest. Indeed, her embrace of the sitar instantly, magically, makes her appear larger than mere mortal life.
This night was a rare, intimate, up-close evening with world music royalty shared by an audience split almost evenly between Anoushka's family (including her son, mother…and Mom's dog), the local Indian community as well as fans of every hue. In the short time allotted, much was shared and much was learned.
Breaking from typical Grammy Museum order, Ms. Shankar performed first with the interview following. Having just had her personal walk through of her world famous father's exhibit of artifacts, stage wear, documents and audio/video clips, she was understandably emotionally fragile. Touched by seeing the intimate detail of her father's personal stage "set up" (items he kept within reach like reminder notes and emollients for his fingertips), she spoke aloud that she needed a minute before beginning to play. In the first of many touching, down to earth moments, she called her first son Zubin to come up for a hug. She then began "Raga Jogeshwari," a composition of her father's that she played alone. Serene and meditative, the song illuminated her lineage to her father and her oneness with the instrument she's been playing since she was 7 years-old.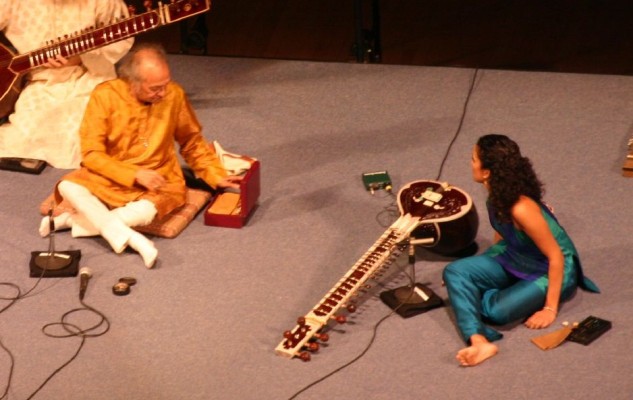 The second selection, "Raga Maj Khamaj," was a duet for sitar and tabla drums featuring Aditya Kalyanpur – sitting right up front to her right – whom Anoushka was performing with for the first time. Feeling each other out with eye contact and head nod signals, they negotiated the shifting tempos of the piece with palpable excitement. As Aditya created dizzying rhythms with his fingers on the dual drums, Anoushka's posture became ultra apparent. She sits with her right leg extended across her to the left while her left leg rests curled beneath her. The body of the sitar appears to rest along the arch and ankle of her bare left foot – touching skin – the vibrations of the instrument literally coursing from her foot across her heart to her fingertips along the strings. Anoushka's right foot lightly tapped the changing beats in non-rubato passages. This posture renders her completely as-one with the sitar. It's scintillating to imagine how it feels to have music resonating through your body beyond merely listening with your ears out in the audience…
The final selection – a medley – introduced the remaining three members of her ensemble who sat patiently in position with her on the stage floor through the entire program until their time to play: Sanjeev Shankar on a thin wind instrument called a shehnai, Kenji Ota on a small stringed instrument held upright called a treble tanpura, and Rahul playing the deeper-toned bass tanpura. The medley built slowly, each instrument joining in to a dynamic finish, eliciting a standing ovation.
After a quick clearing of the stage, Grammy Museum host Bob Santelli appeared in socks with yellow reinforced toes in respect to Anoushka's sacred stage and bare feet as they sat in comfy chairs for their chat. The Cliff notes of what was shared is that the 5-time Grammy nominee was nudged into becoming a musician by her mother who urged an initially reluctant Ravi Shankar to teach her the sitar. After an intense 3-hour father-daughter meeting, Ravi thus forward became passionately immersed in passing down his artful cultural gifts to Anoushka who always loved the music if not, initially, the instrument. This, we learned, is partly because it takes many years to just get a pleasing tone out of the sitar let alone play a piece from start to finish. This is one thing that sets the sitar apart from instruments like the piano which one can begin to sound decent on infinitely faster. When Santelli suggested a comparison of Indian music to American jazz because of improvised passages within many pieces, Anoushka countered that as much of a "stretch" as lay people comparing the sound of the sitar to a banjo. Definitively, she declared, "Eastern and Western music are completely different worlds."
Regarding father Ravi, Anoushka shared that the relationship he shared with Beatles guitarist George Harrison was very close (she referred to him as "Uncle George"). In the exhibit, it was noted that, among other things, Ravi democratized the performing stage by having the percussionists sit at the front alongside him instead of India's tradition of having them play behind. Anoushka adopts this as well. However, without speaking for her father, she intuited that though Ravi enjoyed exposing his music to large audiences when Indian music became a rock festival fad in the late `60s to mid-`70s, he ultimately longed for audiences to fully embrace Indian classical music in its purest state.
Born in London, raised between Delhi and Encinitas, California (near San Diego), and currently residing back in England with her husband and two sons, Anoushka was also in Los Angeles promoting her new CD; Land of Gold (released April 1 on Deutsche Grammophon) .Where her past recordings were more personal and internally inspired, this album is a very externally derived response to the current refugee crisis. Anoushka feels that though she may not fully understand the intricacies of the political policies regarding this situation, she has a voice and an art form through which she can protest what she feels is an injustice to humanity.
In addition to inviting her mother, Sukanya Shankar, up to extend her gratitude to the museum (and some delightful maternal jabs at her daughter whom she called "monkey") then basking in some praise and questions from audience members, Anoushka closed out speaking on inspiration from other art forms. More than any other, she is drawn to the art of dance in all forms yet, musically, she one day would love to collaborate with Icelandic pop goddess Björk. She enjoys music across the spectrum, some of which she believes fans might find truly surprising.
As always, this writer encourages music lovers the world over when in Los Angeles to visit the Grammy Museum. Beyond the exhibits, you can also watch video of the entire Anoushka Shankar program detailed above along with hundreds of other priceless evenings of music and conversation.
A. Scott Galloway
Music Editor
The Urban Music Scene
April 16, 2016
(With gratitude to Cat Celebrezze and Crystal Larsen)