Mysteries of The Elements Unlocked in Earth, Wind & Fire Leader Maurice White's Posthumous Autobiography
by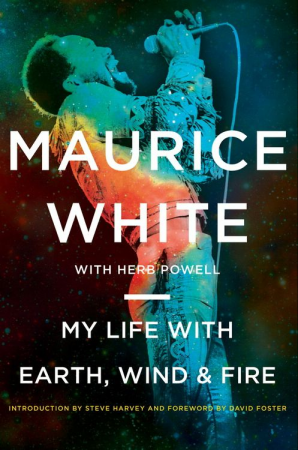 The Sunday Morning Book Review by A. Scott Galloway
Maurice White with Herb Powell – "My Life with Earth, Wind & Fire" (Amistad)
The mystique of Maurice White contributed greatly to the rise, the fall and the rebirth of the dynamic, inspirational and genre-bending band he dreamed up and brought to life as Earth, Wind & Fire. That vibration made him – as a superstar, a bandleader and a curious lead singer/sex symbol – an icon of immense interest. His 400-page autobiography, "My Life With Earth, Wind & Fire" (co-written with first-time author Herb Powell) is a long anticipated tome that will have fans riveted as he openly and methodically peels back the layers of his life, answering so many of the questions and solving so many of the mysteries long held about him and one of the greatest bands – critically and commercially – in any genre of all-time.
Because White was a leader involved in every aspect of his mythical band's endeavors, his insights are crystal clear and, best of all, delivered in profound yet easy to understand paragraphs that melt into your mind like medicine. He talks as plainly about racism and all of the corporate heavyweights he worked with (including Bob Cavallo, Clive Davis, Walter Yetnikoff and Mo Ostin) as he does members of his family and key band members, making for a fascinating and unflinching study of Music Industry 101. White's thoughtful and even honesty about himself is most bracing, coming from a man who was highly learned and fluent in the depth of existence yet, as a communicator through the art form of music, very cognizant of making his thoughts succinct enough and digestible to those who have not read and studied all that he did in his lifetime. The calm and sharpness of his mind in reflection results in White being able to articulate exactly what his thought processes were at any given time – the pros and cons he was weighing, the decisions he ultimately made, and whether, in the end, if those choices were successes or failures…and on what levels. These revelations are especially deep towards the end when White speaks of his relationship with his three children from three different mothers, when it was time for him to walk away from performing with the band and, ultimately, his struggles in both living with a slowly debilitating strain of Parkinson's disease and keeping that battle private for as long as he could. It is a truly deep read.
The reader comes away learning so much more than just the life and times of the mysterious Maurice White. You are nudged into reaching for several forms of higher learning. To that effect, White told Powell that he considered this book to be his "final album." I interpret that to mean the words on the page are the lyrics as the memories of all the songs and albums are the musical soundtrack. It is a book so worth the wait that is best to sip slowly rather than guzzle…for many, many items are addressed regarding inspiration, business, love, masculinity, leadership and most of all, music as a healing force of hope, joy and higher consciousness. And to Powell's credit, he captured the voice and the rhythm of "Reese" to a 'T.'
A few of the plethora of topics covered in White's "My Life With Earth, Wind & Fire" include his very different relationships with his birth mother in Chicago ("Mother Dear") and the mother that raised him during his formative years in Memphis ("Mama"), the challenges he faced being light-skinned black in the south, the arrivals/departures and relationships of band members in all incarnations of EWF, with the co-producer that best prepared the band for the sophistication of its success, Mr. Charles Stepney, and artists he produced – from the Emotions and Deneice Williams to Barbara Streisand and his former boss Ramsey Lewis.
The book is also richly informative concerning Maurice moving from Chicago to Los Angeles and switching from Warner Bros. to Columbia Records, his gratitude that the band arrived at a time that allowed them to make slow strides over time at a major record company when stakes were not as demanding or high, the glorious rise to multi-platinum international superstar status, the fight to the finish fall, his one solo CD and the six-year hiatus after the dismal Electric Universe (an album which he, surprisingly, stood behind as a solid project if a failed attempt to bring the band into the then-modern synth-pop scene exploding out of Europe).
White's biography takes you in the studio, onstage, backstage and back at the hotel, from the car tours to the chartered jets and – best of all – breaks down the creative process behind all of the albums (though as you get past 1981's Raise, the detail greatly diminishes). It is to White's and Powell's credit that they thoroughly understood that EWF was an album-oriented band, not just about hit singles, and that their staunchest fans would want in-depth looks at how those timeless masterpieces were crafted – from album cuts to album covers.
Small pieces of the puzzle are missing, biggest for this writer being the origin and inspiration behind all the title-less interludes between the grooves on the albums. Most impressive, however, writing this book so many years after EWF's peak coupled with his spiritual, analytical and introspective nature all gave White a platform to be as thorough, thoughtful and honest about all aspects of his life. It's so heartening to read White acknowledge the mistakes he made as a bandleader, relationship partner, father and businessman while happily expressing his pride in never wavering in his vision for realizing the dream of a band that would transcend American R&B and Pop music to make a profound impact around the globe.
A. Scott Galloway
Music Editor
The Urban Music Scene
September 18, 2016