Tony Exum, Jr. | Finally!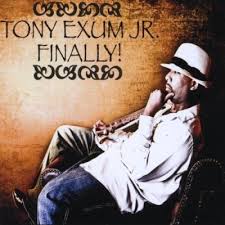 Tony, Exum Jr., Finally!
by Brent Faulkner
Saxophonist Tony Exum Jr.'s recent effort Finally! is a fine addition to a somewhat crowded smooth jazz genre. With enough crossover appeal to court with urban music fans given its R&B under- and overtones, Finally! definitely possesses something for everybody. It is a hefty task to differentiate smooth jazz oft times, but Exum makes an album that is enjoyable despite any restriction with the genre itself. Throughout, Exum's saxophone tone is beautiful and refined, endearing his sensual-sounding sax playing to the heart of many. Revolutionary though it may not be, Finally! deserves the exclamation park that buttresses its title.
"Finally Intro" sets the tone for the effort, springing the 'R&B' overtones that are present throughout. "Finally" truly brings it all together, mixing soulful background vocals and multiple saxophone tracks by Exum. Exum's playing is both emotional and soulful, replacing the role of 'lead vocalist' on this mostly instrumental cut. "Sweet Conversations" proves to be another standout cut, featuring sound production work. The harmonic progression underlying the cut works well, as does Exum's continual play with several tracks of saxophone. The bridge section is the true highlight, where Exum improvises and 'lets loose.' "4 On the Floor" continues a series of fine cuts, though it is a shade less notable than "Finally" or "Sweet Conversations." That said, the simplistic melody is a fine touch at the beginning, only
revolving around a few select notes.
"T.E. Heartbreak" resurges any lost momentum given its production which uncannily resembles a contemporary R&B song (pizzicato synthetic strings, deep bass line, and solid groove). The background vocals add another dimension to this cut, not dissimilar to "Finally." Exum's upper register on the saxophone is brilliant here. "Give it to Me" is another outstanding cut, featuring nice bombastic, funky production which proves to be a solid change of pace. The soloing by Exum as well as the keyboardist is superb. "Music in Me" contrasts the funkiness of its predecessor, but comes off as less distinct than the 'cream of the crop' cuts.
"Don't Worry Bout A Thing" makes up for any laxness, featuring plaintive saxophone playing to open the cut. The cut features a lovely melody – very beautifully conceived – especially coupled with the production work. Again, it seems that background vocals help to accentuate the mood. "Thinkin of You" is another fine moment, most notable for its use of minimalism. "Seven," which just happens to be in 7/4 time (imagine that?) is fine closing cut to this album. The electric guitar solo is definitely standout.
Overall, Finally! is a fine smooth jazz album. To call it revolutionary would be an overstatement, but Exum does just enough to mix it up so that the formula doesn't grow boring. Exum proves he is a great saxophonist with a warm and beautiful tone. There are enough solid cuts to please jazz listeners everywhere.
Brent Faulkner
The Urban Music Scene
Available now on Amazon
And CDBaby.com!